Nigerian print-on-demand startup, Kiakiaprint has announced its partnership with online design and publishing company, Canva.
This is Canva's first partnership with an African print-on-demand company. And it comes a month after the $6 billion company raised $60 million and partnered with FedEx Office to break into the US market.
With 30 million users globally, Canva aligns with Kiakiaprint's vision to help businesses grow by leveraging design and print technology, says Tunde Ademuyiwa, CEO of the Nigerian startup.
"When it comes to design technology, nobody beats Canva. From our discussions, they saw us as a forward-thinking company and know we're worth the partnership."
Although Canva was unable to discuss the financials of this partnership, the company said it chose Kiakiaprint when it was looking for an entry into the African market because the company aligned with its values.
"Kiakiaprint shares very similar values with us at Canva. They also have a passion for design and delivering high-quality solutions for their customers who are also at the heart of their business.
So, partnering with a company such as Kiakiaprint is the ideal collaboration for Canva and the perfect platform to enter the African market," Aaron Day, Global Partnerships Lead at Canva tells Techpoint Africa.
According to Day, the pair will simplify the design to print process for customers, offer them more choice and flexibility, and the support they need to connect with their customers.
Initially, businesses in Nigeria made up for all Kiakiaprint's customers. However, this will change as Kiakiaprint is taking its on-demand print service to South African small and medium businesses.
But unlike in Nigeria where users can design or upload designs of 22 categories of products, Ademuyiwa says Kiakiaprint will launch with 9 categories like business cards, postcards, banners, and T-shirts in South Africa.
Despite the varying range of products, customers in both countries can both access Canva's designs on Kiakiaprint as they now have the option to either upload a design, hire a designer on the platform, or use Canva's designs before going ahead to print.
Tunde Ademuyiwa and his co-founders launched print and design startup, Kiakiaprint in 2017. To make printing hassle-free for Nigerians, the online print shop allows its users to design or upload designs and personalise and order for prints, on-demand.
But Ademuyiwa didn't set out to start a printing company, he just happened to stumble on the opportunity to build a business in the $800 billion market.
From Speaking Cards to Kiakiaprint
While concluding his mandatory service year in Nigeria in 2012, Ademuyiwa had an idea to embed chips in cards and make a business out of it.
He took a loan from a close friend and started his first company, Vocal Circuits Limited. The startup sought to offer bespoke audio and video print services to clients from different industries.
The loan was used to launch the company's main product, Speaking Cards. And during the Ramadan, a popular religious event held by Muslims, Ademuyiwa decided to make 2,000 copies of Speaking Cards with Islamic messages and announcements embedded in a brochure.
Unfortunately, he wasn't able to sell everything.
"The plan was to pay her in six months but unfortunately we didn't meet the target. I was lucky she trusted me and told me to hold on to the loan until I could pay her."
Trying to make the best of a bad situation, he decided to pitch to banks and presented Speaking Cards as a way to teach unbanked Nigerians about mobile money.
"The concept was that these people hardly read or write so how do you market mobile money to them? Through voice and illustrations on cards, and most importantly, in their language."
First Bank jumped on the project and launched their Firstmonie initiative on Speaking Cards and he was able to pay back the loan with interest.
Another big break would come during Nigeria's elections campaign in late 2014. Programming campaign messages into brochures with pictures of the campaign party or politician, he was able to get a client. That period, he made over ₦10m ($33,000) in sales from the client and his line of network. This money and extra revenue from subsequent clients kept the company operational.
All the while, Ademuyiwa made his prints in Shomolu, a very popular printing hub in Lagos, Nigeria, which back in the 70s and 80s was a hotspot for people coming from Francophone countries to print.
Although people still frequently visit Shomolu, the suburb has witnessed a decline and is now mostly occupied by mostly ill-mannered and unprofessional artisans who deliver subpar work.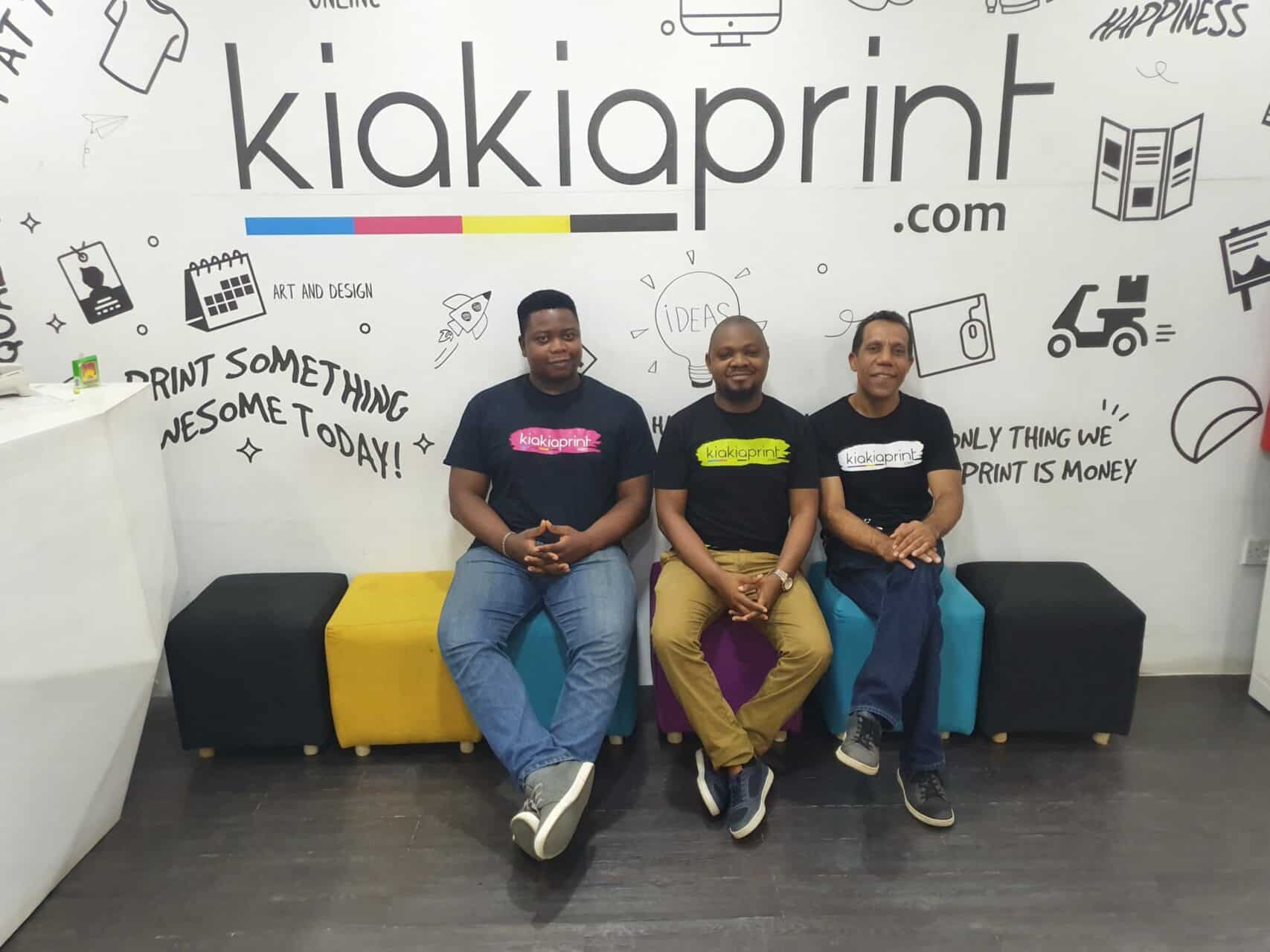 Fed up of printing there, Ademuyiwa decided to get a printer for his then 5-man Speaking Cards team. But with the seasonal nature of the business, he thought the startup wasn't optimising the printer.
"So I thought about the fact that people in Shomolu were using the same machine to print business cards. That's when I decided to design a card and try out our first business card."
He and his team told a couple of friends about the new business, which at the time didn't have a name, and via word of mouth, it spread quickly. The steady influx of customers through referrals made Ademuyiwa believe he was doing something right. He decided to make it more open by creating an online presence and getting a name: Kiakiaprint.
While visiting his older brother, Bunmi, in the US in 2017, he told him about Kiakiaprint and his vision for online printing. He was interested in the vision and became his co-founder and CTO.
The second co-founder, Gbolade Ogunfowote, met Ademuyiwa via a mutual friend and joined the team as chief product officer.
"With the two onboard, we officially built our website and launched in November 2017."
Quality over price and a customer-centric approach
With zero external funding, the company has bootstrapped using personal funds and recurring revenue. This is why when the company launched its online on-demand printing service, it outsourced a white-label solution. However, with shortcomings from outsourcing, Kiakiaprint had to build its platform.
Ademuyiwa also says that the startup had to grow organically, focusing on a lot of small and medium-sized businesses.
"The revenue we made from these businesses was like our seed, it was what we used to run Kiakiaprint. But right now, we're looking at outside investment because of the scale of what we're trying to achieve."
In a short time, Kiakiaprint has established itself as one of Nigeria's best printing companies.
According to Ademuyiwa, he believes his company has transformed the printing landscape in Nigeria as they've been able to woo customers in both retail and corporate spaces with their print quality, swift delivery, and customer service.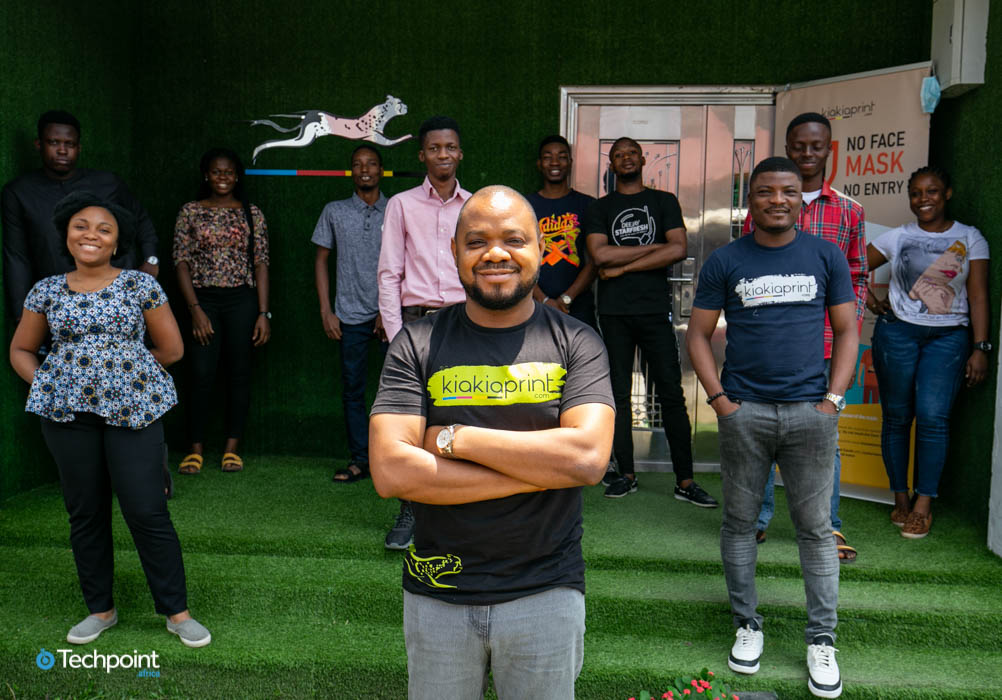 The company's delivery of products to customers on time has a lot to do with its name; in Nigeria, kiakia means "quick". And when the startup began operations, it had to live up to the promise made by its name even though this meant delivering orders at ridiculous times.
Kiakiaprint has also invested heavily in one of its most prized assets: its printing machines, one of which costs almost $1m. Ademuyiwa says these machines can serve its West African customers if it expands there.
Additionally, they've been important in how the startup determines what it charges customers for the value they get.
Focusing on value and customer satisfaction instead of price, it has been able to grow its clientele to about 3,000 customers across Nigeria. Most of these clients are small and medium-sized businesses. But major clients include MTN, Pizza Hut, PiggyVest, ENYO, RedBull, PepsiCo, and Jack Daniels, among others.
At the same time, the team has grown to have 30 employees.
Expansion to South Africa and outside Africa
It's a fact that there are still lots of drawbacks in Nigeria's printing space and business owners deal with a plethora of challenges like power issues and bad customer service.
Online printing companies like Kiakiaprint have made it possible for people to order for prints from the comfort of their homes or offices.
One would think that by solving these problems, Nigeria is a big enough market to gain significant revenue. But Ademuyiwa doesn't think so.
"Vistaprint makes more than $2 billion and MOO, up to $150 million annually. How many companies do you want to pitch to in Nigeria to get that revenue?" he asks.
He points out that technology presented both companies an opportunity to scale and they took it. For him, it's time for Kiakiaprint to seize that opportunity too.
"Kiakiaprint aims to be the Uber for printing. We see ourselves more as a technology company than a printing company. With our platform, we want people anywhere in the world to order for prints," he adds.
Although Kiakiaprint can expand to neighbouring West African countries, it is going South.
Here's why the company made that decision.
Depending on who you ask, Nigeria or South Africa is Africa's biggest economy. But it is a consensus that both are Africa's largest economies.
However, South Africa has a higher GDP per capita than Nigeria. According to this Deloitte Customer Review research, South Africa has a per capita income of $7,500 to Nigeria's $1,630. Also, South Africa has a credit system that works, unlike Nigeria.
For Kiakiaprint, going to the other country with the money made sense.
"We had data from our research and we knew SA was the next market to go to. We want to be able to capture the value and capture it fast and we think SA is better positioned at this than any other African country."
Consequently, the three-year-old startup formed partnerships with local print companies in South Africa that offer similar high standards of print.  So in essence, Kiakiaprint doesn't need to establish a physical presence there.
On future expansion, what is imminent for Kiakiaprint is not moving to another African country but outside Africa entirely.
"I wouldn't say we are Nigeria or Africa-focused because what we are working on is to be in any country in the world. We've not scratched the surface of where we're going. The vision is to go global," Ademuyiwa adds.
Kiakiaprint has always been under the radar since launching and has witnessed astonishing growth. But with its expansion and partnership, it'll have to adjust to a new phase of being in the public's eye and pursuing growth simultaneously.
---
Featured image: Tunde Ademuyiwa (Co-founder & CEO, Kiakiaprint). Source: Supplied.