Fresh out of the university after bagging a degree in computer science, Oluwafemi Alofe built an MVP for a legal tech startup in 2016. He would go on to work for them, leading a team of developers in building a more sophisticated software as a service (SaaS) platform.
The startup failed a year later.
In 2018, while doing freelance jobs with some UK companies during his mandatory one-year NYSC service in Nigeria, the idea for Corpreneur came up.
"After interacting with corps members in the orientation camp, I learnt some people wanted to do different things after camp. For instance, take professional courses, apply for graduate studies, learn a new skill or start a small business."
"Then the question of how to finance these projects kept coming up. When asked, about 70% said they planned to save up from their monthly allowance though small," Alofe says to Techpoint Africa.
The idea was to build a platform that could help young people achieve their goals through idea collaboration and rotational savings.
Before pitching to anyone about saving money on Corpreneur, he had to build a community first. Thus, Alofe created a landing page and invited other corps members to visit. Then he began publishing useful content like resume and business plan writing so they could learn from others and keep coming back to the platform.
He also employed some unusual tactics of writing code to crawl phone numbers of corps members from several WhatsApp groups in order to send bulk SMS to them.
Deciding to start Corpreneur
While trying to attain a product-market fit, Alofe stumbled on an article about one of Nigeria's foremost digital savings platforms, PiggyVest. Spurred by what he read, he reached out to its co-founder, Joshua Chibueze, to gain some insights.
"He was very open and willing to help. He mentioned a new feature they were working on called the Savings Challenge that could help a group of people with the same goal save towards a target."
This resonated with what Alofe already had in mind and gave him the encouragement he needed to start.
Using bulk SMS, he invited corps members to join a Savings Challenge where the goal was to save ₦4,000 ($10.36) for 5 months towards the end of their service year. By the end of the challenge, they had collectively saved ₦500,000 ($1,290.50) on the platform.
Upon evidence of potential success, current co-founder, Quadri Awwal, joined the team. Together, they did more research, built a better MVP, registered the company, and got a cooperative licence.
Helping Nigerian students and corps members save
In April 2019, Corpreneur was launched to help millennials automate their savings. The platform claims to offer its users low investments with competitive interest rates.
Despite the culture of digital savings being evangelised by household names like Cowrywise and PiggyVest, Alofe still believes many millennials in Nigeria still struggle to get hold of their finances.
He makes reference to his time as an undergraduate and feels some people might be making the same mistakes he made.
"As undergraduates who made a lot of money freelancing and doing business, we regret not being able to set aside some funds as savings. Without any form of financial literacy, we just spent it all and waited until the next payday came, then repeated the cycle."
By building Corpreneur, he believes he can help imbibe the culture of financial literacy and discipline into millennials who don't know about Cowrywise and PiggyVest.
The Lagos and Ibadan-based startup hopes to achieve this by placing its focus solely on outbound marketing. The audience? Universities and NYSC orientation camps.
By running ambassadorship programmes in these places, Corpreneur has been able to onboard customers instantly while building credibility.
In a space like this, it is a known fact that credibility is paramount to the survival of any business and Alofe says asides onboarding customers, Corpreneur's customer acquisition strategy has helped in building a community.
The platform currently has two offerings: Corpreneur Personal and Corpreneur Business.
With the former, users can save, invest, pay bills, and transfer money via a NUBAN account, as well as perform cardless ATM withdrawals.
Alofe says that here, users can earn points when they save. The points get converted to cash which can be withdrawn or used to purchase data or airtime on the platform. It also offers an interest rate of 10% per annum on customers' savings where interest is prorated and paid daily.
For Corpreneur Business, customers are allowed to create an eStore and showcase their products to potential buyers beyond their local network and also provide them with customer engagement tools.
Business model, operations and metrics
Like other digital savings platforms, Corpreneur accumulates savings which it passes on to its Investment Partners who invest at higher returns. Between 10-12.5% return on investment (ROI) is paid back as interest to users while Corpreneur keeps the rest.
But with the pandemic affecting different sectors of the economy where Corpreneur's investment partners thrive, Alofe says Corprenuer is looking for ways to engage Investment banking experts to advise the startup on partnering with more secure investment vehicles this period.
Since launching over a year ago, the startup has only secured a $2,500 (₦965,700) convertible debt. Asides that, it has run on the funds of its founders and revenue from the business.
Despite not being profitable at the moment, Corpreneur has achieved some admirable milestones. Over 5,000 users are currently on the platform, and a 4.8 rating on the Google Play Store means users love the product.
Alofe also points out that these users are growing by 7.5% month-on-month and have saved over $115,000 (₦44,422,200) on the platform. This has amounted to more than $10,000 (₦3,862,800) in revenue for the startup.
To get to where it is today, Corpreneur has had to deal with credibility issues. However, Alofe says the startup has been able to solve them by placing a face to the brand and serving its existing customers to a fault.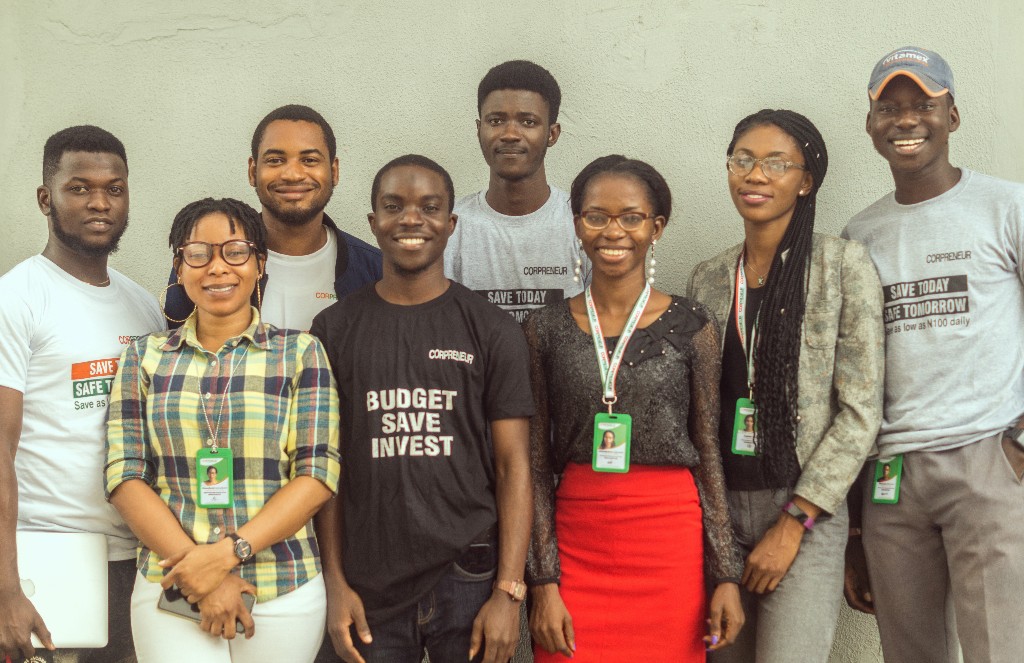 Another issue has been the team's inexperience in a core aspect of its offerings.
"Our other challenge has been our limited knowledge in the financial domain. We are addressing that by using strategic partnerships and seeking advisors in that area," Alofe adds.
Looking to the future, the startup, which has been selected as one of the participants in the Forbes Digital Accelerator programme, intends to offer vertical offerings in the fintech space.
"We want to move from being a B2C company to a B2B2C company. Here, other companies who are looking to reach this audience with their products or services can do so through us. An example is providing affordable health and education insurance to our customers."
Additionally, with most of its customers being undergraduates and corps members, Corpreneur hopes to use their savings history as a form of creditworthiness in its bid to become a lending platform.
"This is to allow them to access loans because this particular group of millennials is financially excluded from such," Alofe says.
---
Featured image: Quadri Awwal (Co-founder and CMO) and Oluwafemi Alofe (Co-founder, COO & CTO). Source: Supplied