"Story story... story!", " Once upon a time... time time!"
Most Nigerians will know these as phrases used to begin stories during their childhood.
Before the 21st century, storytelling was an integral part of most Nigerian cultures. Children would gather around adults, most notably under the moonlight, to hear different tales and folklore, sometimes in their native tongue.
Stories about animals, the cunningness of the tortoise or brutality of the lion, for instance, would educate and entertain. Some of these stories would even change the way they approach the world, in terms of morals and values.
In recent times, however, this aspect of Nigeria's cultural life has changed a lot. An example is how most youth living outside their places of origin can't speak their native language.
For Dominic Onyekachi, a Nigerian fluent in Igbo and Hausa, two of Nigeria's major languages, this is not much of a worry. He's more perplexed by another issue.
During one of his visits to his sister's place, he noticed something was off when she asked him to read a story to his niece.
"I went to her mini library and what I discovered was unnerving. Not only were the stories there white and foreign, which I felt wasn't representative of her, but the themes were also outdated and probably outright sexist. For example, they emphasised marriage as the ultimate achievement for women," Onyekachi tells Techpoint Africa.
Onyekachi goes on to clarify that while he doesn't have any issues with marriage, he felt Nigerian children should consume indigenous stories with more powerful narratives.
"Gender equality, inclusion, SDGs, tolerance, tech, entrepreneurship, financial literacy. None of these were themes covered by books like Cinderella and Rapunzel," he adds.
Akiddie wants African children to know African stories
These days, a large part of the stories children read in schools are tales of different people or cultures. Indigenous tales are less frequently told, and now children know more about Zeus or Thor than Sango or Amadioha.
Onyekachi thinks he can solve a part of this problem with his media startup, Akiddie.
Before Akiddie, Onyekachi worked on a couple of projects with one of his co-founders, Fanan Dala, during their time at Covenant University. But the pressure of juggling school and entrepreneurship meant the projects didn't pan out as they hoped.
After his experience with his niece, he decided to write stories for her. He then got his other co-founder, Tolulope Wojuola, to illustrate them and make them available online.
"When that was done, the book became an instant hit in my estate and class circles. That was when I thought that there should be something that allowed African children, wherever they may be, to access these stories."
With Dala and Wojuola taking technical and creative responsibilities, and Onyekachi as chief executive, they founded Akiddie in January 2019.
If you love Nigerian languages and you want your children to love and appreciate them as much as you do, then you'd love Akiddie too. All our stories are available in Hausa, Igbo, Yoruba and English, in both audio and text versions. pic.twitter.com/H3XAgd3ReQ

— Akiddie (@AkiddieNG) April 3, 2019
To kickstart the project, the company got a small investment of $3,000 from Onyekachi's sister which allowed them to create 20 books and their website.
Akiddie acts as an online collection of African children stories. The startup writes, illustrates, and translates children's picture books. All these stories, Onyekachi says, are indigenous and available in different local languages, covering themes from financial literacy and entrepreneurship to gender equality and inclusion.
Scaling an unconventional edtech startup
Unlike traditional hardcopy publishers, Onyekachi believes Akiddie's trump card is its digitisation. "This makes us more flexible than they are, we offer more languages, books, and options for a fraction of their cost."
Since 2019, Akiddie had been in beta phase and remained free to users. However, in May 2020, they officially launched with a subscription model that restricts the number of books a user can access. And with ₦600 ($1.30) per month, parents can sign up their children and have access to up to 20 books on the Akiddie platform.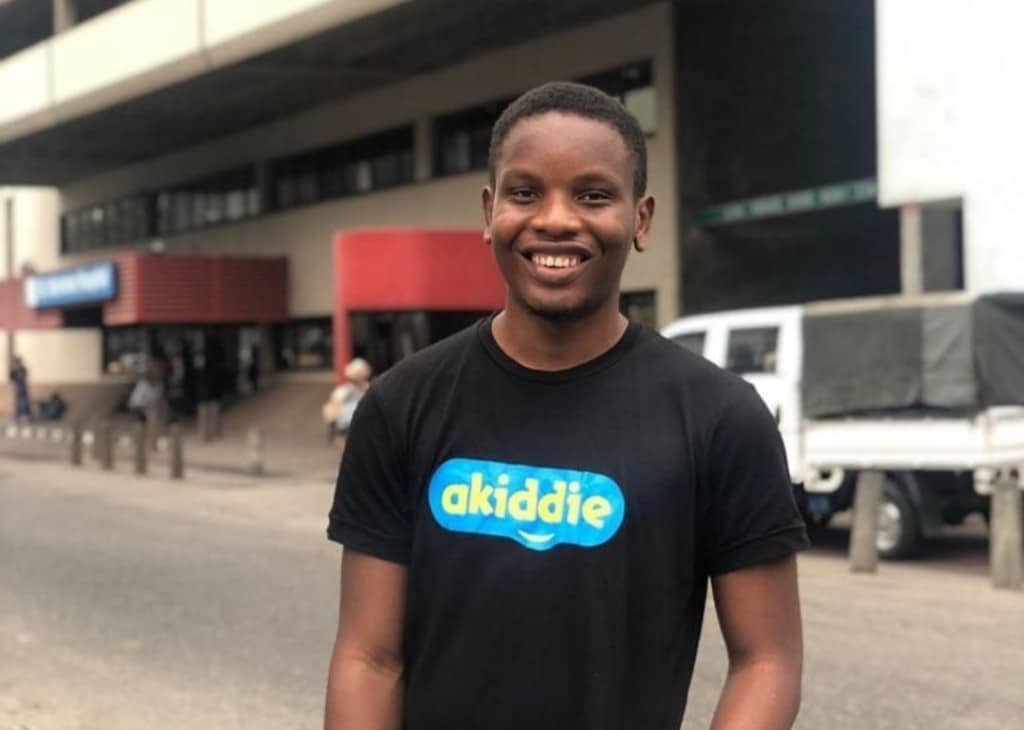 But in Nigeria, subscription models are quite unstainable and difficult to execute. It's a challenge most content and media companies face when starting out.
Knowing this, Onyekachi stumbled on a challenge that the startup could tackle and at the same time, help diversify its revenue.
He says that in Lagos, only 7 of the 300 primary education schools he researched had any form of a library. From inadequate space in school premises to little or no funding and understanding why this is the case is not difficult.
To solve this, Akiddie designed an online library with children's books to sell to schools and parents. These books can be accessed in English, French, Hausa, Igbo, and Yoruba. Also, the platform has a feature that lets users view an illustrated story in 360 degrees as well as a data tracking feature.
"Beyond the fact that we develop our stories to reflect the future of Africa and have sustainable narratives in inclusive stories, we are solving a major problem for schools."
With ₦1,150 ($2.50), which is less than the cost of one hardcopy book per student, Onyekachi says schools are able to access a growing e-library of books, one he estimates will have up to 140 books by the second quarter of 2021.
So far, the platform has served over 1,000 users and on the B2B side, it has six schools as clients. The revenue from these customers is more than ₦1,380,000 ($3,000) according to Onyekachi.
Seeing as it officially launched in May, it seems like an impressive feat, one Akiddie hopes to build upon in the coming months despite the challenges brought by the coronavirus pandemic.
"School recruitment is a bit slow because schools don't want to commit funds to a new project during the pandemic. However, we have commitments from more than 30 schools for the platform when schools reopen."
Besides charging a subscription fee to access its online books, Akiddie licenses characters from its books and consults on projects targeted towards children, from content creation to illustration. This content-as-a-service (CaaS) revenue model makes up 60% of Akiddie's revenue.
Challenges, plans, and emerging tech play
The pre-seed money and revenue made are what Akiddie has used to stay afloat. But it is actively looking for a seed round to scale, an activity that has come with some disappointments.
"In November 2019, we won a 10 million naira funding at the Global Entrepreneurship Week (GEW). But the organisers went radio silent after the event. Never heard from them, never saw them again," Onyekachi says of the event held in Abuja last year.
Also, the startup has been in talks with two VCs but according to Onyekachi, nothing has been finalised due to the pandemic.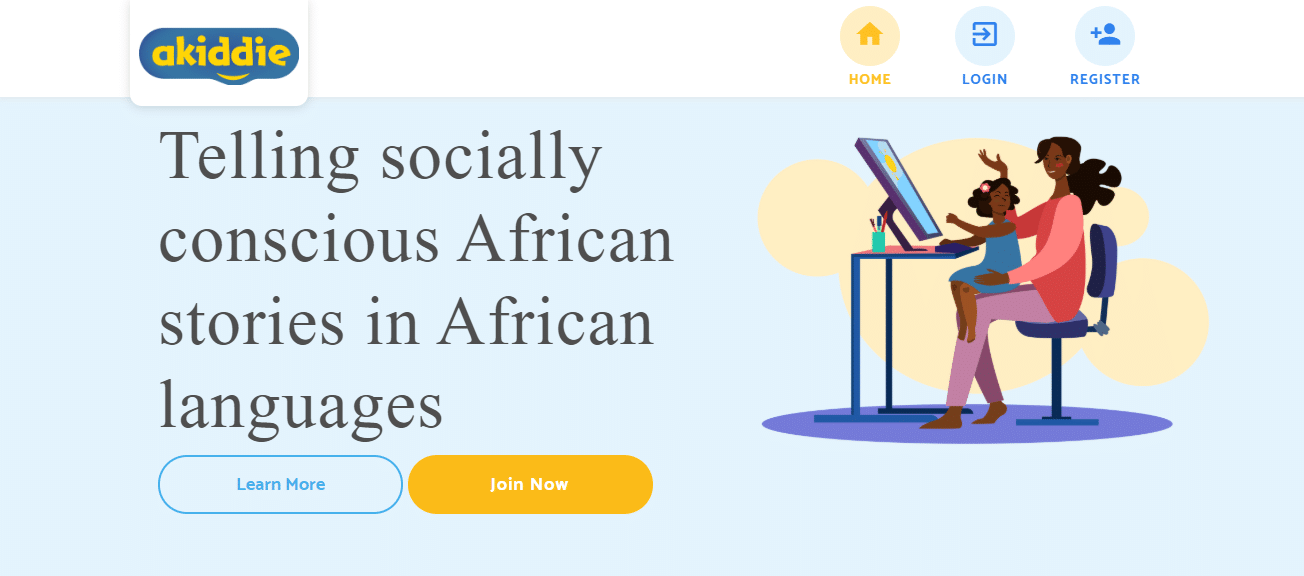 It is not all bad news for Akiddie. The eighteen-month-old startup has enjoyed a fair share of success too.
It made slight changes to its business model in order to survive by writing proposals to some Nigerian banks. The end result? A partnership with FCMB to give 10,000 children access to the platform. If successful, this will be a part of the bank's CSR efforts.
Additionally, it was recently selected as one of the startups to participate in the maiden Forbes digital accelerator boot camp.
For its plans going forward, Onyekachi shares two.
Innovating around its current offerings, Akiddie wants to launch an eCommerce store. And it will feature toys and clothing of characters and events developed from its stories to sell to customers.
Also, the startup wants to infuse more technology into its digital storytelling platform.
"Storytelling will always be at the core of what we do. We would utilise emerging technologies like VR and AR to make the experience more immersive for the user. We would also go into animation to make better, more representative, and inclusive content for children."
Onyekachi adds that he doesn't believe the future of edtech is in replicating the classroom on the Internet. But in leveraging emerging tech and intricately designing storytelling to create a learning experience for children that is both addictive and enjoyable.
"Think about finishing your curriculum in any subject while completing game levels on an AR set. That is the future of online learning and we are going to bring it to the children first."
---
Featured image: Dominic Onyekachi (Co-founder and CEO, Akiddie). Source: Supplied