Nigerian fintech startup, Carbon, on Tuesday, released a report detailing its key activities and metrics for 2019.
Last year when the startup, Carbon, formerly Paylater, first published its financial results, it received rapturous applause. Although startups in other parts of the world release financials from time to time, it was quite unheard of in Africa, most notably, Nigeria.
The few times the ecosystem had witnessed a similar occurrence was with eCommerce juggernauts, Jumia and Konga. However, they did not share their financials on their own. In Jumia's case, it happened when one of its shareholders, Rocket Internet went public in 2014 and had to include Jumia's data in its annual report.
In July 2019 when Carbon first shared, Chijioke Dozie, CEO of Carbon, said the eight-year-old startup would continue to share its financials and it has rightfully done so for the second year running.
Since 2012, Carbon has metamorphosed from its main offering of being a digital lender. Now, the platform offers an array of fintech services including business banking services, payments, credit reports, investment products.
Audited by consulting giant, KPMG, Carbon's report shows continuous growth in operations and finances. Also, it features progress from existing offerings as well as plans for new product offerings and expansion.
The year is 2019: life's good, & COVID sounds like the name of a video game.

It was also the best year yet for Carbon. We launched in Kenya, enhanced our product and grew revenue by 70% 📈

Today, we're sharing our 2019 financial results.

Download here: https://t.co/Qe5HCCDwTa

— Carbon (@get_carbon) June 30, 2020
From its financials, we take a look at four key metrics from 2017 to 2019 and gauge the startup's progress since sharing its first financials in 2018.
Gross earnings and total revenue
In 2017, Carbon recorded a revenue of $4.4 million, equivalent to ₦1.57b. It ended with ₦3.73b ($10.4m) in 2018, representing a 136% increase.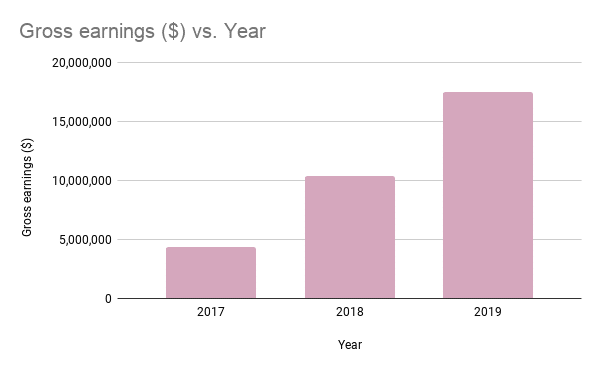 Last year, Carbon's total revenue nearly doubled to ₦6.3b ($17.5m), 70% up from 2018 and 298% from 2017.
Disbursement volume
According to Carbon's 2018 report, it disbursed ₦3b ($8.3m) worth of loans in 2017. That increased by 333% to ₦13b ($36.1m) in 2018.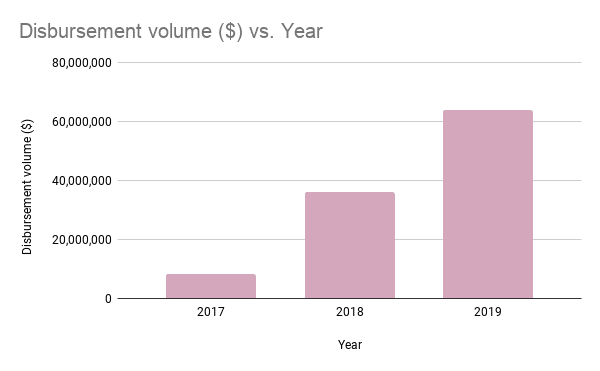 In 2019, loan disbursement reached an all-time high of ₦23b ($63.9m), representing a 77% increase from the previous year and 666% the year prior.
Profit before tax
The report from 2018 shows that Carbon made a loss of ₦111.2m ($309k) in 2017. However, that changed when the company made its first profit by raking in ₦149.14m ($414k) in 2018. A staggering 234% increase.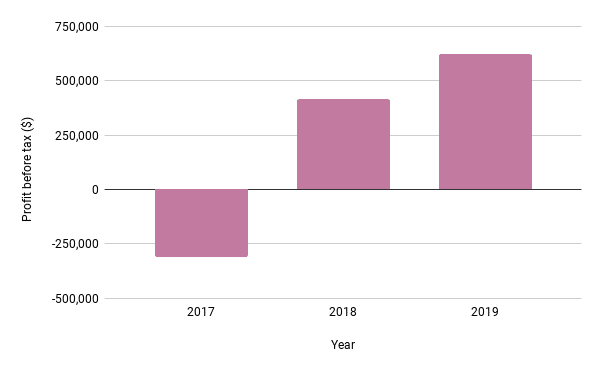 In 2019, the company's profit before tax increased by 50% to ₦223.2m ($620k).
Profit after tax
When Carbon reported a loss of ₦111.2m ($309k) in 2017, the company didn't share its income tax expense, and profit after tax stayed the same.
For 2018, however, income tax expense stood at ₦1.93m, which means Carbon's profit after tax for that year was ₦147.21m ($409k).
Profit after tax for the year 2019 reduced by 23% to ₦112.6m ($312.8k) after incurring an income tax expense of ₦110.5m ($307.2k).
Asides these metrics, Chijioke Dozie points to impairment figures to understand how customers defaulted on loans.
When a loan is impaired, it means the company, in this case, Carbon, was unable to collect the money borrowed to the user, including interest.
From the financial results, net impairment loss on financial assets in 2019 stood at ₦3.14b ($8.72m). This is 42% up from ₦2.2b ($6.1m), the loss it incurred in 2018.
Some other highlights from the 2019 report include bill payments value and volume of ₦51b and 5.5m; investments made on the platform at ₦2.8b; more than ₦93k cashback beneficiaries; and ₦975k-plus loans disbursed.