Beyond the rants, scandals, social activism, and humanitarian movements happening on other social media platforms, Instagram seems like the happiest place on the Internet.
Since its launch in 2010, Instagram has been one of the most commonly used photo and video-sharing social networking platforms across the world. If you're an ardent user, you may agree that the atmosphere is definitely fun and full of energy.
To make it more captivating, Instagram keeps adding new features. Acquired in 2012 by Facebook, Inc., Instagram introduced Stories in 2016 and it has since taken on a life of its own.
Just like Snapchat, users can post photos and videos that disappear within 24 hours and also archive the posts into a Stories Highlights for others to see in a little collection above the grid on the users' profile.
The filters on the app range from a slight colour to an entire augmented reality (AR) -- like having artificial sunglasses placed on the face, a puppy filter, eyelashes, or a cat filter.
Interestingly, with Spark AR Studio -- which is Facebook and Instagram's augmented reality software -- creators can create their own filters on Instagram.
In this light, Ayoola John-Muyiwa, a Nigerian-American entrepreneur, designer, and digital creator who says he recently developed a keen interest in augmented reality created a filter -- LiveShow+ -- on Instagram.
LiveShow+ is an augmented reality Instagram filter that simulates being in a disco or dance party; it puts users at the centre of the stage. With the filter, lights shine all around the face and even blend well with darker skin tones.
"The secret magic in LiveShow+ is not the lights like many people think. I believe people love the IG filter so much because it blends very well with darker skin tones. Many other IG filters don't blend well with darker skin tones; don't get me wrong, the lights are fantastic, but the real magic is in the details," says John-Muyiwa.
Just tried it in my bedroom right now. Dope stuff bro. 💪🏽 pic.twitter.com/11D1zwX09f

— Peaky Blinder (@samdhare) January 12, 2020
I don't do much posting... lately... but I've been RTing a lot. Don't want to post my own content much until I have content to post (as far as music, poetry, books, etc.). — NEW. MUSIC. COMING. SOON!!! 💖💖💖 @AyoolaJohn_, look at my face, man!!! 🥰🙏🏾✨ pic.twitter.com/NKm9LHKzIm

— #MINE (@ChristianJaLon) January 23, 2020
Ayoola John-Muyiwa shares his journey from growing up as a teenager with an interest in technology to becoming a trained engineer, entrepreneur, and a digital program manager at Chevron where he leads a team of software engineers, designers, and data scientists on a journey of digital transformation.
Growing up in Lagos
John-Muyiwa was born in Lagos, Nigeria, and though he didn't have access to a personal computer or reliable Internet, he had a passion for technology.
"Whenever the lights would come on [the kids] would run out onto the street and celebrate, and then the lights would go out again. Honestly, back then I was happy. That was just the norm, what I knew."
"I remember creating my first website in 2009 at the age of 13 on a mobile phone -- it was an online community for Internet enthusiasts. That was the beginning of my journey of using technology to create experiences that delight people," he says.
At the age of 15, he moved to the United States of America with his mother where he enrolled at the University of Houston and studied engineering and corporate entrepreneurship. While in school, he taught himself how to code through online courses.
On building experiences and achievements
John-Muyiwa's interest in technology led him to found Blademy; an online learning platform that prepares black millennials for in-demand careers in tech, design, finance, and entrepreneurship.
"In March of 2018, I stumbled upon an interesting statistic -- the median wealth of an African American household in America is $11,000 and projected to hit 0 by 2053. This statistic was surprising to me because my intuition would have suggested a number significantly higher than that considering the demographic's annual spending power of $1.2 trillion."
After analysing more published data about the demographic and also in a bid to find a solution to the alarming wealth disparity, he figured that "while black millennials are essentially digital leaders, they have been unable to benefit significantly from the burgeoning innovation economy." This discovery led him to focus on building Blademy.
"We are bridging the increasing wealth and economic opportunity gap that exists between black millennials and millennials belonging to other racial and ethnic groups. Our vision is to build the largest pipeline of high-performing African talent," he reveals.
Prior to starting Blademy, he worked as an engineer and trading analyst at ExxonMobil, BP, and Goldman Sachs. He also earned a certificate in corporate entrepreneurship from the Wolff Center for Entrepreneurship, the United States' leading entrepreneurship program.
Hard work, they say, comes with great rewards. In 2018, John-Muyiwa was a Forbes Under 30 Scholar and he has also been recognised as a Top 20 Young African Rising Star, and the Face of Nigeria, among others.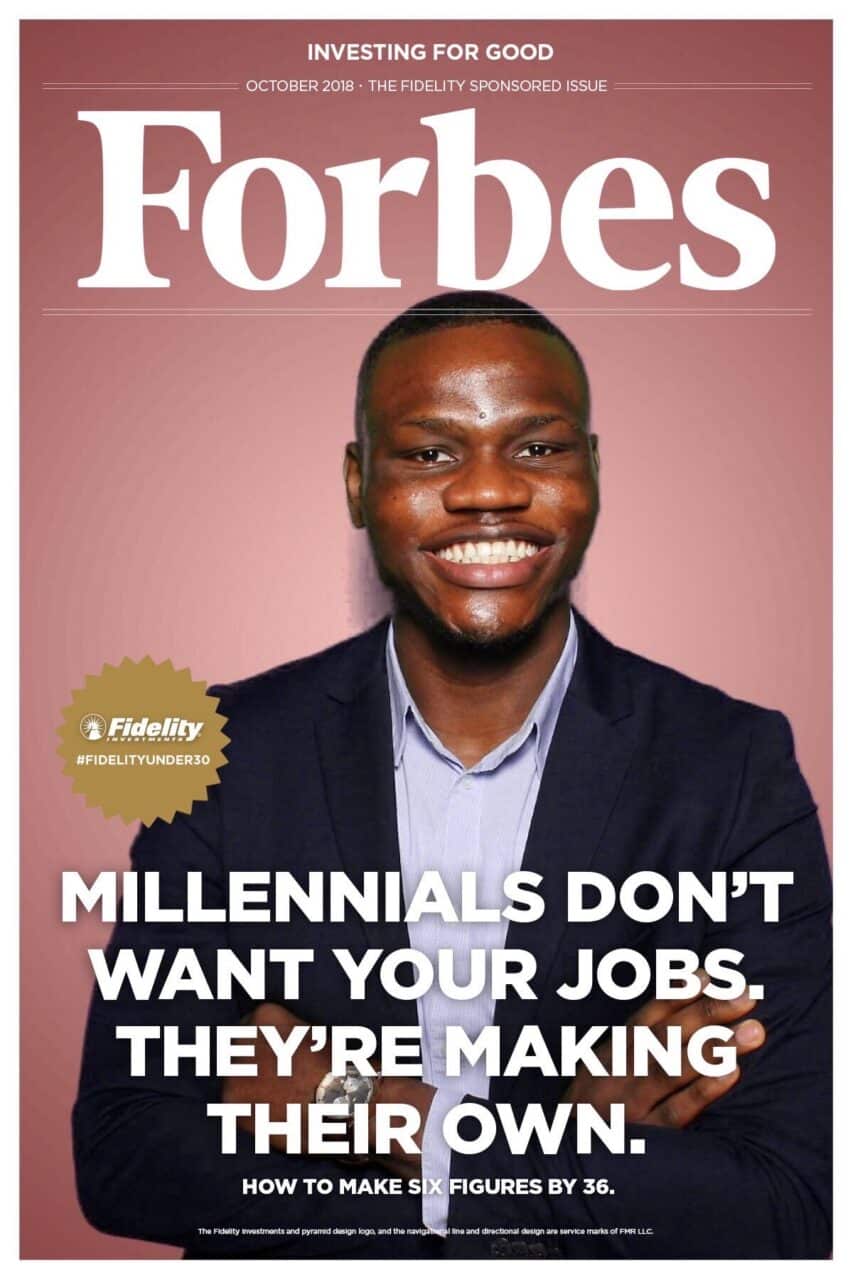 Asides founding an ed-tech platform, John-Muyiwa also had an active campus life and was often serving in leadership roles in several clubs and organisations which included the Nigerian Student Association and the National Society of Black Engineers.
Beyond being an engineer and entrepreneur, speaker, and moderator, John-Muyiwa has made presentations at Linkedin, University of Houston, and South By Southwest -- one of the largest tech and media conferences in the world. He is also a graduate of the Summer Venture in Management Program at Harvard Business School.
Creating the LiveShow+ filter
If you're a regular Instagram user, you might have noticed LiveShow+ which appears in the app's filter catalogue.
On creating LiveShow+, which was his first AR product, John-Muyiwa stated that he wanted to create something that could bring people together and delight them at the same time thus giving the filter a sense of purpose.
LiveShow+ was launched on Instagram a month ago and it has gathered a lot of users; in less than 24 hours, the filter had reached over 10,000 people. And so far, LiveShow+ has reached over 200,000 people across the world. According to John-Muyiwa, the filter has been used by people across the United States, Asia, Europe, and Africa.
Considering that the filter was built using Spark AR Studio, John-Muyiwa explained that "Instagram did not purchase the feature. Creating a new Filter on Instagram is analogous to creating a new video game for the PlayStation, or contributing your songs to a music playlist. Instagram is a community-driven platform, and I feel lucky and blessed to be a contributor."
Creating the filter has opened doors to other opportunities for him. John-Muyiwa created the official Instagram filter for Davido's A Good Time album.
"I also have a few other high profile collaborations and ideas in the works. Also, I might join the official Instagram product team soon, haha. Who knows?"
Just like every other filter on the app, LiveShow+ can be used effortlessly. To bring the filter into the catalogue of your Instagram filters, click on this link on your smartphone then open the link using the Instagram app.
Having done this, the filter automatically feeds into the catalogue of your Instagram filters. Once this is done, you can always find LiveShow+ in the filter catalogue.