It is almost impossible for anyone living in this country not to have experienced hours/days without power supply. To worsen matters, when it comes to electricity billing, National Electric Power Authority (NEPA), now known as Power Holding Company of Nigeria (PHCN), does not hold back as most Nigerians pay through their noses.
Over the years, however, PHCN has claimed to have faced the problem of revenue collection, hence, the introduction of prepaid metres in 2006.
Prior to this introduction, electricity bills were usually sent to consumers after consumption. This still happens, albeit with less frequency.
Since then, the government has not committed adequate financing for the complete roll out of prepaid electricity metres as evident in the last Power Sector Report by the National Bureau of Statistics (NBS).
It reported that the total number of consumers with prepaid metres increased by 1% to 1.67 million customers in Q4 2018 from 1.65 million customers in Q3 2018.
And while this might look like progress, prepaid metres can be an inconvenience for some customers who try to purchase energy units. From multiple failures during online attempts to long queues, a market has opened for players seeking to serve these customers.
Pay easily for your energy
As young professionals, Chiedozie Akwiwu and Akinyele Tobi had similar issues conveniently purchasing energy units without spending significant amounts of time doing so.
"We noticed that demand for prepaid recharge grew at a wide pace as more Nigerians got their metres. Sometimes, we still had to queue or wait for our tokens to be generated. We got together and decided to start something for the young, active crowd that works with their lifestyle and provided the speed and efficiency required," Tobi recalls during an interview with Techpoint.
In 2018, the pair toyed with the idea while continuing to study the space. Then they built an online platform, Paynergy, to allow households and businesses pay for electricity bills seamlessly.
After iterating and gathering feedback from research, they both realised the opportunity in having all energy needs sorted out on one platform. In 2019, the startup's offerings increased as they introduced gas and diesel offerings.
With @paynergyng you are assured electricity recharge at your convenience, gas and diesel refill to your doorstep. Make the best of your holiday use @paynergyng. #Paynergyng #holidayseason pic.twitter.com/G8bejRo3Bw

— PaynergyNG (@PaynergyNg) December 23, 2019
"So, we included gas and diesel to our offerings and began testing. The market response was amazing and we officially launched, " Tobi says.
Akwiwu, an energy enthusiast, is the chief executive officer of the startup. He has an accounting background with over ten years experience in agriculture, construction, and real estate; Tobi, on the other hand, has an extensive background in user experience design and corporate branding. He acts as the CTO of Paynergy, handling product development.
Designed with flexibility in mind, Paynergy lets customers have a bouquet of energy services and plans that can be paid for and tracked in one space.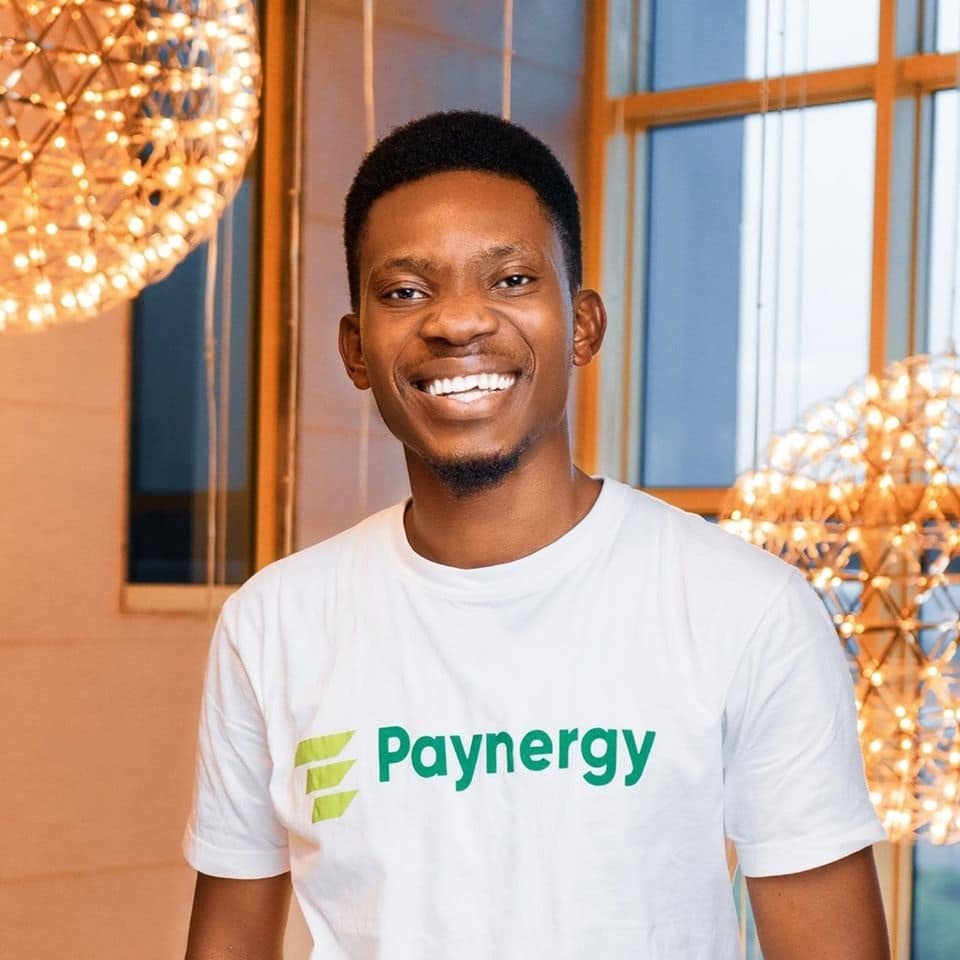 It is with this in mind Tobi boasts of being different from other players in the space.
"Energy payment platforms are here and there but we are different because we have put everything in one place, in one platform. Our competitors offer these values separately but with us, customers don't need to split their time and resources."
Business model with a trio of customers
Alongside the above value proposition, Paynergy also lets users plan for their utility payments on a daily, weekly, or monthly basis, and also track their spending. Users can also use USSD to recharge, monitor usage, and track payment history.
Paynergy's business model entails three core units – the supplier, the customer, and the vendor.
The suppliers are the gas and diesel companies, and the electricity distribution sector that supply these energy sources to the end customers.
The customers then make requests and have these products delivered to them.
The vendors, on the other hand, are agents who sell these products and earn money while doing so. They curate their own customer base and service them through the Paynergy platform.
"We think our model is sustainable because suppliers want to make money and are ready to offer premium services anywhere there is a customer base. The vendors are human marketers and generate sales in areas where our platforms are not easily accessible due to technological constraints," Akwiwu says.
Akwiwu goes on to point out that the Abuja-based startup is currently pulling through with personal funds while actively searching for investors. Noteworthy is the fact that in the last few months, the startup claims to have achieved profitability as well as seen at least 200 customers come in every week.
"We have risked with our own funds and the returns -- estimated and current -- have been looking amazing. We understand, more than anything, that regardless of how great an idea is, it is expected to make profits and we took our time to research and develop before launching, to achieve this."
Open for collaboration and more business
Despite building a strong proposition in a short time, and having a wide coverage of up to 18 states across the country, the startup has had some hiccups. Unlike the popular challenge of funding, Tobi says Paynergy has had issues with convincing suppliers to use their products.
"The major challenge we had to navigate was getting suppliers to understand that customers wanted that kind of convenience. We needed to prove that the stress would be worth it so to solve this, during testing, they just started to see the influx of customers and how much repeat orders were made. Presently, they even tell customers they are listed on the platform and direct them to make orders on Paynergy."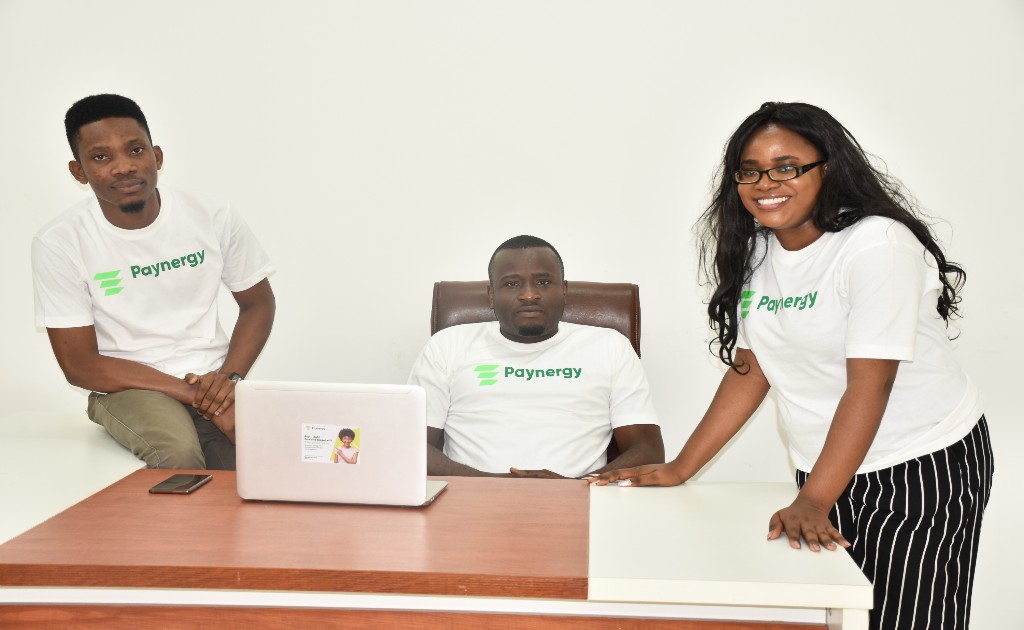 Paynergy is also keen on channeling its efforts into collaborating with companies with similar offerings because there seems to be enough room to grow in the electric metre industry.
"We know that there are areas we haven't even begun to explore and look into, solutions we haven't started to create," Akwiwu says.
Offering electricity, gas, and diesel to its growing list of trio customers, the startup has major plans of incorporating renewable energy once it stabilises its current offerings.
Most importantly, as the founders remark, is that as the energy industry in Africa is finding creative solutions to its problems, Paynergy is aiming to become an all-encompassing company that links these solutions, the providers, and the customers.