Africa's large cities share systemic vulnerabilities mainly resulting from urbanisation, all of which have grown into a long list of challenges that have not been completely resolved. However, due to technological innovations in most climes, the effect of these issues on the populace has been largely reduced.
For example, not minding the somewhat abysmal state of existing transport infrastructures in Lagos, the hassles that accompany transportation in the city may have truly been cushioned by a variety of public transport options available such as the Bus Rapid Transit (BRT), medium-sized buses, taxis, tricycles, and motorcycles.
Also, embracing app-based platforms offering cab-hailing/pooling, bus-hailing, and bike-hailing services has further reduced the challenges associated with movement.
Although true for major cities in South, West, and East African nations, it is not the case for those in Central Africa. This inspired Barrett Nash and his Kenyan colleague, Peter Kariuki to start an on-demand bike-hailing platform in 2014 which has evolved into CanGo.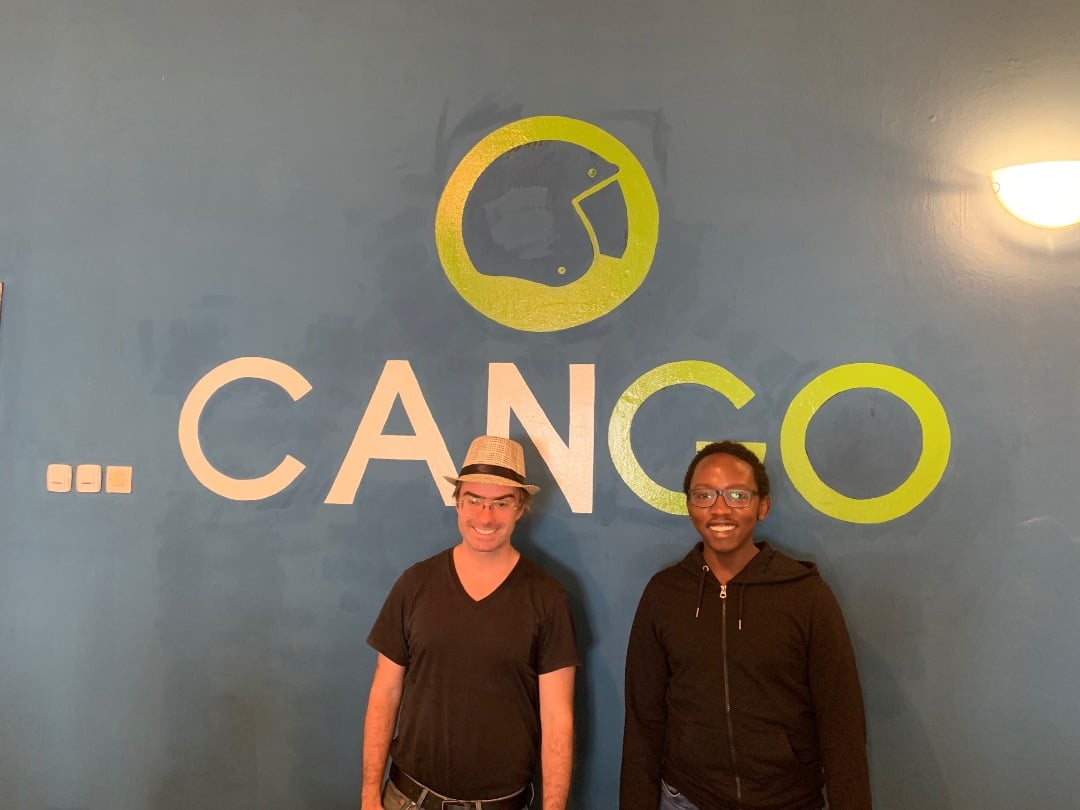 After over a decade of residing in Africa, this Canadian's passion for tech in Africa's emerging market, combined with his co-founder's expertise as a software developer, saw him create the platform that operated first in Kigali, Rwanda. After a successful outing there, they decided to scale into the largest city in Central Africa, Kinshasa.
"What we're doing is providing a safe, convenient, and affordable transportation solution. We allow you to move around the city with ease and also bring the best of the city's services to you," says Nash.
The first-mover advantage
At a time when the duo worked on deepwater cameras in an MIT lab in Rwanda, their evening commute was nothing to look forward to given the bad roads and risky rides.
This was what birthed the idea for a motorcycle-taxi platform, SafeMotos, in Kigali in 2014. This idea got its first backing from an accelerator program in Ireland that lasted for six months, after which the founders returned to Kigali in 2015 to initiate the concept.
As the only motorcycle-hailing business in the country that used helmets and tracking devices, adoption was quick and encouraging. In three years, the startup has recorded about 500,000 trips, hence the confidence that it is ready for an even bigger market.
In 2018, Nash and Kariuki relocated to Kinshasa, Democratic Republic of Congo (DRC). After months of investigating the city, they found out that though highly populated, it had only a few transport options and bad road networks.
According to him, an intervention is highly welcome because there's a high awareness that a lot of risks come with moving around to access services in the city, either from the bad roads, crash-prone means of transport, or shared buses.
"Kinshasa is the third largest city in Africa. There is good 3G/4G Internet in the sky but there's almost not much use of technology yet. It's almost like pre-tech," he affirms.
If we go by numbers, only 16% of DR Congo's population are active on the Internet. This is quite low in comparison to Nigeria where half of the population uses the Internet.
Even so, Nash reckons that the challenges that come with this huge opportunity would not last for long given the startup's current progress.
"We launched our first trips in Kinshasa in August, 2019 based on the lessons we learnt in Kigali, and now make close to 1,200 trips per day. I think this is growth."
Value proposition
CanGo operates ride-hailing and on-demand logistics services.
The startup's model has riders register their bikes on the platform, get onboarded after verification, and then linked with customers through the mobile application. And as is common with ride-hailing platforms, CanGo riders pay a commission on every trip.
"We take a commission for every trip/order. For ride-hailing, it's 20%, while for other on-demand services, it's about 5% which varies based on the product moved. Although 50% of our rides are discounted at the moment," explains Barrett.
According to him, traditional bikes cannot be considered as a competition to CanGo especially with respect to price and coverage.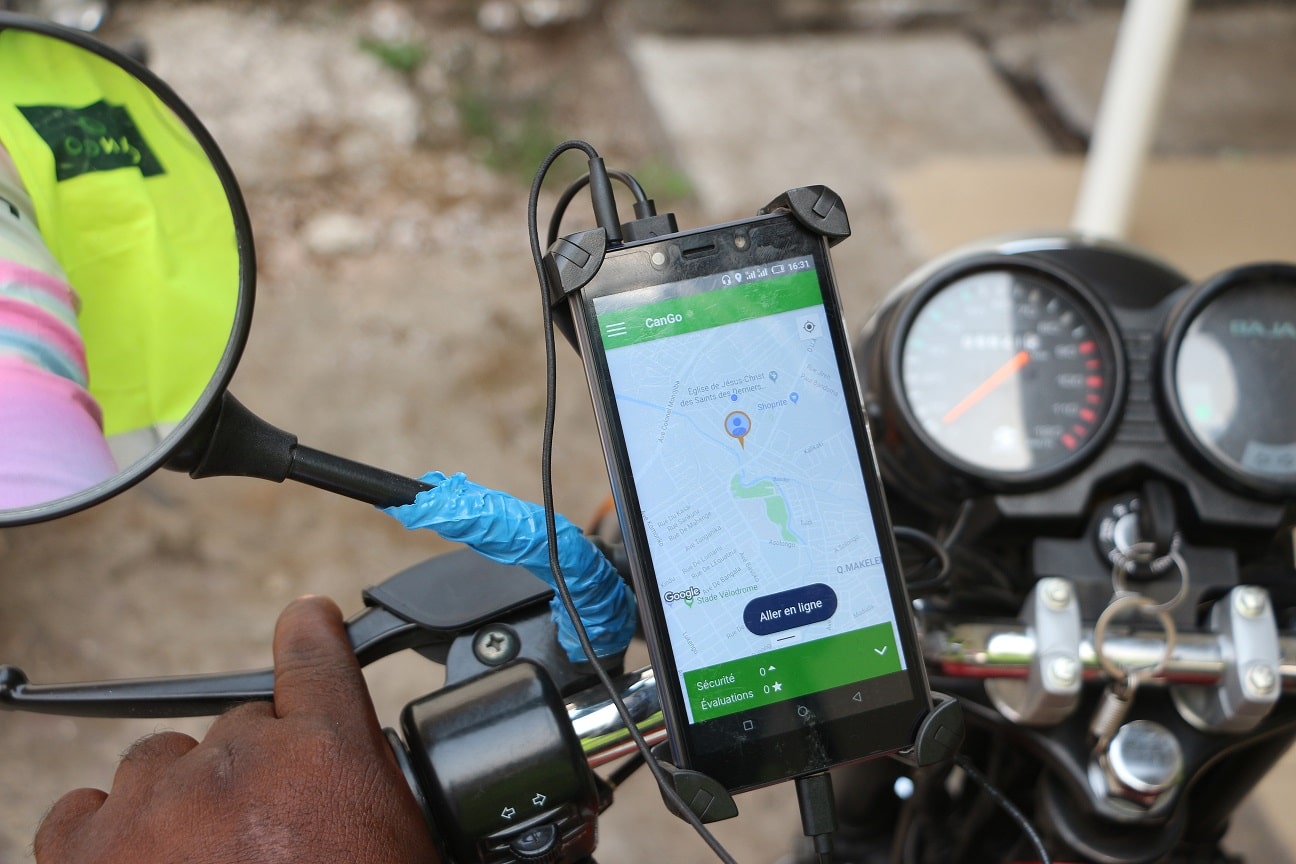 "The first five minutes of our trips are free as promotion. Overall, we are about 40% cheaper than a bike on the street. So, a $1 trip is about 60 cents on our platform."
He further states that fares are charged based on trip time and not distance, and users can pay with cash or debit/credit card.
He, however, reveals plans to include a payment platform going forward, but for now, "Kinshasa is still early for mobile money."
Consistent investors' interest
Although bootstrapped in its early days, at no point has funding stalled the startup's growth, and this is for an obvious reason -- CanGo is operating within an untapped ecosystem in the region. Getting into the SOSV accelerator program in Ireland in its first year largely set the business on the right track. And it has since survived on revenue and VC funds.
Earlier this year, CanGo closed a $1.1million funding raise, led by Battery Road Digital Holdings; Silicon Valley VC, TRUCKS; SOSV; Dubai-based firm, HALA;  ZEPHYR ACORN, and PAN Group. This round has bolstered the startup's confidence to plan further expansion into other Central Africa nations while also attracting more investors' interest.
"To date, we've raised $1.8 million from investors and we are looking actively for additional investors that bring greater strategic value inside the African continent, especially Congo."
Super App ambition
As it is for most tech solutions, there is always room to innovate further. CanGo's initial plan is to design an app-based motorcycle taxi model, but considering best practices in larger markets, it has eyes on an even bigger plan.
"What we realised is we've built a logistics network [being that] motorcycles can move anything --  people, pizza, or a bag of potatoes. Users have multiple services they want to benefit from, so we started thinking of this as a Super App by the influence of a company called Gojek in Indonesia," explains Nash.
CanGo's goal is to use motorcycle-hailing to build its network after which it will release additional verticals into the same mobile application. The logistics backbone is expected to ultimately make incorporating more revenue streams seamless.
The first-mover is moving fast
According to Nash, the platform currently boasts of 165 riders and 12,000 registered users, 1,250 of which actively engage rides and other logistics services weekly.
All these are in spite of the country's strong bureaucratic system which could inhibit startup growth, and people's slow culture of transiting to new innovations. However, he hopes that tech penetration will soon be higher than what obtains now in the country.
"Over another year, we're working to scale in Kinshasa, by growing 20 to 30 times over what our current volume is. We'll also include around eight new service verticals on the app," Nash affirms.
Geographical expansion should follow, as he believes that at that stage, CanGo would have grown strong enough to withstand competition in Kinshasa. This will include additional cities in DRC (Lubumbashi and Goma) and other Central African nations (Angola and Rwanda).
Ultimately, it is expected that CanGo's first-comer advantage would make it scale fast while the region is still in the pioneering years in tech adoption.