Editor's Note September 26, 2022: An earlier version of this article did not mention, Frontdream Web Solutions, the technology firm that developed the National sex offenders database and maintains it to this day. We soon found out about them and updated the article to reflect their involvement. Stay tuned for a follow-up interview with the founder. 
On Monday, November 25, 2019, Nigeria launched its online national Sexual Offender Register to help members of the public and security agencies conduct background checks and identify sex offenders.
The platform was built by Frontdreams Web Solutions Limited, an information technology firm in Nigeria.
"This is the first of its kind in Nigeria," Beatrice Jedy-Agba, Executive Secretary of the National Agency for the Prohibition of Trafficking in Persons (NAPTIP) reportedly said.
"It enables bodies such as schools and hospitals to conduct background checks and it will deter sex offenders because they will know their names will be published, affecting their employment and role in society."
In 2015, The United Nations Children's Fund (UNICEF) reported that one in four girls and one in 10 boys had experienced sexual violence before the age of 18 and an estimate of at least 2 million girls in Nigeria reportedly experience sexual abuse every year.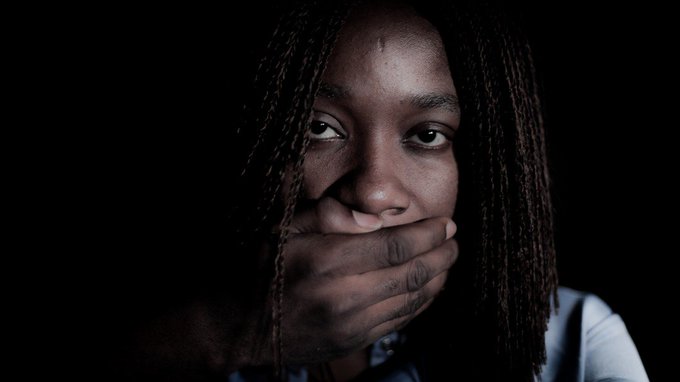 Unfortunately, the majority of these cases go unreported as a result of social stigmatisation and victim blaming. This results in an increasing number of sexual abusers and repeat offenders. The new database aims to name and shame them.
Before the national register was launched, only two states in Nigeria, Lagos and Ekiti, kept registers of sex offenders. The register in Lagos State was opened in 2014 while a 'Black Book' for sexual offenders was opened in Ekiti State in 2013.
According to a petition started ealier in the year by The Consent Workshop, a foundation seeking to deconstruct the rape culture in Nigeria, "the Lagos State sex offenders register is said to have 140 registered convicted sex offenders to use shame as a deterrent."
Unfortunately, these registers are not updated regularly, defeating their purpose. Hence, the need for a national registry that will be monitored and updated frequently.
According to reports, the responsibility for this task lies with NAPTIP alongside 15 non-government organisations, with support from the British Council. Together, they will ensure that the database is updated monthly.
The Sexual Offender Register
The online platform, which was developed by Frontdreams Web Solutions Limited, has two databases, one for sex offenders and the other for service providers. The sexual offenders register contains information on reported, arraigned, or convicted people involved in cases of sexual violation or abuse as defined by the Violence Against Person (Prohibition) -- VAPP Act 2015.
The register contains cases of "sexual assault, exploitation or harrassment and intimidation, as defined by part IV Interpretations of section 46 of the VAPP Act 2015," according to the website.
Conducting background checks on convicted offenders will be easy since their information is readily available in the search register which helps you search convicted cases by name or location.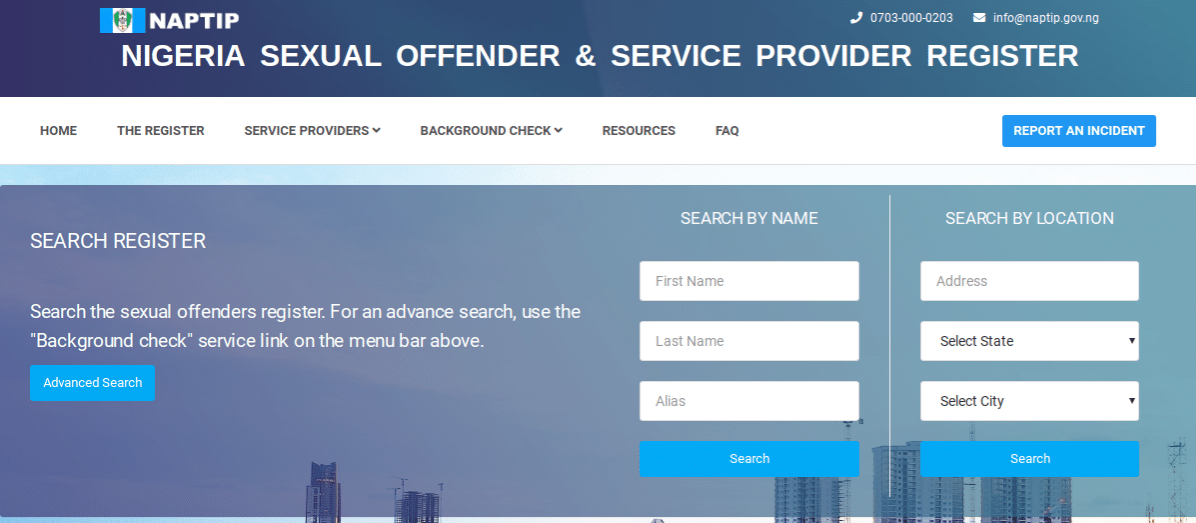 The "Search by Name" option requires you to enter the first name, last name, and alias of the offender. The "Search by Location" option, on the other hand, requires the person's address, state, and city.
Information on reported and arraigned cases can be accessed based on demand.
The database for service providers, on the other hand, contains details of governmental and non-governmental organisations across the country that provide assistance to victims and survivors of all forms of domestic and sex-related violence.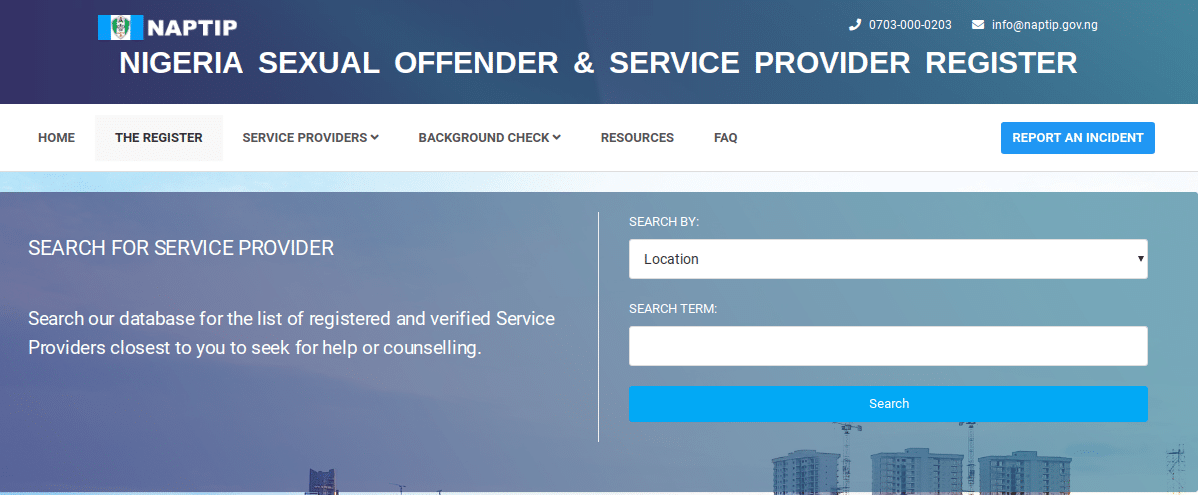 The site also has a feature that helps you report an incident. The Incidence Reporting Form requires all the details of an incidence that can help the organisations involved to investigate and bring an offender to book.