Last Thursday, Twitter announced that its new options for users to "hide reply" under their tweets has been rolled out globally.
Starting today, you can now hide replies to your Tweets. Out of sight, out of mind. pic.twitter.com/0Cfe4NMVPj

— Twitter (@Twitter) November 21, 2019
The announcement, which was first made in February and started testing in early July in Canada, Japan, and the US, was discovered by Jane Manchun Wong, a reverse-engineering expert.
Twitter is testing replies moderation. It lets you to hide replies under your tweets, while providing an option to show the hidden replies pic.twitter.com/dE19w4TLtp

— jane (@wongmjane) February 28, 2019
This move is coming after Twitter reportedly tested the hiding of likes and the retweet button in its soon-to-be-released new mobile app, twttr -- to help read long conversations and threads easier -- in March.
This "hide reply" feature will enable users to hide any reply of their choice from the conversations they start. It can also be used to hide replies that are unrelated to the content of the tweet.
"Currently, repliers can shift the topic or tone of a discussion and derail what you and your audience want to talk about. To give you more control over the conversations you start, we tested the option for you to hide replies to your Tweets. We learned that the feature is a useful new way to manage your conversations," Twitter said in a blog post.
Prior to this new feature being rolled out, users could only control their conversations by muting certain keywords so they didn't show up in their notifications, or by blocking certain users.
However, with this new feature, the author of the tweets decides which replies stay and which are hidden from other users.
Aside from adding this feature, Twitter Product Lead, Kayvon Beykpour, also says that they are looking at "exploring providing even more control, such as letting you choose only specific people who can reply to your tweet."
How to hide replies
Select a reply you don't want in any of your tweets, tap the drop-down icon on the tweet
Click on hide reply
To view your hidden replies, click the "hidden reply" icon which is available in the bottom-right of the original Tweet
Once a reply has been hidden, it will be replaced by a notice that says, "This reply has been hidden by the Tweet author" when viewed on the author's timeline.
Though the hidden replies will be moved to a different page, where other users can view it. Other users can click on the 'hidden replies' icon on the tweet and get a list of replies that have been hidden.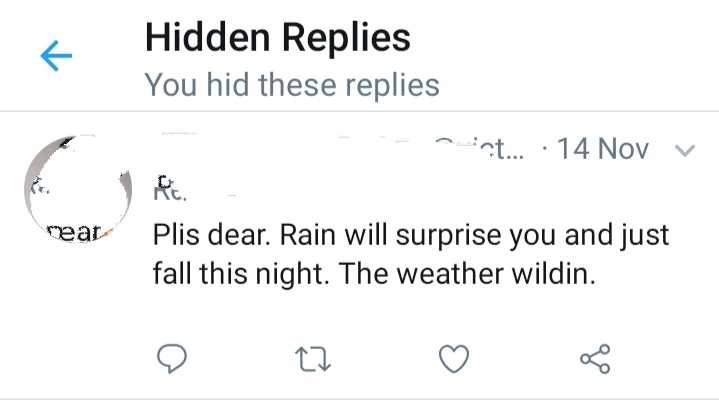 Additionally, before a reply is totally hidden, Twitter will ask if you would like to block the owner of the account whose reply you hid. The person whose comment was hidden will also be able to see that the comment is no longer available.
How to unhide a reply
Tap the "hidden reply" icon
Click the icon from the reply you'd like to unhide
Select "Unhide reply"
This feature is available on Twitter for iOS, Android, and twitter.com, but not on Tweetdeck.
Considering that Facebook and Instagram are testing the hiding of likes, it appears that social media platforms are looking to make their apps less toxic for users.