The Gambian agricultural sector is mostly characterised by subsistence farming but only half of these farmers have enough to feed and also sell. Despite this, farmers have to deal with the challenge of storage and preservation of farm produce. This reality makes them sell at ridiculously low prices to prevent wastage, thus making little to no profit.
Modou N'jie saw this gap between farmers and consumers and decided to leverage on his two decades of experience in IT management to proffer a solution to ease farmers' predicament.
His idea culminated in the first online fruits and vegetable store in the Gambia, Farm Fresh, in 2014.
"We partner majorly with women farmers with the challenge of selling their farm produce across the country, by serving as their marketing channel in the value chain," N'jie reveals.
Bridging a gap
Located a few kilometres from the Gambia's capital, Banjul, Farm Fresh connects with a network of over 20 fruits, vegetables, and livestock farmers across the country, particularly in the rural areas.
According to N'jie, the business plans to scale up this statistic as soon as there's a corresponding demand because it constantly seeks to assist farmers to get their products to consumers.
"As a Gambian-owned business, we are helping local smallholder farmers to sustain their businesses, thereby increasing income because they are assured of consistent sales," he adds.
In the absence of middlemen, N'jie says these products are purchased at a fair price from farmers and sold with only a 10% mark-up; this and other qualities distinguish Farm Fresh from other stores.
"We buy at wholesale price and do not have to hike the price to make a gain. We also select the highest quality produce, clean and package them to make them ready to cook."
Besides the sale of foodstuffs, the startup also deals in organic products, like plant seedlings for farmers. This is achieved through a partnership with three traditional agriculture companies: TechnoFarm Gambia, Gambia Horticultural Enterprise, and Tropingo Foods.
An innovative enterprise
As a business with an initial intention of adopting a technological solution, Farm Fresh started out as an automated system, which could be accessed through its mobile application(which is currently being updated) and website. But it was no sooner than it began that it saw a need to extend product order to phone calls as a way of including offline customers.
"When an order is made through any of the channels, an invoice describing order and payment details is generated and sent to the customer via an email or SMS," he explains.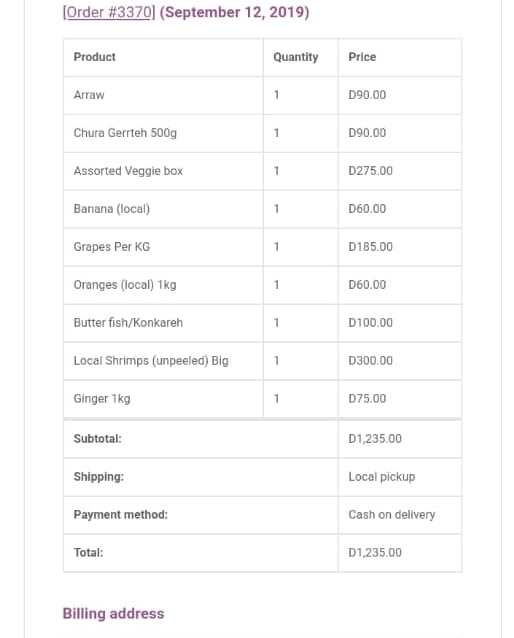 For seamless order processing, suppliers are contacted to confirm the availability of products before calling the buyer to confirm delivery details.
In its early years, deliveries were made using the founder's vehicle, but this didn't prove sufficient for long. Currently, Farm Fresh outsources order deliveries to three delivery companies that use motorbikes, which is more time and cost-effective.
The delivery cost is fixed based on location and is paid by the buyer on delivery depending on the payment option selected.
"Payment can be made through mobile money, online transfer, and cash," he notes.
Progress in spite of drawbacks
It is expected that championing a technological solution like this will come at a cost, hence Farm Fresh was self-financed in the first year of operation before financial aid turned up. However, the business is still in need of financial backing to speed up its progress.
"Farm Fresh was a recipient of the Tony Elumelu Entrepreneurship $5,000 grant in 2015. We also had a  $6,000 shareholder investment injected into the business in 2016. These funds have helped with product packaging and marketing."
In 2017, the startup opened a physical store where buyers could walk in and make purchases. This afterthought, N'jie admits, was necessary because online shopping is still unpopular among Gambians, a challenge which is gradually being addressed by educating the populace on the ease of online purchases.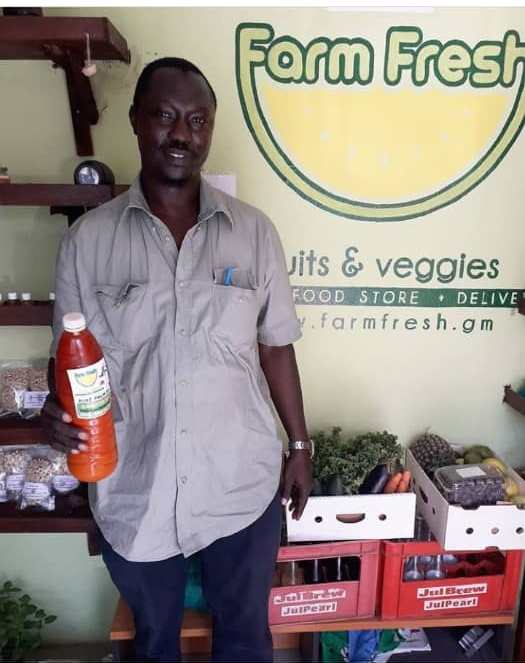 But that's only one of the odds facing this agritech business.
"Presently, there is no online payment gateway available in the Gambia that allows buyers to pay online using debit or credit cards. The business has thus far relied on mobile money. However, the Central Bank is working on addressing this problem," he reveals.
Regardless, the business boasts of a client base of over 100 dedicated users which has caused a 30% increase in revenue.
In addition, the startup is equally promoting how Gambian nationals abroad extend care to their relatives.
"We also target Gambians in the diaspora. Instead of remitting money, they come to shop on our platform and we deliver fresh food to their family."
This, N'jie claims, is not a common practice.
Future plans
In order not to defeat its objective of supplying fresh farm produce, the startup currently does not store products in bulk. As a result, it plans to include food processing into its line of service by the first quarter of 2020. With this system in place, it intends to acquire a refrigerated truck which will aid the storage and delivery of large purchases over long distances.
Ultimately, it hopes to expand its coverage beyond Greater Banjul and Brikama regions as N'jie reckons that the business has the capacity to deliver country-wide as long as there's a demand.