We live in busy times. Whether you're a parent or a professional strapped for time, the last thing you want to do in your free time is clean.
For many working-class Nigerians, getting help with house cleaning has become a must. However, more often than not, looking for reliable professionals could cost more time than actually doing the house cleaning chores ourselves. Moreover, you have to negotiate payment terms before the job is done.
Quite a number of people do not have the time and patience to go through all of that. Ejimonye Ofodum, popularly referred to as 'Jim', a former payment implementation manager at Flutterwave, is one of such people.
Solving one's own problem
In her case, as a working professional, Jim barely had time to do things that were important to her -- hanging out with friends and cleaning her apartment. Although Jim saw this as a challenge, she also saw an opportunity and decided to start Fichaya, a startup that provides affordable on-demand cleaning services in Lagos.
"Outside of always being tired, I knew cleaning was not for me and I did not know any company that could help me the way Uber has helped us move around easily, or PiggyVest, that helps us easily save and grow our money. So I decided to do it. I started testing the idea of Fichaya on the side," Jim told Techpoint.
Launched in 2017, the startup began as Mora's Cleaning, a platform that provides customers with a home cleaning service that centres on customer service, quality cleaning, and affordability.
However, to give its customers a name and brand they could easily identify with, it rebranded to Fichaya which means 'clean it' in Igbo -- one of the most widely-spoken languages in Nigeria.
What makes Fichaya different?
Fichaya's value offering is simple. You go to the website, select any of the packages you want, choose your preferred cycle in a month, then pay. Fichaya's services are in the form of three packages: regular home cleaning, deep cleaning, and fumigation, with prices ranging from ₦5,775 ($15.98) to ₦60,000 ($165.99).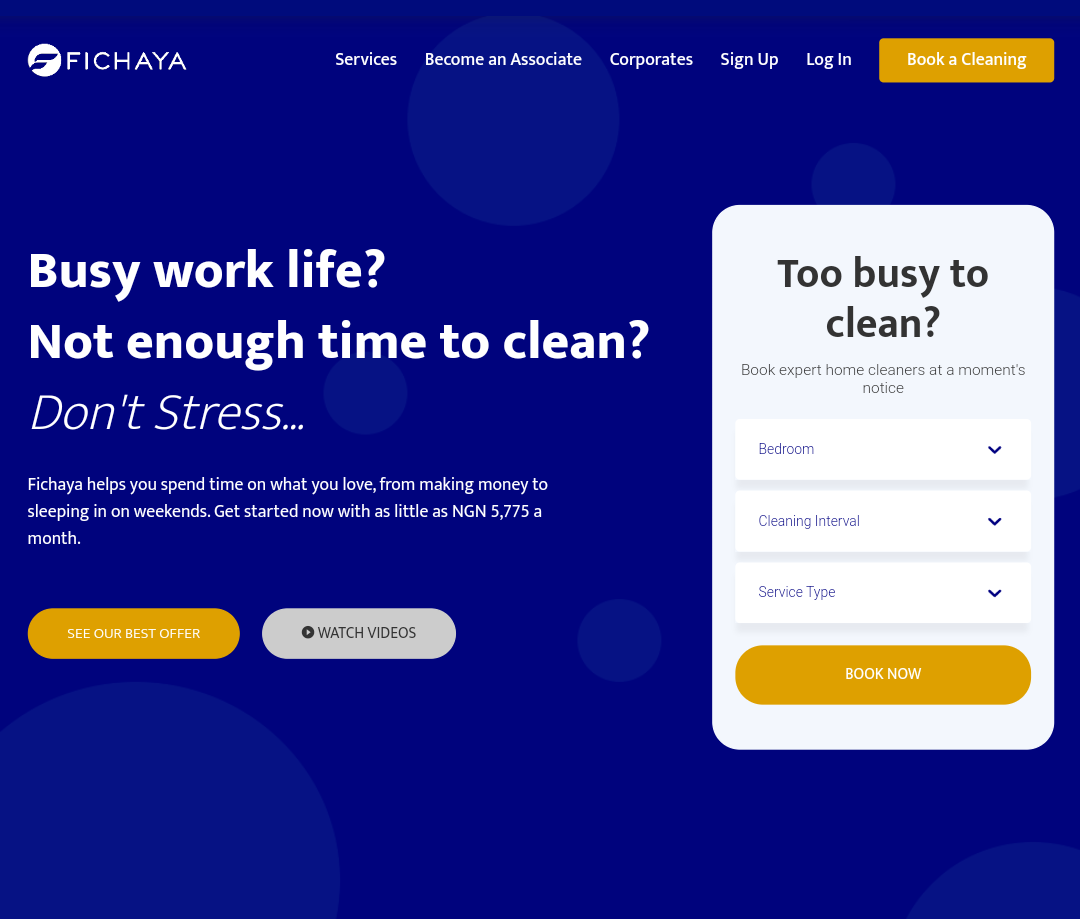 In a space where there are other startups and businesses offering similar services, Fichaya takes pride in its ability to retain cleaning associates by paying them significantly higher salaries than their peers.
"Our cleaning associates are very important to us because they are our brand ambassadors," Jim said.
With its business model, Fichaya claims cleaning associates can earn as much as ₦120,000 ($331.98) per month which is over 80% higher than the industry average.
The startup now provides cleaning services for more than 50 homes and serves multiple clients such as Landmark Hotel, Flutterwave, and Mavin Records. Fichaya also has strategic partnerships with real-estate companies like Fibre and Spleet.
Going forward
Like Fichaya, most home cleaning services face problems with their customers, ranging from wanting their cleaning to be done when they are around to issues revolving around affordability. By building trust with its customers, Fichaya hopes to effectively navigate this problem.
"You have to be extremely patient and maybe even have a knack for speaking to, or helping people. Although we learn everyday, our growing team is well trained and positioned to handle it," Jim said.
While it is easy to think of an idea, execution is key. This is why Jim, who has a background in telecoms and fintech industries, enlisted the help of Deji Fasore to be her co-founder. Deji is the director of products and strategy at the startup and has a background in management, having built scalable products across multiple industries.
When Fichaya started in 2017, the startup had only one cleaning associate and a relationship manager to handle the startup's phone lines. Fichaya now has over 20 active cleaning associates and three more team members working in operations.
Presently, Fichaya is completely bootstrapped. In the works, however, is a potential angel investment which will be used to scale across Nigeria.
To that end, Jim speaks of becoming a regional leader in this very difficult on-demand cleaning space.
"I think the cleaning industry is massive and we are striving to make sure Fichaya is at the forefront in Nigeria and other thriving African economies."