With over 20 million people tightly packed in a small area, Lagos State in Nigeria is one of the most populated cities in the world.
Living and working in a metropolis like this one, popular for legendary traffic jams, can be quite daunting for millennials who cannot afford to live comfortably.
A Lagos-based startup, Eden, says it can automate and help people in this city run their homes with its operational model for 'eliminating chores, tedium and poor services that plague busy professionals.'
In 2014, Nadayar Enegesi moved from Toronto, Canada to Lagos, Nigeria to co-found Andela, an African tech talent accelerator and noticed something.
"In my five years of living here, it always bothered me that life in Lagos was suboptimal and I vowed to do something about it," Enegesi said in a telephone conversation with Techpoint.
For Enegesi, conversations and research with friends and colleagues on building sustainable cities led to something else.
"The sustainable city would have cost a lot of money and I figured that if the ultimate goal was to build for sustainable living, a solution like Eden would be the answer for now," he said.
In April 2019, a team of three ex-Andelans; Prosper Otemuyiwa, Silm Momoh and Enegesi who is founder and CEO, came together to build the service full time.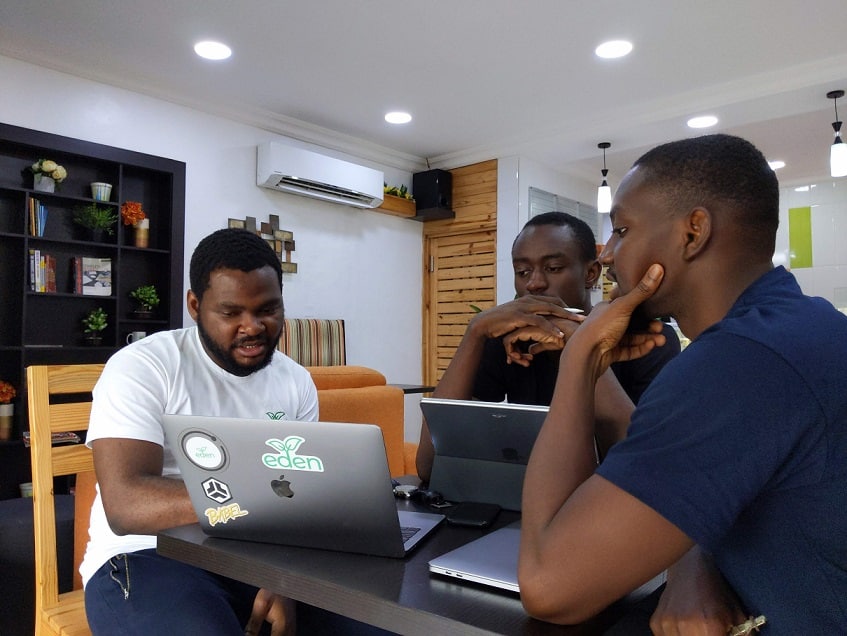 Apart from its founders who previously worked at the African tech talent accelerator, 13 other Andelans who have contributed to an undisclosed seed round also currently fund Eden.
Eden's services target busy professionals in metropolitan cities like Lagos where it started.
For a monthly fee ranging between ₦23,000 ($63.5) to ₦86,000 ($237.4) depending on the selected plan, the company appoints one of its trained staff called Gardeners to a customer.
These Gardeners deliver services and chores like laundry, cleaning and maintenance, meals and groceries, and electronics servicing, on a recurring basis according to the customer's selected plans.
As the description on its website succinctly puts it, Eden is a 'a human-powered, tech-enabled service that puts your household chores on autopilot.'
To do this, they collaborate with existing service providers in these industries, vet them and assure subscribers of their reliability.
"We don't work directly with artisans as there is usually no professionalism. So we use a very strict selection criteria and check for things like reference, certification and industry level compliance, liability insurance in case there is damage in the client's house, and capacity to manage jobs," Enegesi said.
And according to Eden, this quality assurance process is what differentiates the company from others that merely provide the services.
When Eden started, Enegesi said they envisioned logistics would be a major challenge because of the structure of Lagos, but tech took care of that end.
"Within the first two weeks, we created an algorithm that manages all our logistics and makes everything easier," he said.
This process would most likely have been easy as all three co-founders are engineers. He however pointed out one hurdle they have had to face many times.
"The biggest headache has been communicating the idea of Eden to people and educating them on what we do. Many people thought we were an IoT company, and many other assumptions like that." E
On expansion and future plans, Enegesi said as Eden's goal is to make life easier and better across the continent, it is going to be expanding into other African countries in the near future.