The second telecommunications company to be listed on the Nigerian Stock Exchange (NSE), Airtel Africa today tops the gainers' table after weeks of maintaining the same share price.
Airtel Africa -- trading as AIRTELAFRI -- listed on 9th, July 2019 with an initial public offering (IPO) price of ₦363 ($1) and after just a day's trading closed at ₦399.30 ($1.10), 10% higher than its opening price.
However, the telecom giant saw its share price fall to ₦323 before it went up to ₦323.5 which it held for several weeks.
Showings signs of recovery on Friday, September 13th, Airtel closed at ₦350 ($0.97), 8.19% higher than their previous closing price of the past few weeks of ₦323.5.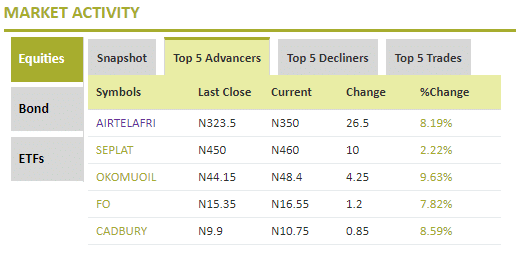 Also, Airtel's market capitalisation increased from ₦1.22 trillion to ₦1.3 trillion.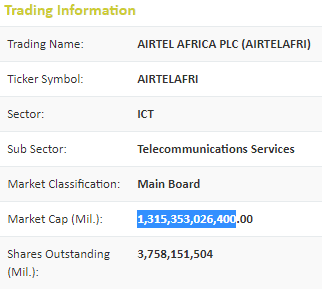 While Airtel's stock price has been relatively static over the past couple of weeks, MTN Nigeria became the most valuable company on the stock market, overtaking Dangote Cement Plc.
The two telecommunications companies are the only listed ICT companies with a share price above ₦100, while others are trading below ₦5.
Recall that earlier this month, the wake of xenophobic reprisals in Nigeria saw MTN's share price narrowly fluctuate on the stock market. However, it is currently maintaining relative stability. Its closing price today was ₦139, 0.5% higher than its opening price for the day -- ₦138.5.