Fresh out of university with a first-class degree in Computer Engineering, Odunayo Eweniyi ventured straight into the startup world. Six years later, she leads one of Nigeria's most popular fintech startups, PiggyVest, and has been recognised on the Forbes Africa '#30Under30' and 'World Women in Fintech Power' lists, to mention but a few. On this edition of How I Work, she gives us a behind-the-scenes look into her work routines and how she stays productive.
---
Current role: Chief Operations Officer at PiggyVest
Location: Lagos, Nigeria
Current computer: Macbook Pro 13"
Current mobile device: iPhone XS and Google Pixel 3s
Describe how you work in one word: Structured
Tell us briefly how you started out your career and how you got to where you are today
I started out my career right out of university, like two weeks after I graduated from university. I joined my co-founders in their tech startup and then I was working with them for about six months before we went on to launch Push CV together. And two years after we launched Push CV, we launched PiggyVest.
Walk us through a recent workday
In the morning, as soon as I wake up, I write my to-do list cause when I wake up, emails would have already dropped so I need to structure my day. I use Notion to write the list of things I need to do or at least start that thing. Then I go about my morning activities, I have my bath, brush my teeth, and when I get to work, I set up my workspace.
Then I take out a few moments before I start working to speak to my colleagues. We talk about anything and everything before we start the workday. It can be a problem we have at work, it could be a movie they watched last night, anything, just to kind of loosen everyone up. And after like 10 to 15 minutes of that then I can go sit down at my workspace and begin the day.
For the day, it could be maybe a couple of meetings, tons of email, lots of writing, liaising with our partners, lawyers, asset managers, and so on.
What apps gadgets or tools can't you live without?
Well, I can't live without Twitter, it is very important to me. I also can't do without Notion, I can't do without my email app which incidentally is not Gmail app -- I use Polymail. And I use Polymail because it tracks the opens of mail -- who has opened it and who's clicked on the attachment I sent them. Mostly so I can map out when I get feedback from people. So, I can't do without Polymail.
I also can't do without all my bank apps. I can't do without the Podcast app on my iPhone. I cannot do without Deezer, that's important as well because I can't concentrate without music. And then Google Calendar. Google Calendar is also really important. Without Google Calendar my day would actually fall apart. Zoom on my phone and on my laptop, those are very important. And I think Google Drive, Slack, the PiggyVest app itself, that's like very key. I think that will be it as per like day-to-day interactions with an app.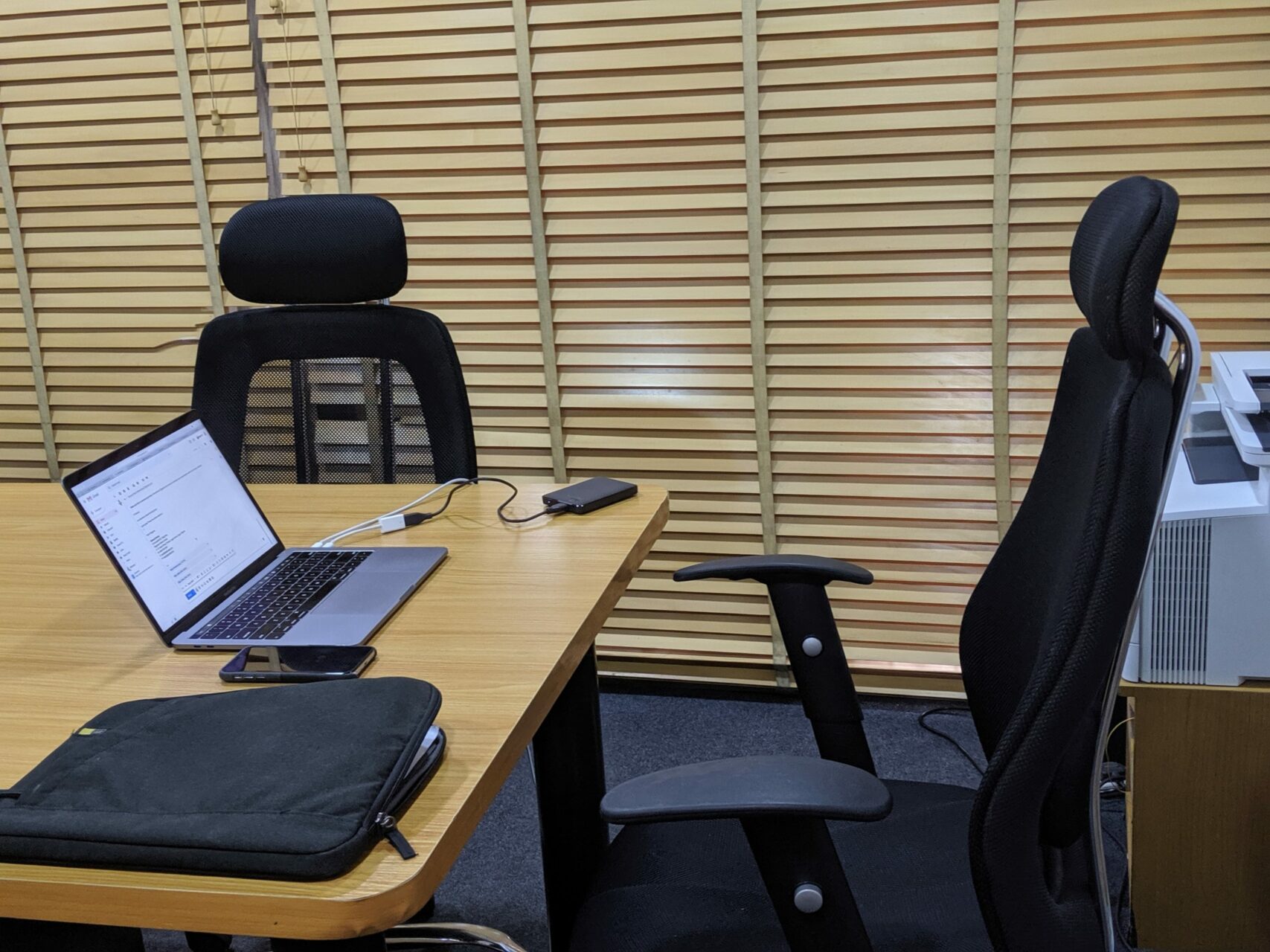 What's your favourite shortcut or hack?
I don't know. My processes are very unique to me, I think. So I don't know that I would call them shortcuts or hacks. They just seem like processes that work for me personally. What I try to do is, whatever work that I have to repeat every day, I take the path of least resistance, and create like a process I can repeat even in my sleep. So I don't really look at how other people do their thing that makes it fast for them. Like, I'm a different person.
What tasks do you not like to do but have to do?
I have to take a lot of meetings and I don't love meetings at all. But I have to take meetings, a lot.
How do you keep track of what you have to do?
Yeah, Notion and Google calendar and the Notes app on my iPhone. Those three things help me keep track of things I have to do.
How do you recharge or take a break?
I watch like a ton of TV shows and then I tweet. So, like I watch lots and lots of TV shows. I have a very active Netflix account, and then then I tweet. So when I'm on Twitter, it's actually relaxing for me.
What do you enjoy or spend time doing besides work?
It's still TV shows. Like, they transport you to another world and you can take a break from everything.
So what are you currently, reading, watching, or listening to. Or what do you recommend?
Well, I don't like to recommend things to read for people because my taste is normally weird. Right now, I'm very obsessed with Elizabeth Holmes of Theranos, so I am reading, listening, and watching everything that I can find about her. I mean, it's not an unhealthy obsession or anything, I know that she built a fraudulent company but I am obsessed with the character that is her, like, the drive. And I think that there is something there that hold lessons for we young founders.
What is the best advice you ever received?
Well, it would be from my dad. It's always to give people the benefit of the doubt. Actually, my personality agrees with that. I don't judge people right off the bat. I like to maintain a very neutral state. I guess the follow-up to that would be until when people show you who they are, believe them.
What's a problem you're still trying to solve?
A problem I'm still trying to solve. Well, as a young company, we're always evolving, and at the top of my list right now is employee satisfaction, employee retention. So we're evolving, we're trying, we're experimenting with things but definitely, we want our people -- people who are doing us the honour of working with us -- to kind of feel that they belong in a workplace that feels like a family. We're working towards creating that. Though it's not a problem, per se, it is what we're working on currently.
Who else would you like to see answer these questions?
Timi Ajiboye and Ire Aderinokun of BuyCoins
---
If you will like to sponsor the How I Work series, send and an email to [email protected] or call +2348186016629