On the 29th of May at the 2018 edition of Techpoint Inspired, a team of 10 young people gathered in a corner and tinkered with model gadgets. Their red shirts had "INVENTTECH" printed across in white letters.
On closer inspection, they were a mix of graduate and undergraduate students of the Obafemi Awolowo University (OAU) in Ile-Ife, Osun State Nigeria. They made microcontrollers with a unique flavour, and their product, which is hardware and IoT oriented, has the potential of changing not just Africa, but the world's hardware culture.
There was no time to find out more details about this product and the team behind it.
Fast forward to November, and a few days into the 2018 edition of the annual Techpoint Innovation Tour, the Techpoint team pays them a visit in a tiny garage converted to an office in Ile-Ife, Osun State.
It is still the same InventTech team from May, but calmer and more relaxed. The young company called InventTech was made official in January 2018 at iLabs in Obafemi Awolowo University (OAU).
According to a Techpoint report from 2015;
"iLabs OAU was established in 2005 as an extension of iLabs at the Massachusetts Institute of Technology to provide remote laboratories which were easily accessible to people who, through online time booking, could be granted access to equipment for experiments."
---
Suggested Read; How iLabs OAU is helping advance Technoculture in Nigeria
---
After the Techpoint Inspired they attended, extenuating circumstances meant the team had to leave iLab and move to another location in an actual garage.
The garage office gives off an 'early days of Apple' Jobs-Wozniacky feel.
Even though the company is less than a year old, the 10-man InventTech team has over 30 years experience combined in software and hardware technology. A bunch of seasoned young people indeed.
Inside the already cramped office, big unopened boxes of inventory recently shipped in from China are strewn all over; they contain components for InventOne.
InventOne is a new wave of programming microcontrollers. It is still programming but a new visual way to make it simple and easy to learn. The device can be used to build robots, home automation devices and learn programming and STEM education generally.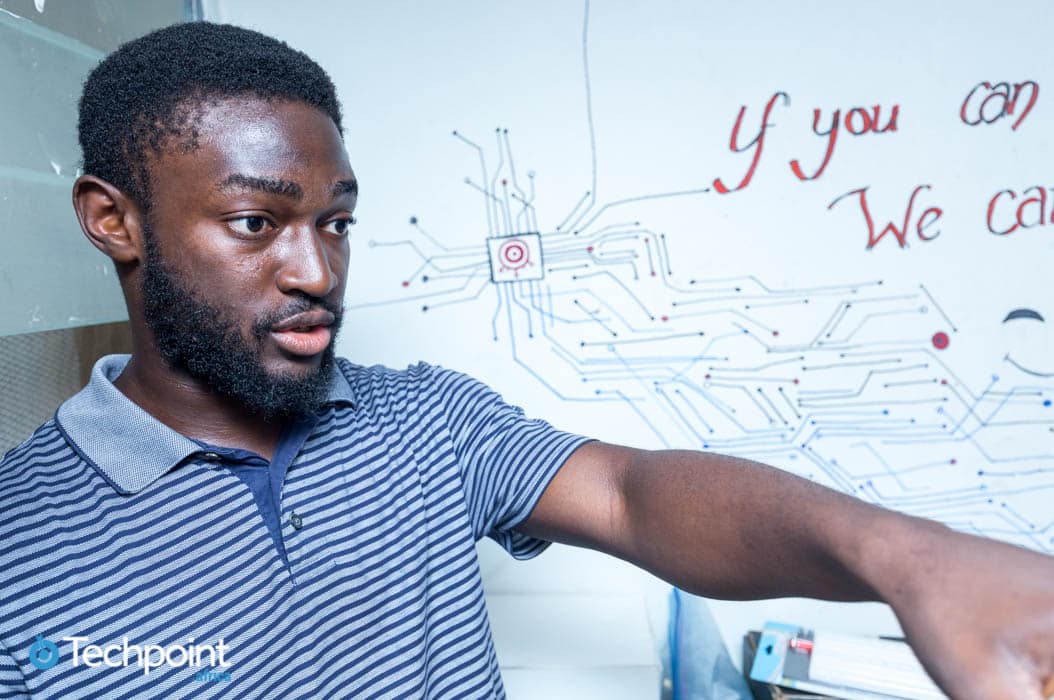 Victor Shoaga, hardware engineer, founder and team lead at InventTech shows me a sample of the microcontroller.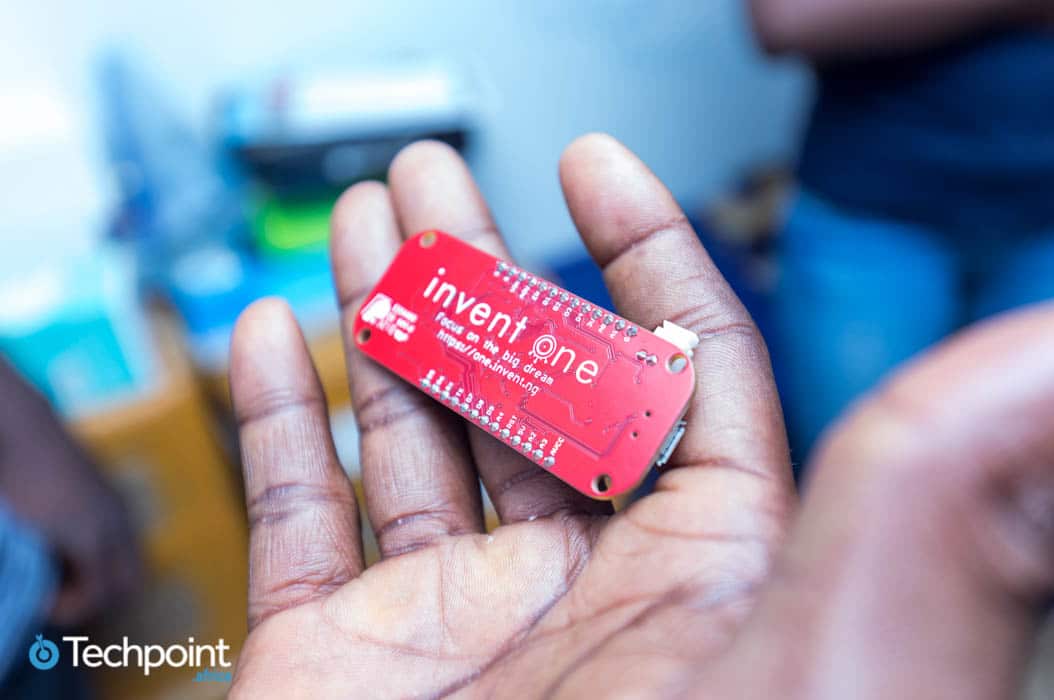 Fun fact, Victor used to be a member of the Humane Team that moved on to global finals of the Microsoft Imagine Cup in 2016.
---
Suggested Read; Nigeria's Team Humane makes it to Microsoft Imagine Cup World Finals
---
Victor learned a couple of things from his Humane days and they include the essence of focus and teamwork.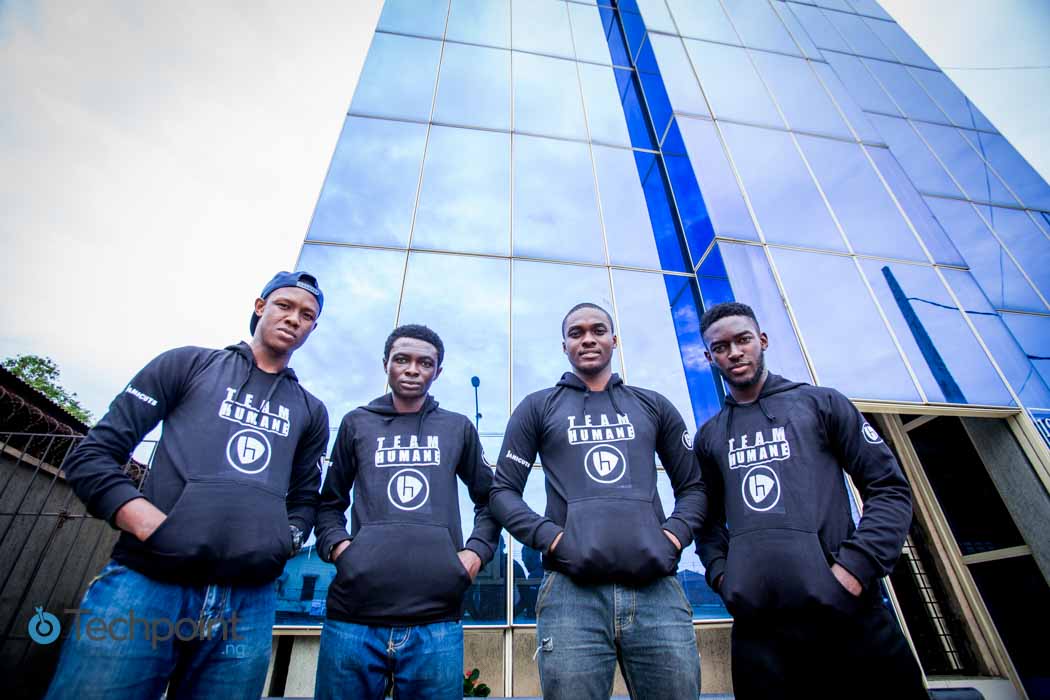 "I started building InventOne a few years back while still in the university and over the years it has gone through a lot of processes, but has become the company's first product," he says.
From the Raspberry Pi to Arduino, microcontrollers already exist, why build another?
Software engineer and co-founder at InventTech, Ayomide Bakare says the world is moving towards IoT. He thinks there can never be enough microcontroller boards.
"We are in the world of IoT and soon everyone will be doing this. I know you and everyone else are used to the Raspberry Pi, but where the world is headed, there are not enough of these devices," Ayomide says with an improved version of the InventOne in hand, it had arrived from China in the boxes.
As interesting as the device is, Victor says the supporting software is the main product.
"When we started, the assumption was that we had one product, but with careful assessment we realised it was actually two. The software can be used to program other boards with WiFi module ESP8266 which is the most popular," he says.
Basically, the InventOne software will be used on boards like Arduino and Raspberry Pi among others.
How InventOne works
InventOne is targeted at hobbyist, students, early engineers, and people that want to build stuff but do not want to code anything.
"With the InventOne combo of software and hardware, all you need to do is drag and drop whatever designs you want and you've built something without any coding. And it's easy with this interface," Ayomide tells me.
When this 'drag and drop' motion happens, Ayomide says a user can click the 'publish' button and proceed to run the generated binary file on the hardware.
Shooting for the stars
"We are a very African company with a global outlook. InventOne is still years ahead of the African market, a lot of people still do not largely understand what we are doing. The market is not quite ready so we for now we are targeting the global market," Victor says.
And that market is quite sizeable and growing in bounds every year. According to Ericsson's IoT Market Outlook, number of IoT devices in the world is expected to reach 1.5 billion by 2022 from 400 million in 2016.
On the value of these numbers, Bain and Company says "the combined markets of the Internet of Things will grow to about $520 billion in 2021, more than double the $235 billion spent in 2017." InventOne is gunning for a market share of this chunk.
And there is not a lot of competition at the moment.
"Arduino is basically our competitor in hardware, and apart from LabVIEW National Instrument; a somewhat similar development environment, there's none we are aware of for our software. Labview is a desktop-based full programming language while InventOne is web-based, so they are not exactly the same thing," Victor says matter-of-factly.
InventOne has launched, Ayomide says they already have pre-orders for the hardware. But there is not yet a fixed price or subscription model for the software.
"You can sign up now, and experience it till subscription is ready. We hope soon."
Weathering a storm
During the conversation, someone mutters under their breath how it has not been easy up till this point.
The process of building businesses is not a walk in the park anywhere in the world, especially in Africa. And building a hardware company is even seemingly harder.
How have they been able to stay afloat?
"It's not fintech, or anything sexy so getting funding has been incredibly hard. One way we've survived has been to build software and hardware for other companies and also do consulting for them," Victor tells Techpoint.
---
Suggested Read; The hard thing about hardware in Nigeria
---
Their combined skills as a team have enabled them do work for a lot of companies, Victor name-drops Virgin Atlantic as one of them.
"We built a lot of stuff for them through a subcontractor," he says.
Monies from jobs like this have helped foot bills for expenses and production requirements.
In February 2019, the InventOne team built a new IoT-based utility management product that is also meant as a moneymaker. All these efforts are to stay afloat until access to funding, but they can be distracting.
"In trying to raise money to keep operating, we are doing all these things that are distracting from focusing on building the InventOne," Victor said further explaining the dilemma they are in.
Either way, the team admits to not having had everything figured out.
"However, one thing we've learned is that if we are going to explore the full potential of this product, it has to be done in parts of the world where internet is not an issue at all. Since the product is largely web-based," Victor says.
Africa will become a major focus in the near future, but not now.