Chidi (not real name), a banker, Liverpool Football Club fan and father of two was just beginning to savour the level of financial stability he always dreamed of when he died unexpectedly. As it would turn out, he didn't have a will on how his properties should be allocated among his loved ones. His properties were taken over by his relatives, leaving his wife and children with next to nothing.
The above scenario surely sounds like a plot from a Nollywood movie but it's actually the story of a relative of one of those behind Carrot -- an online estate planning solution provider.
If Chidi in the above story had a will, his widow and children would have been better protected. What Carrot is trying to do is to make estate planning easy and seamless for individuals towards protecting their loved ones in the event of the inevitable.
Nigerians are sentimental and there's a general perception that estate planning is something that should be reserved for older or even high net worth individuals. These are part of the findings of a survey carried out by Carrot prior to launching. It was also found out that beyond the sentiments, most people also claimed that the cost and processes of making will are part of the reasons they choose not to have one.
"We generally have a negative attitude towards wills, this is the same problem with life insurance which currently has very low penetration," Carrot Co-founder and Chief Operating Officer, Odunayo Williams says.
There's also the mindset that only a lawyer can draft a will, which according to Williams is not the case. Some of the respondents, especially families that have lost their loved ones, claimed that lack of estate planning is creating real-life issues for them.
Contrary to the idea that one has to have properties before creating a will, Willians says a will is just a plan, an instrument for one to be able to pass what one has to someone else when the unexpected happens. "Even as little as a phone," he explains.
Carrot also found out that current players in the estate planning industry are charging people according to their net worth, which he says is not the case with Carrot. The startup charges individuals a flat rate, irrespective of their net worth, and lower than what an average lawyer would.
"With ₦35,000, an individual can get a legally certified will on Carrot," William says.
Aside individuals, the startup is also targeting companies and organisations for them to adopt making a will as a policy for their employees.
Williams, who is a trained lawyer, has some lawyers on his team. The team of legal professionals are tasked with reviewing wills while also giving advice as well as recommendations.
How it works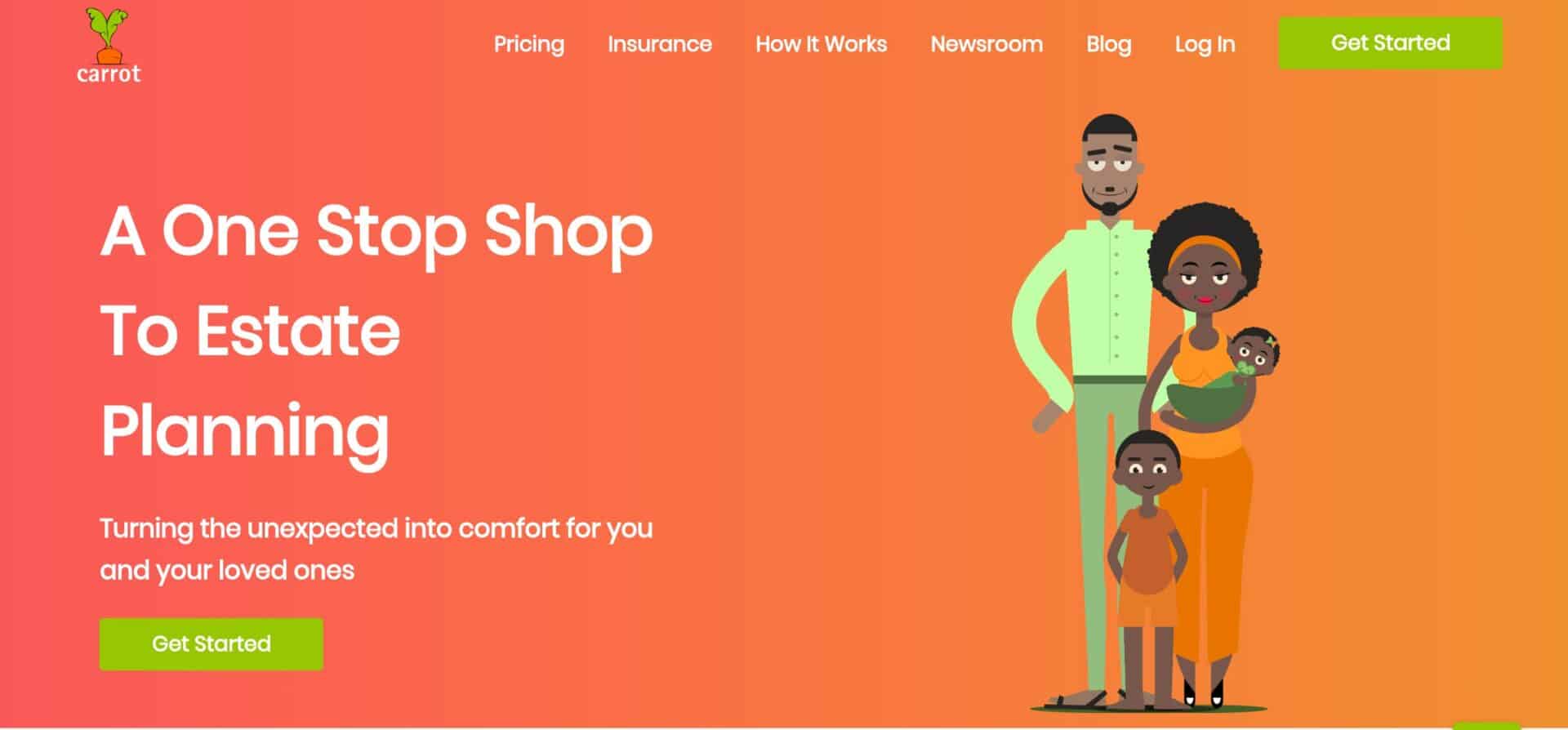 Carrot's system automatically generates a will after collecting the necessary information from a client. Beyond generating the will, Carrot also handles the validation of the will at a High Court in the state where the owner of the will is located.
Once validated at a High Court, Carrot allows you to update your will on its platform for free. However, you will have to cover the additional court charges (for consolidation of an already certified will) and courier fee for delivery. Williams said they advise their clients to only consolidate their will when they have many updates.
The startup has partnership deals with insurance companies to spread and promote the message of planning ahead. There's also a proper measure in place for data privacy and protection.
Aside from making money off the amount paid for the will, Carrot also sells travel, health and life insurance policies. On the successful creation of a will on the platform, a client gets ₦1 million in personal insurance cover and ₦100k for medical expenses coverage as added value.
For the choice of Carrot as the name. Apparently, it was a deliberate move as it gives the company a great opportunity to talk about the offerings of the business to potential clients.
Estate planning in Nigeria
As it is, the acceptance and penetration of estate planning, despite its potential of protecting loved ones, is still low in the country. And there is, no doubt, the need for a change in attitude for people to want to create a will.
Referencing the trust that Nigerians have come to have in internet banking and Automated Teller Machines (ATMs) in the country after portraying a negative attitude towards them earlier on, Williams envisions that Nigerians will have a change of attitude towards estate planning in the long run.
The startup, which was launched in March 2018, within a year got awarded the best national digital solution at the International World Summits Awards 2018.
Carrot also caters for Muslims since their religion doesn't allow them to make the conventional will.
Carrot considers the attitude of individuals as a challenge in trying to convince them to make a will. This is not the case with companies and organisations as they know the importance of estate planning, especially as it affects their staff.
Moving forward, Carrot is looking at having a wider reach in the country as well as going to other African countries in a bid to reach a target of over five million clients by 2024. Williams believes referrals by those who have already used the platform would go a long way in achieving its goal of five million clients within the next five years.