In May 2018, Sierra Leone's newly elected president Julius Maada Bio set up a Directorate for Science, Technology, and Innovation. To head this new agency, he appoints 31 year-old David Moinina Sengeh as Chief Innovation Officer (CIO).
Sengeh graduated Harvard with a Bachelors in Engineering Sciences. He also has a Master of Science (MS) in Media Arts and Sciences and Doctor of Philosophy (Ph.D.) in Biomedical/Medical Engineering, both from the Massachusetts Institute of Technology (MIT).
Even though David Moinina Sengeh is quite popular, some people still do not know him.
Here are some interesting facts curated from the internet you probably didn't know about the man chosen to jump-start Sierra Leone via innovation and technology.
Biomechatronic Engineer
Several online sources claim David Moinina Sengeh attended the Red Cross Nordic United World College in Norway. Even though it is not officially listed in his LinkedIn education page, it is very likely this informed the choice of a doctorate that focused on biomechatronics.
Sierra Leone suffered a decade-old civil war that caused the limb amputation of over 8,000 men, women and children.
In his TED Talk, Sengeh said growing up in Sierra Leone and seeing people unable to use their prostheses spurred him to action.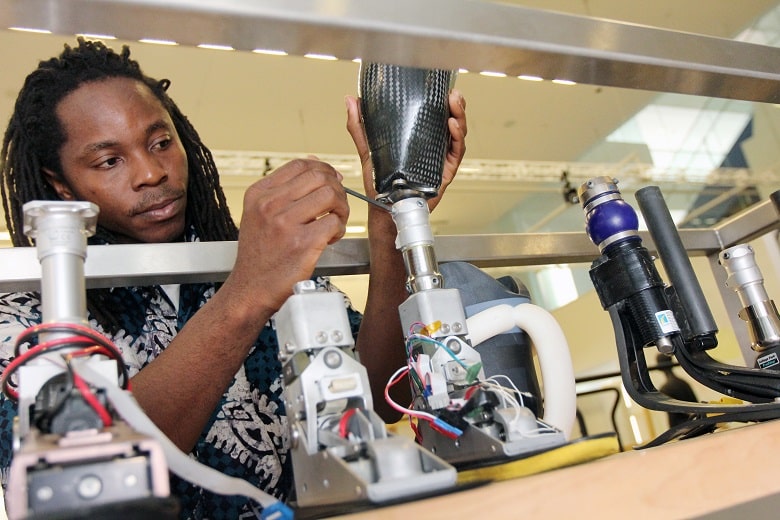 For a Ph.D. at the MIT Media Lab, with the aid of magnetic resonance imaging (MRI) and 3D printing, he designed and built custom prosthetic sockets that are cost effective and more comfortable.
Forbes 30 under 30
Sengeh was named to the 2014 edition of the Forbes 30 under 30 list under technology. As a 26 year-old Biomechatronics researcher at the MIT Media Lab, his work "to design the perfect fit for every prosthetic socket" earned him a place on the list.
He was joined on that year's list by founders of Snapchat, Whisper, Quora, Stripe, Dropbox, Tinder, Lyft among other technology innovators.
Energy expert and enthusiast
In 2009, Lebone Solutions Inc., a company co-founded by Sengeh, was one of Popular Mechanics' Innovators of the Year 2009.
According to his LinkedIn, "Lebone Solutions, Inc. is a social enterprise working in off-grid energy and lighting technology. We work to create global awareness for "Dirt Power" and end the energy and lighting crisis in Africa."
The company also reportedly won $200,000 from the World Bank to produce microbial fuel cells in Africa.
Rapper and singer
"I came I saw… wait, there was nothing to conquer. I built it up."
These are not words of a motivational speaker, they are bars from "Online" a 2014 single on SoundCloud from rapper Moinina.
In the song, David Moinina Sengeh raps in English and Krio to an upbeat tune interspersed with occasional notification pings from social media. He talks of innovation, and social media.
English, Krio, upbeat tunes, catchy hooks and a love for Salone all characterise the 3 tracks that mark Sengeh's seemingly short music career. Will there be more?
Innovation advocate
"Praying for all the youths to be born again.
 Muslims, atheists or Christians,
 I no dey talk about religion, progress,
 Progress is my religion," - Moinina "Online", 2014.
Before the CIO position, Sengeh has always been a proponent of innovation especially for the youths in his home country. Not just rapping about it, Sengeh lives his talk.
In 2012, 13 year-old Kevin Doe became an international sensation for building equipment for his media company from scratch.
The Sierra Leonean went on to travel the world, presenting to university undergraduates and professors; he was the youngest person in history invited to the "Visiting Practitioner's Program" at MIT.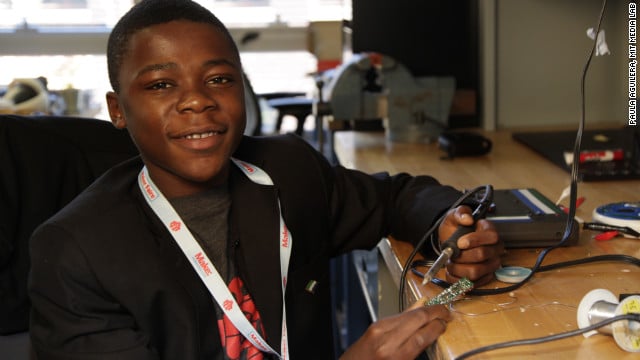 What a lot of people do not know is Kevin was discovered by Sengeh through Innovate Salone, a national high school innovation challenge he facilitates through Global Minimum.
At the time, a doctoral student at the Massachusetts Institute of Technology (MIT) Media Lab, he profiled the Kelvin Doe experience in a post for CNN.
Kelvin is a man now doing big things and Innovate Salone has grown way beyond just a competition.
Fashion Designer
At one point, David Moinina Sengeh was a fashion designer and founder of Nyali Clothing. Founded in 2011, its Facebook page describes the company as a "a privately held business that advances local West African clothing designs weaved with technology to push the limits of fashion, technical education and innovation in Sierra Leone."
Nyali Clothing had great designs but according to Facebook, it sadly did not make any clothes after 2012.