At ₦5000 for a TStv decoder, you are promised pay-per-view subscription for as low as ₦200 (56¢) per day, 20 gigabyte free data, among other mouth-watering goodies. Unfortunately, even one year after its launch, tracking down a TStv decoder is a herculean task.
When the company announced plans to launch about one year ago, many Nigerians could not contain their joy and optimism, TStv was the answer to ending the monopoly enjoyed by Multichoice's DStv.
The curious case of TStv
TStv is a Nigerian-indigenous satellite TV service announced in September 2017 to offer Nigerians affordable direct-to-home (DTH) pay-TV services. Days after its official launch on October 1, 2017 with huge government support, many Nigerians began to realise that the company was not ready to take on the Nigerian market after all because the decoders were not available for purchase. TStv promised Nigerians that the decoders would be available from November 1, 2017.
By November 1, without delivering on its promise of rolling out decoders, the company announced the commencement of test transmission that allowed owners of universal decoders to watch TStv content for free.
A day after, one of the channels offered by TStv, beIN Sports warned users that they were watching their content illegally.
https://twitter.com/Jokunle/status/926213825912860673
Amidst the controversy and blame game, by December, the company assured Nigerians that they would be able to purchase decoders before Christmas, 2017.
By the end of 2017 and the most part of 2018, there was no talk about the availability of decoders. TStv was just another lost cause to Nigerians until August 20 when the company released a press statement announcing a comeback, this time under "the watch of Abba Father".
The very unusual press statement signed by Bright Echefu, MD/CEO of TStv Africa paints the picture of  a fierce battle with competitors, Multichoice obviously.
"From the date we announced TStv, it has been fight all the way. I doubt if a week passed without us quenching one fire or the other. We didn't anticipate that there would be war. We were also not trained to fight in the arena we were pushed into. The kinds of weapons our enemies would later contend us with, showed they had stocked their armoury waiting for a time like now".
The press release further revealed that the company has migrated to the Nigerian Communications Satellite (Nigcomsat) by acquiring five units of 35.5MHz transponders from the government-owned satellite.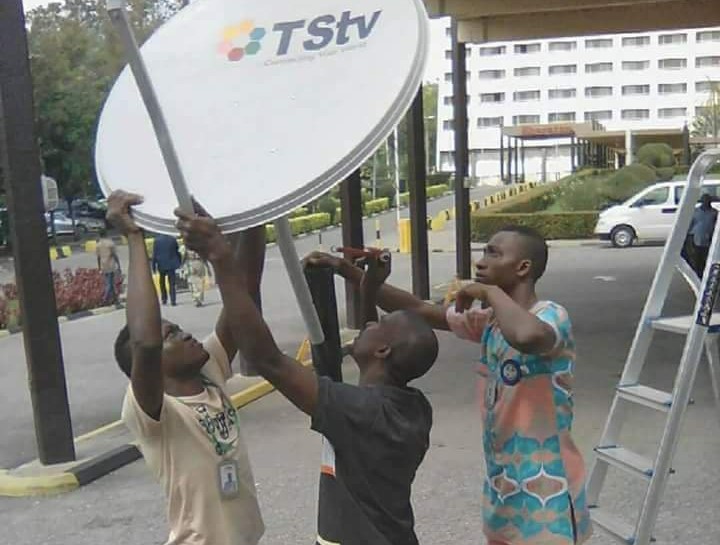 With the promise of 45 free premium HD channels, Nigerians can reportedly access TStv using a free-to-air decoder, positioning the dish to 42.5E, frequency 12625 for new customers and 12589 for existing customers, at a horizontal polarisation.
Despite this new development, many Nigerians are still very skeptical, and they have every reason to be.
When will TStv decoders be available?
Bright Echefu's press statement conveniently sidesteps this question. I asked a TStv customer care agent recently and was hit with the "I'm not at liberty to say" response. However, one of their dealers claims that they would begin selling before this year runs out.
He further revealed that the only people who own TStv decoders are registered dealers who got one decoder each with the exception of a lucky few who got a maximum of 3 decoders. According to New Telegraph, TStv dealers across Nigeria waiting to distribute decoders had reportedly paid the company up to ₦696 million in dealership subscription.
How not to launch a product
Judging by its failure to deliver on its promise to roll out decoders one year after its launch, TStv appears to have broken all the unspoken rules of launching a product.
It started with an aggressive campaign with no clear plans of managing customer expectations, obviously didn't carry out adequate market analysis and launched without having a product.
The market was ready for a cheaper alternative to DStv and TStv failed to deliver. Would the company be able to redeem its already damaged reputation in the nearest future? Only time will tell.
Featured image source: Twitter