Sometime late last week, news began circulating around social media that Nigeria has moved from 125th to 45th place up the Ease of Doing Business Index.
The claim was cumulatively reposted and shared thousands of times on Facebook.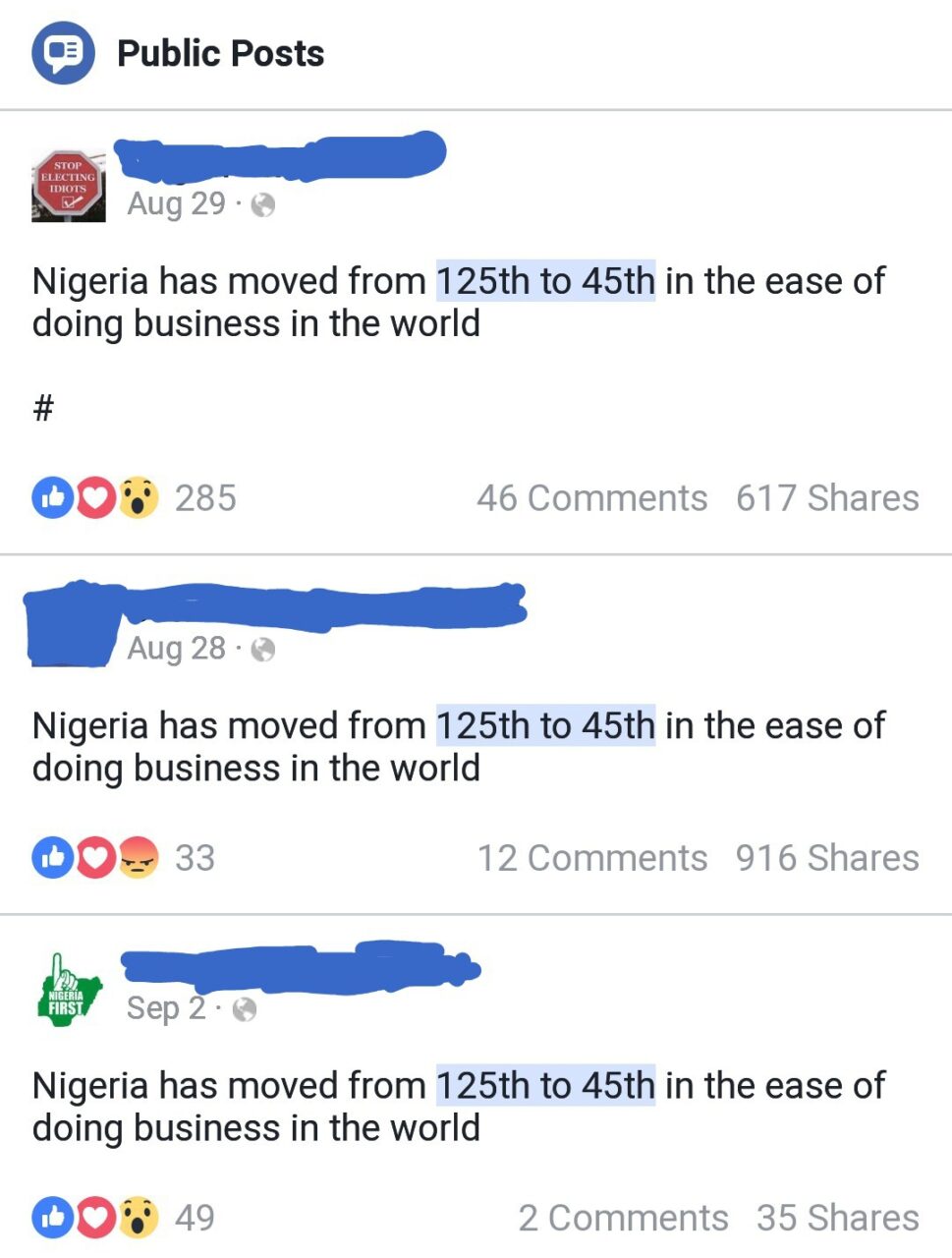 Some users wondered why this "good news" was not trending at the time.
Why is this a big deal?  
The Ease of Doing Business Index is an academic research by the World Bank that shows the degree of ease or difficulty of starting and running businesses in 190 countries across the world.
It's official description reads;
The Doing Business project provides objective measures of business regulations and their enforcement across 190 economies and selected cities at the subnational and regional level.
In Nigeria, setting up and running a business can be a near herculean task.
So Nigeria moving 80 places up this list deserves serious accolades and worthy mentions. But is the move even true?
Facts
According to the "Doing Business 2018" report, Nigeria is still 145th out of 190 counties.
The only recorded move was a leap in 2017, 24 places up from 169th to its current 145th place.
According to the World Bank, the move also placed Nigeria among top 10 improved countries worldwide.
There has not been any upward move on the index this year. And no revisions can be made to the list until the last quarter of the year.
Where then is this story from?  
The origin of this fake news is unclear.
In August, the Special Assistant to the President on Industry, Trade and Investment, Dr.  Jumoke Oduwole reportedly made a statement.
She said Nigeria will move 45 places up the index in 2 years to reach 100th place by 2020.
Dr. Jumoke who also doubles as secretary of the Presidential Enabling Business Environment Council (PEBEC) said this at a meeting of the council.
At first glance, it is unclear and confusing on what grounds she is making such a bold prediction.
But as the council was inaugurated to make doing business easier in Nigeria, her statement can be seen as a declaration of purpose.
Also considering Nigeria's 24 place jump on the index from 2017 to 2018, the projected 45-place move does not seem so far-fetched.
Conclusion
Nigeria did not move up the Ease of Doing Business Index 2018.
The fake news spreading in this regard may be a misconstruing -- deliberate or not -- of the statement by the PEBEC secretary. Or plain mischievous attempt by undesirable elements to misinform.