November 2016, in collaboration with telcos, the Nigeria Inter-Bank Settlement System Plc (NIBSS) launches mCash, a solution that lets users make and receive payments via Unstructured Supplementary Service Data (USSD) technology.
By dialling a short code, buyers can pay for goods and services directly from their bank accounts and sellers receive direct to theirs too.
July 2018 a media campaign and activation for mCash kicks off. It features Maraji; an Instagram entertainer and a resultant activation process at the University of Lagos (UNILAG) in Yaba.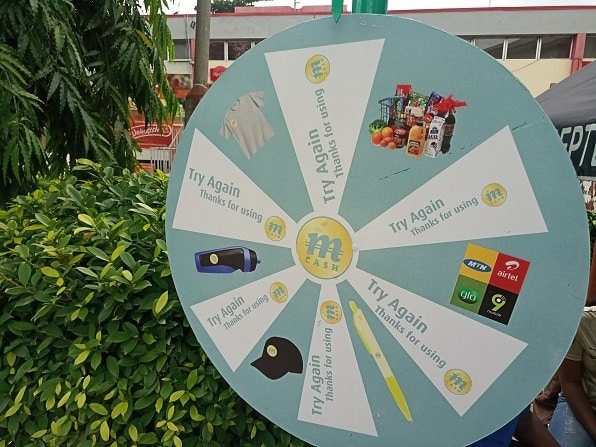 At a merchant stall in UNILAG, the process is as seamless as dialling *402*unique merchant code*amount#. I pay ₦150 for an apple soda direct from my bank account without having to swipe a card, or even own one. And according to the shop attendant, customers make purchases for as low as ₦20.
Unlike other mobile payments solutions and Point of Sale (PoS) systems, mCash is free to set up for merchants; even petty traders in UNILAG use it.
It also works without connectivity to the internet and this is an added advantage because most fintech and payments solutions are hinged on apps and internet connectivity. There are however a few non-systemic glitches.
In one shop, I couldn't pay because the proprietor stepped out with her phone through which bank credit alerts are received. Also, two -- or three -- Nigerian banks are not on the platform.
All these hiccups are people-oriented and negligible.
Apart from these, there are a lot of reasons why this solution can easily become "the answer" for Nigeria. And its ease of use and operation are major ones.
mCash is a direct replica of Kenya's mPesa. While the latter has drastically increased Kenya's financial inclusion rate over the years, mCash has been largely absent from the Nigerian scene, surprisingly.
In all this sudden resurrection of a financial game changer, the question is, where has mCash been for 2 years while Nigeria struggled with financial inclusion?
There are a lot of answers howbeit speculative.
Winning, for all
According to a recent report and analysis, by the year 2025 there would be 128.5 million mobile subscriptions in Nigeria and this would help drive financial inclusion to an 80% high.
---
Suggested Read: With 128.5m projected mobile subscriptions by 2025, Nigeria can achieve 80% financial inclusion
---
But there is no guarantee that all these subscriptions will be on smartphones. This means that Nigeria's financial inclusion goals may be hinged on USSD and feature phones,
NIBSS probably did consider these figures and decide to dust off the secret weapon from their arsenal. The resurgence of mCash could mean data at work.
Clever games
In April 2018, in a bid to further drive its financial inclusion goals, the Central Bank of Nigeria (CBN) signed a Memorandum of Understanding (MoU) with Nigerian telcos to enable an inclusive framework for the telcos to participate in Nigeria's payments ecosystem.
---
Suggested Read: CBN okays telecom operators for payment system in new MoU
---
However, it is no news that the financial ecosystem in Nigeria has always feared telco participation in mobile money because like the mPesa case, it may be at the expense of banks.
There are only 2 models in the regulatory framework of mobile money in Nigeria; bank-led and non-bank led. The question at the time was if the CBN was really serious about its MoU with Nigerian telcos, what framework did they intend for the latter? Maybe mCash was the answer to this riddle.
The payments solution has every Nigerian bank and telco on board as facilitators, and mCash ensures telcos are somehow involved yet staying under the watchful eyes and thumbs of the banks. An effective way to let them in on a piece of the payments pie without completely owning the whole.
What happens to fintech startups?
September 2017, when asked if fintech would kill banks, CEO and founder of Paystack, Shola Akinlade said no. He spoke of a peaceful coexistence and even a possible collaboration.  As the man at the helm of affairs at Paystack, unarguably Nigeria's foremost payments startup, Shola is in one of the best positions to answer this question.
Three months later, I spoke to angel investor Chris Shultz and he agreed with Shola on the  collaboration angle.
---
Suggested Read: In conversation with Chris Schultz about investing, suya and the Nigerian startup ecosystem
---
Around the world, the fintech vs banks argument is as old as the technology itself and all the arguments are towards the collaboration angle. But considering the Nigerian story, will this be the case?
Fintech startups and companies in Nigeria are thriving, in fact Techpoint's quarterly funding report shows that 2018 is the year of the Nigerian fintech startup.
---
Suggested Read: "Nigerian startups raised $73.6 million in Q2 2018, 700% more than Q1"– Report
---
But Nigerian telcos collectively have users in the hundreds of millions and banks too. With a basic technology like mCash, these fintech startups may need to be afraid.
Unless these payments startups also find a way to collaborate with mCash, its a noteworthy threat.
So while it fixes financial inclusion in Nigeria, it can grind operations of fintech startups to a stop.
And considering that banks are largely behind mCash under the aegis of NIBSS, the act will completely flaw the collaboration angle of the aforementioned debate.
All this is based on the supposition and premise that mCash continues with the same momentum. After all, the sensitisation it is still in Lagos, and only focused on UNILAG.