Photo Credit: majjed2008 Flickr via Compfight cc
---
Foreign investment accounted for 98% of the total funds raised by Nigerian Internet startups in the second quarter of 2018, as revealed in Techpoint's Nigerian Startup Funding Report for the same period. The ratio of foreign to local investors for this period was 7:2 but in value, the ratio was about 13:1.
One thing that's evident, based on the above figures, is that the survival of the local startup space is still at the mercy of foreign investment.
Could this be attributed to a lack of financial muscle on the part of Nigerian VCs and angel investors?
Or is it a case of foreign investors finding Nigerian Internet startups more investment-worthy than their Nigerian counterparts? Or as CEO Paga CEO, Tayo Oviosu once said, is the dearth of capital for early-stage companies in the country attributable to the claim that most high net-worth individuals only invest in their own businesses?
In spite of the housing deficit in Nigeria, it's arguable that an idea like Airbnb might not have gotten seed funding if it was started in the country.
Silicon Valley was the first port of call for Nigerian Vice President, Yemi Osinbajo after inaugurating the Technology and Creativity Advisory Group with the sole purpose of attracting investment for the local tech industry.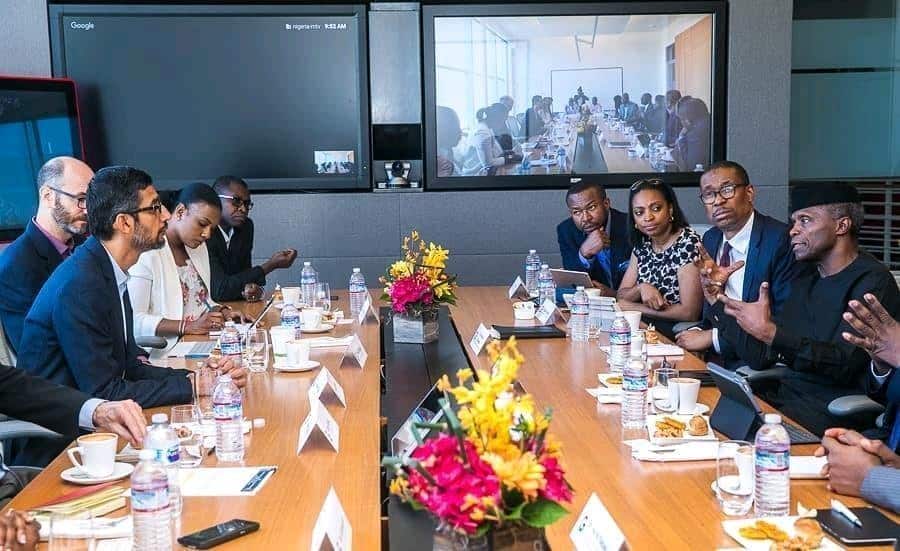 Osinbajo's visit can be considered an acknowledgement of the impact of foreign investment in the Nigerian startup space even though startups have been getting international funding opportunities without the intervention of the government.
One thing that's common with foreign investments is the sheer value of funds being provided. In 2016, the Chan Zuckerberg Initiative led a $24 million Series B funding round in Andela.
Prior to its acquisition by Zinox Group, Konga.com got an accumulated $36.1m and $91.2m from Kinnevik and Naspers respectively over a 5-year period.
And in May, Cellulant got $47,500,000 in a Series C round of funding form Rise Fund, Endeavour Catalyst & Satya Capital.
But local fund providers are still important
Nigerian investors are surely putting money into the local startup space. Based on the funding activities for Q1 and Q2, they provided mostly grants, which in fairness to them, are impactful as they prepare startups for larger investments.
They also provide equity funding; for example, LeadPath Nigeria, Village Capital and Ventures Platform collectively provided $1,100,000 -- the highest by a Nigerian investor in the quarter -- in seed funding for Piggybank in Q2.
However, details about local investments, more often than not, are usually undisclosed while some investors wait for a couple of months before making any disclosure.
Starting to think US based accelerators/incubators investing in Nigeria without any strong ground knowledge aren't good for the ecosystem...

— Tayo Oviosu (@oviosu) August 2, 2017
Perhaps as Tayo Oviosu points out, Nigerian investors are making funding decisions based on their knowledge of the local market which their foreign counterparts may not be aware of.
---
Suggested Read: Nigerian startups raise a lot of foreign cash, but how much impact do they have on the economy?
---
But Nigerian startups still need funding and if they can't get it from local investors, they will look elsewhere.
Crowdfunding is still not a legal option for companies in Nigeria, as the Securities and Exchange Commission (SEC) maintains that the Companies and Allied Matters Act (1990) and Investment and Securities Act (2017) do not recognise this funding option.
Some Nigerian startups are turning to Initial Coin Offerings (ICOs) as a viable alternative. In January, SureRemit -- a Nigerian-based non-cash remittance platform -- raised $7 million through an ICO. But there's currently no regulatory backing from relevant authorities for ICOs in the country.
From all these, it appears that the most viable funding option for local startups -- apart from grants and seed funding -- by Nigerian fund providers is foreign investment.
Hopefully, this will change when SEC and other relevant government authorities reconsider crowdfunding and ICO as legal funding options.