On the 19th of July 2018 Twitter CEO, Jack Dorsey announced the addition of ex-Nigerian Finance Minister, Ngozi Okonjo-Iweala and Chairman of Alliance Bernstein Holding, Robert Zoellick to Twitter's Board of Directors as new independent directors effective immediately.
We're adding Ngozi (@NOIweala) and Bob (@authorzoellick) to the Twitter board. Welcome! Sadly we're also saying farewell to our friend Marjorie (@marjscar). She's been an amazing advocate for journalists everywhere, and pushed us constantly to better inform people. Thank you M.

— jack (@jack) July 19, 2018
In a reply tweet, Ngozi said;
"Excited to work with @Jack and an incredible team on the Board of Twitter, a global platform that is such a strong connector of people and ideas."
Excited to work with @Jack and an incredible team on the Board of Twitter, a global platform that is such a strong connector of people and ideas.

— Ngozi Okonjo-Iweala (@NOIweala) July 19, 2018
In a report, Executive Chairman of Twitter, Omid Kordestani said, "Ngozi and Bob are distinguished leaders with unparalleled global perspective and policy expertise.".
He went on to say the two will drive transparency, safety and make the social network a more healthy environment.
Apart from this statement, there was no pointer as to why she was added. Amidst a flurry of congratulatory messages from well wishers and Nigerians, a question hung unasked. "Why is she on the board?"
Okonjo-Iweala's profile lists 2011 as when she joined Twitter and currently has slightly over 2,000 tweets, so she's not exactly a "social media person" even though Jack stated explicitly that board members do not have to be active on the site.
Every 'Board of Director' has a mix of different backgrounds and skill sets, here are 'maybes'  for Okonjo-Iweala's role
Diversity
As a black, Nigerian woman, Ngozi Okonjo-Iweala will definitely bring a much needed diversity to the Twitter Board.
Leslie Miley was an Engineering Manager at Twitter; he was the only black lead engineer at the time. He left in November 2015 citing lack of diversity in the company's workforce. Over time Twitter has gotten these pointed accusations of lacking workplace diversity.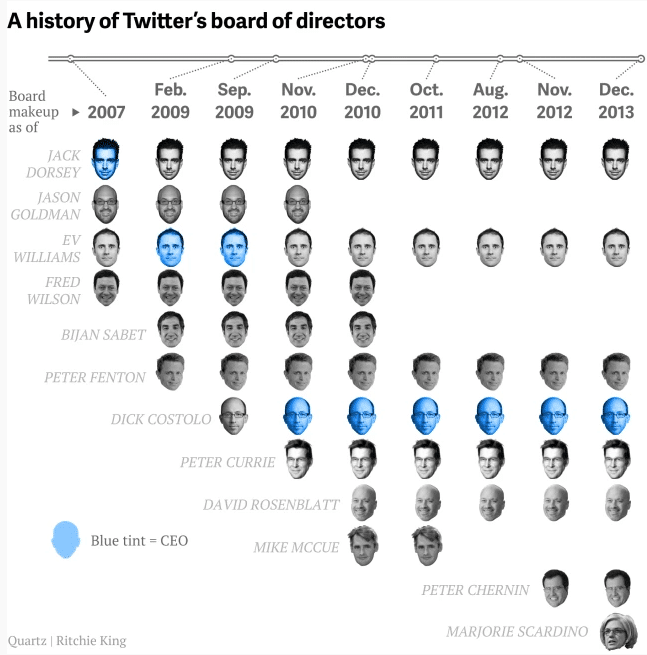 Various efforts were made to fix these including making official commitments and hiring a new Head of Diversity in 2016, a move which was still heavily criticised.
Since then, it's been on from one diversity issue to the other and this has been more pronounced because a large percentage of the minority find a voice on the platform. Ngozi may be the answer to this.
Even Twitter's board has always been heavily male and white; Ngozi will be the second black woman on the board.
Network
Okonjo-Iweala was a Managing Director in the World Bank and has also worked in the Nigerian government in a dual ministerial portfolio. In this capacity, she has definitely been in contact and has personal relationships with Heads of States, financial powerhouses and moguls.
Is her inclusion on this board a means of accessing the people in her network? Maybe, maybe not.
Nearly everyone else on the Twitter Board has equal clout as much as -- or even more than -- Okonjo-Iweala; fellow board member Robert Zoellick was a former World Bank president. So no, this is not a high probability.
Funding and profitability
From managing Nigeria's finances to the World Bank and other banks and financial institutes, Ngozi Okonjo-Iweala has an extensive financial experience spanning decades that Twitter could definitely use.
In February 2018, Twitter posted a profit of $91 million for Q4 2017; its first-ever profit in over 12 years.  So maybe a financial colossus like Okonjo-Iweala can give Twitter a money advice or two to continue the profit streak.
Following her appointment to the board, former president of Nigeria, Goodluck Ebele Jonathan(GEJ) posted a congratulatory message on his Facebook page.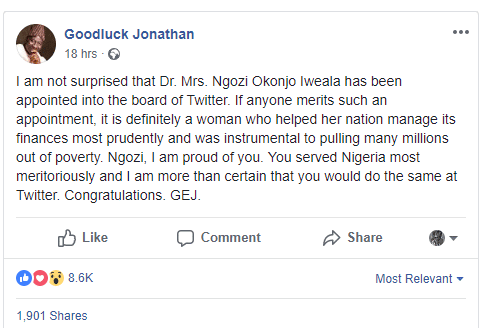 An excerpt of the message said that if anybody deserves the position, "it is definitely a woman who helped her nation manage its finances most prudently."
Rebranding
After serving in dual roles as Minister of Finance and Coordinating Minister of Economy, Ngozi Okonjo-Iweala's legacy was nearly tainted with allegations of fraudulence and corruption riddling her watch.
At the time, the media was awash with allegations of misappropriation and diversion of funds in a messy arms deal. In 2018, Okonjo-Iweala published "Fighting corruption is dangerous; the story behind the headlines."; a book that reportedly reveals a conspiracy behind the blazing headlines.
Could this Twitter move be one step further in the rebranding process? Does Okonjo-Iweala have enough clout to make this move to place her image in a better light? Maybe, maybe not, we probably will never know.