Better late than never. After what seemed like eternity, the 2018 budget for Nigeria was finally signed into law by President Buhari on the 20th of June, 2018.
Seeing as we are already six months into the year and the 2019 general elections are barely seven months away, analysts are generally not positive about implementation of the budget.
This has however not stopped many from scrutinising the bill. In our usual tradition, Techpoint took a closer look at what the Ministry of Communication Technology has planned for the ICT industry in 2018.
ICT in the 2018 budget: Quick overview
At first glance, it is clear that ICT development is still not high on this present administration's list of priorities. With a total allocation of ₦19,260,740,637 ($53.7m) -- a mere 2.72% rise from ₦18,750,951,876 ($52.3m) last year -- the Ministry of Communication Technology is not among the top 10 on the 2018 budget.
Just like last year, capital expenditure still makes up barely 40% (₦8,049,159,142) of the total allocation. Recurrent expenditure takes the larger chunk (₦11,716,581,495), with personnel expenses (salaries and overhead costs) being the biggest culprits.
In fairness, allocation for capital expenditure grew by over half a billion naira ($1.4m). However, many of the projects to which the extra funds will be put to are rather questionable.
Broadband Appropriation?
In 2013, telecoms industry stakeholders drafted the National Broadband Plan with a goal to drive broadband internet penetration in Nigeria to 30% by 2018.
Needless to say, the plan was never implemented. Many stakeholders blame this on the government for not playing its role.
One of the entries in the 2018 budget allocates a whooping ₦100 million to "National Broadband Penetration (Newtec Dialog Hub Platform)". If that sounds like convoluted gibberish to you, it's because it actually is.
The Newtec Dialog Hub is a VSAT infrastructure solution for telecom operators (telcos) and Internet Service Providers (ISPs). The Ministry of Communication has no business acquiring that, especially not in connection with the National Broadband Plan, for which it plays an advisory role at best. Interestingly, this present administration was not involved in drafting the National Broadband plan and, so far, has never given it much credence.
More eyebrow-raising broadband penetration-related entries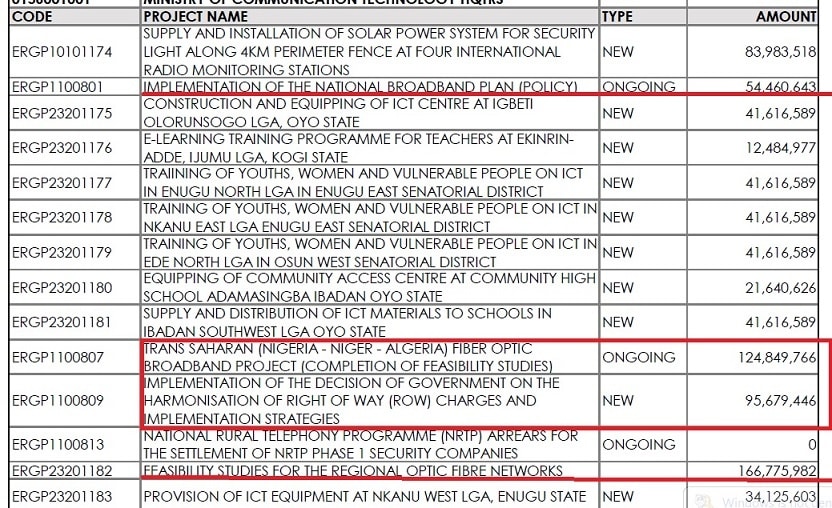 Implementation of National Broadband Policy (

₦54,460,643

). It is not clear why the Ministry needs such a huge amount to "implement" a plan that was deliberately drafted to barely rely on government intervention.
Completion of feasibility studies for the Trans-Saharan (Nigeria-Niger-Algeria) fibre optic broadband project (

₦124,849,766

). Not only is this project fully funded by the African Development Bank and European Union, it has gone beyond the 'feasibility studies' stage.
Implementation of the decision of government on the harmonisation of Right of Way) charges and implementation strategies (

₦95,679,446

). Right of Way (RoW) is permission given to telcos and ISPs to lay fibre optic internet cables. It is solely granted by state and local governments. Even if the Ministry does have a role, it is not clear why ₦95m is required to "implement the decision" of state governments.
Feasibility studies for the regional optic fibre networks (

₦166,775,982

). This entry is as vague as they come.
Total potential minimum damage to the broadband industry: ₦541.2m ($1.5m)
There are a few more leaking holes in the budget worth noting
Nigeria Communication Satellite (NIGCOMSAT) projects
Status: Ongoing
Total 2018 budget allocation: ₦1.58 billion
About four projects relating to NIGCOMSAT are included in the 2018 budget:
Insurance of NIGCOMSAT-1r and upgrade --

₦579,999,999

NIGCOMSAT business and operations system -- 

₦104,744,850

Turnaround maintenance of NIGCOMSAT-1r and ground station equipment -- 

₦713,265,010

NIGCOMSAT Direct-To-Home (DTH) platform -- 

₦181,990,140
While it might be easy to rationalise the need to spend half a billion naira on insuring Nigeria's flagship communication satellite, it is not clear what exactly the other three projects are meant to accomplish.
For example, 'Direct-To-Home' is a technology utilised by Satellite TV providers like DStv and Startimes. Is the Ministry of Communications planning to enter the TV business or is it building a platform for homegrown providers? And what exactly does "business and operations system" mean?
CBT centres for JAMB?
Status: New
Total 2018 budget allocation:

₦250 million
Apparently, it is now the role of the Ministry of Communication Technology -- not the Ministry of Education or even the Joint Admissions and Matriculation Board (JAMB) itself -- to build computer-based examination centres in Nigeria.
This is why ₦250m has been allocated for "provision and installation of 250 desktop computers with internet facilities, printers and photocopies in D/Kudu ICT centres for purpose of conducting JAMB examination and CBT centre"?
Digital Library in Lagos
Status: New
Total 2018 budget allocation:

₦300 million
The Ministry plans to construct a "fully equipped digital library/CBT centre/conference hall" in Surulere, Lagos and it needs ₦300m to complete it. This might be promising, but only if it sees the light of day. Hopefully, it won't meet the same fate as the Akwa Ibom state government-built Ibom eLibrary, which was fading into irrelevance until the Uyo tech community revived it.
 Incubation hubs, again?
Status: Ongoing
Total 2018 budget allocation: ₦749 million
In 2016, the Ministry promised to build six ICT hubs in the 6 geo-political zones of Nigeria. A measly sum of ₦90m was allocated to the project.
To date, not a single one of these hubs has been started, let alone completed. In 2017, there was hardly any mention of the hubs in the national budget. But in April 2018, Communication Technology Minister, Adebayo Shittu gave his assurance that the project has not been abandoned. True to his words, the hubs project makes a reappearance in the 2018 budget.
However, the original six locations appear to have been abandoned, replaced by a new set of six, with a fresh allocation of  ₦749m. It is not clear whether the previously allocated ₦90m will be redirected to the new locations or to some other projects.
There are many other eyebrow-raising entries on the 2018 budget for ICT development -- ranging from recurrent expenditures like 'NHIS' appearing twice with different figures (₦34.5m and ₦112.3m), about six 'e-kiosks' worth ₦12m each popping up here and there, and even contingency for 'loss on foreign exchange'. The above few have been highlighted because they are the most blatant.
But don't take our word for it. You can download and scrutinise the 2018 budget yourself here. It's an almost 1500-page document so, you might want to skip to pages 108 through 114 for the Ministry of Communication Technology section.
Feel free to share with us any other questionable entries you find in the comments section below.