As it stands, the drive to deepen financial inclusion is in the hands of commercial financial institutions as well as mobile money operators, with the Central Bank of Nigeria playing a supervisory role.
SystemSpec — the company behind Remita has called on the apex bank to create a special fund that would help deepen financial inclusion. According to a news report, SystemSpecs Executive Director, Aderemi Atanda said that there's the need for commitment in terms of funding to make sure financial inclusion happen.
No doubt, a special fund set aside to drive financial inclusion would ensure that financial services are provided in the remote communities at a subsidised rate.
And CBN claims that financial inclusion -- which is currently at 35% according to InterMedia's Financial Inclusion Insights -- is achieved when adults in the country have easy access to a broad range of formal financial services that meet their needs and at an affordable cost.
Affordability is key and has the potential of bringing more adults into the formal financial system. A typical example is the reduction of the inter-bank transfer charges by half to ₦50 which Open Banking co-founder, Adedeji Olowe claimed increased transfer volume.
The special fund can be used to address affordability which will further drive the adoption of formal financial services.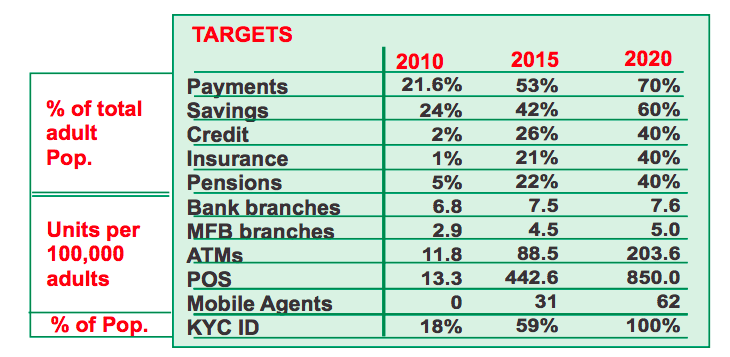 One of the major targets of the National Financial Inclusion Strategy is to have 21% of the adult population with one form or insurance or the other by 2015. But according to a report by PwC (PDF), only 1.5% of all Nigerian adults are covered by insurance as of 2015.
The special fund could be used to increase awareness for financial service, especially in the rural areas.
Feature Image Credit: investmentzen Flickr via Compfight cc