Ingenuity, speed and ability to innovate are the basic characteristic strength of startups. But the thing with innovative startups is that they are often handicapped by newness and smallness that exceed those of their more established counterparts. Ultimately, this limits their chances of scaling.
Larger businesses (corporates) on the other hand already have the advantage of an established product, and a targeted audience. They have a system of departments and hierarchies built around this, product road maps, and sometimes shareholder interests to contend with.
But the illusion of in-depth strength and size has a way of limiting innovation. For most established business, there is still the challenge with automating some operational processes. And while it is not so visible on the outside, it's a serious problem.
Passion Incubator, a technology incubator that works with early stage startups to develop their business ideas into successful companies, believes both problems are largely at play in Nigeria. This is why it has partnered with the Swedish Embassy in Nigeria, to launch what it calls 'Collaborate.ng'.
Collaborate.ng is a platform that enables corporate organisations present some of their biggest challenges in a way that allows startups building relevant solutions to easily tackle these challenges.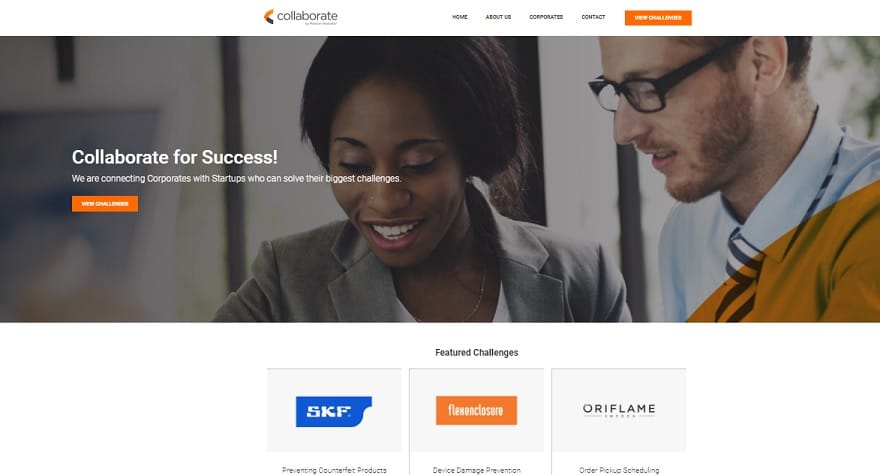 In other words, Collaborate aims to proffer solutions for corporates through startups who are building disruptive technologies and also help startups gain exposure and win new deals.
How Collaborate.ng works
The Collaborate.ng project is in two phases. The first phase of the project is designed to engage and advise Swedish corporates on their future strategies. The next phase looks at how they can partner with startups to be more efficient in their operations to solve their biggest problems using technology.
Corporate organisations who have problems to be solved send in their request and the problem statement. It is then uploaded on the platform. Startups select a problem they are interested in working on. Of course, these startups are vetted and the best qualified startup is granted access to work on the project.
Considering the fact that startups develop real-time solutions that should naturally be targeted at corporates (for those in the B2C realm) but do not have access to pitch to them, this is surely a good bet. Olufunbi Falayi, a Partner at Passion Incubator couldn't agree more.
"Corporate organisations face challenges that yearn for solutions and startups can typically solve these problems."
A win-win situation
Seeing as corporates and startups have different cultures (the former have resources but take longer time in decision making while the latter are agile and efficient however, unstructured) Collaborate biggest proposition comes from aligning both cultures for easy integration and collaboration.
So we can say that its goal is to make Collaborate the defacto platform for Corporate and startup collaboration in Africa.
The Swedish Ambassador to Nigeria, Inger Ultvedt, had this to say about Collaborate.ng:
"I have witnessed an enormous creativity and also a high level of skill amongst the startups in Nigeria. But due to the recession in 2016 and the present slow economic growth in Nigeria, many of these startups have plenty of time to do more. Every company needs qualified people to help out on some special technical challenge that they are facing.

So I immediately caught on to Passion Incubators idea to marry the two, it's actually for the potential benefit of all parties involved. I am thus very excited to follow the process, how the startups could contribute to making the Swedish companies more efficient in serving the Nigerian market for the benefit of both Sweden and Nigeria. And of course, also for the benefit of the startups."
According to Olufunnbi, companies like Flexenclosure, Oriflame and SKF are signed up already with interesting problems which need immediate solutions. More corporates are to be on-boarded in the coming weeks.
You can access the platform by visiting Collaborate.ng.