Outsourcing is mostly associated with corporate activities or home chores but in recent times students have begun to embrace the culture of outsourcing.
In the pursuit of most academic degrees, especially at undergraduate and Master's levels, students have to write projects for which they have not more than four months to complete. These projects require field work, literature study, experimentation, and preparing a thesis on the research work.  Because of the stress involved, some students prefer to outsource their theses.
Projeto is taking advantage of the opportunity using technology as a tool to ease stress on students. A subsidiary of El Estandar Multiservices Company, it is an online platform where students outsource academic projects to professionals.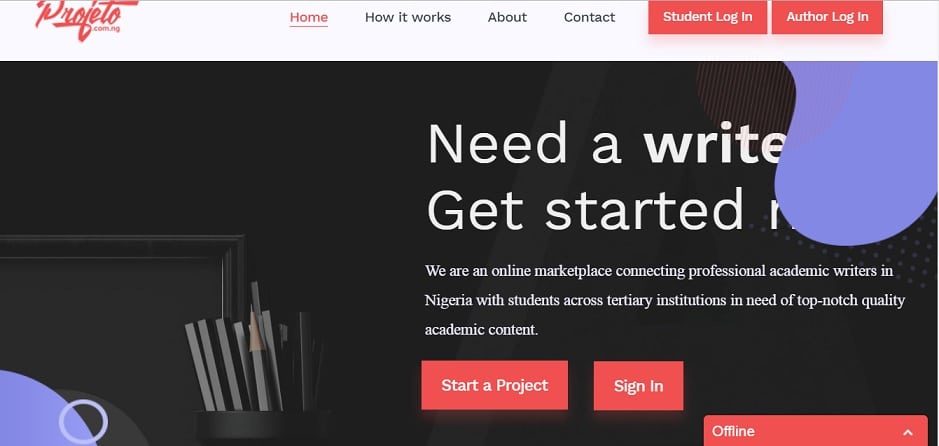 Users register as either students or authors; students fill a detailed form about their projects and state the area(s) where they need help, delivery time, and their budget. Students can either outsource the writing of their theses or the whole project. Upon order, the management team assigns authors (after full payment) who either carry out the experiments, prepare the working models, or prepare the theses prior to handing over the entire content to the students. Users confirm their projects upon receipt and can rate the author(s) on the platform.
Launched on March 3, 2018, by Adewuyi Mayowa (Founder), Chima Okere (C.O.O), Adewuyi Adeola (Client Relations), and Gbenga Akinyode (Consultant), Projeto is not limited to thesis writing but also help clients design powerpoint slides for presentations.
With Fiverr and Upwork as major players, Projeto is positive it will gain its own share of the market as it claims to seek first to understand students projects before matching them to the right 'authors' who are verified, while ensuring students' works are void of plagiarism.
According to Adewuyi (founder), the startup hopes to offer demonstrations after project completion to help students understand what their projects are all about, thus enabling them defend the work better. He also said apart from helping students with projects, Projeto will also train students on how to write a good thesis and carry out great research.
Thoughts
Though innovative, some academicians do not support the idea of students outsourcing their projects. But with the time involved in the research process, one can say outsourcing a part of research is not totally a bad idea as it helps students concentrate more on coursework and field/lab work.
However, to have a smooth run, Projeto must ensure students' projects are void of plagiarism, and they (students) are kept in the loop during the project work. This, in a way, will help students understand their work rather than have zero knowledge, thereby producing 'unbaked' graduates who can't defend their projects.
Since launch, it claims to have received 3,000 orders, which shows the startup has the potential to scale. Although it focuses on undergraduate research in the meantime, it hopes to widen its reach by accepting orders from Masters and PhD students.
---
Want your startup featured on Techpoint? Pitch it here.