The Nigerian agricultural sector is gradually becoming a focal point of discussions as the economy continues to recover from recession.
On today's edition of Office Tours, we visit the headquarters of Farmcrowdy, a digital agricultural platform that is simplifying the level of involvement of corporate and non-corporate Nigerians in the agricultural sector.
Farmcrowdy matches indigenous farmers with sponsors and at the end of the farm cycle, the proceeds are shared between farmers and sponsors.
So far, Farmcrowdy has sponsored 6,170 farm units with the help of 996 sponsors. The platform has engaged 3,088 farmers across eight Nigerian states through the company's outreaches.
Join me as we see the new space where the humans of Farmcrowdy work out of!
On arrival, you are greeted by a map of Africa artwork
The faces on the map are those of farmers, field specialists and individuals impacted by the platform.
A walk through the entrance reveals the comfy reception area
The carpet grass on the wall is a deliberate choice because Farmcrowdy is about agriculture. Early spoiler: There's green in almost all parts of the office.
We move on to the 'Engine Room'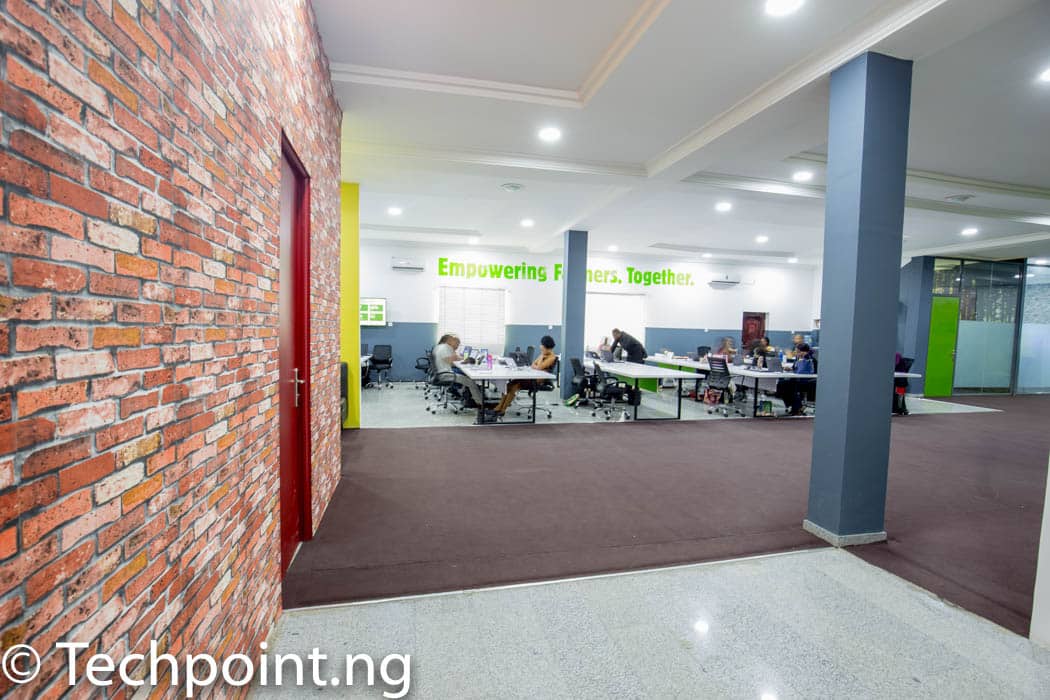 The Engine Room is an open space that is void of cubicles or dividers. Every table represents a department.
The empty seats are those of field specialists who are barely in the office
The field specialists engage farmers and help them in various capacities for optimum farm production.
A screen on the wall shows realtime updates on milestones reached
The company's motto is clearly visible on the wall to remind everyone of the collective goal of 'empowering farmers'.
There's an indoor event space that doubles as an interview area
And here is the Community Wall, which represents the 23 early team members of Farmcrowdy
Each member has been promised a bottle of champagne in their name if the company reaches the desired valuation as a business in 2018
Green Room / Meeting Room
For every busy office there's need for some privacy and that is what the green room is meant for. Cozy furniture surrounded by tree imagery on both sides of the wall.
Private office
Sleeping Pod
Most tech companies are known for long extended work hours. To cater to the need for a nap, there's a room designated for that purpose.
Meeting Area/Private Workspace
Working in an open space can be distracting sometimes. Employees who require less distraction can use the private workspace.
The Yellow Room
Eating takes place here. There's an in-house cook that uses a menu created by the staff to provide lunch meals.
Staff Lounge
The staff lounge is a display of Farmcrowdy's flexible work structure.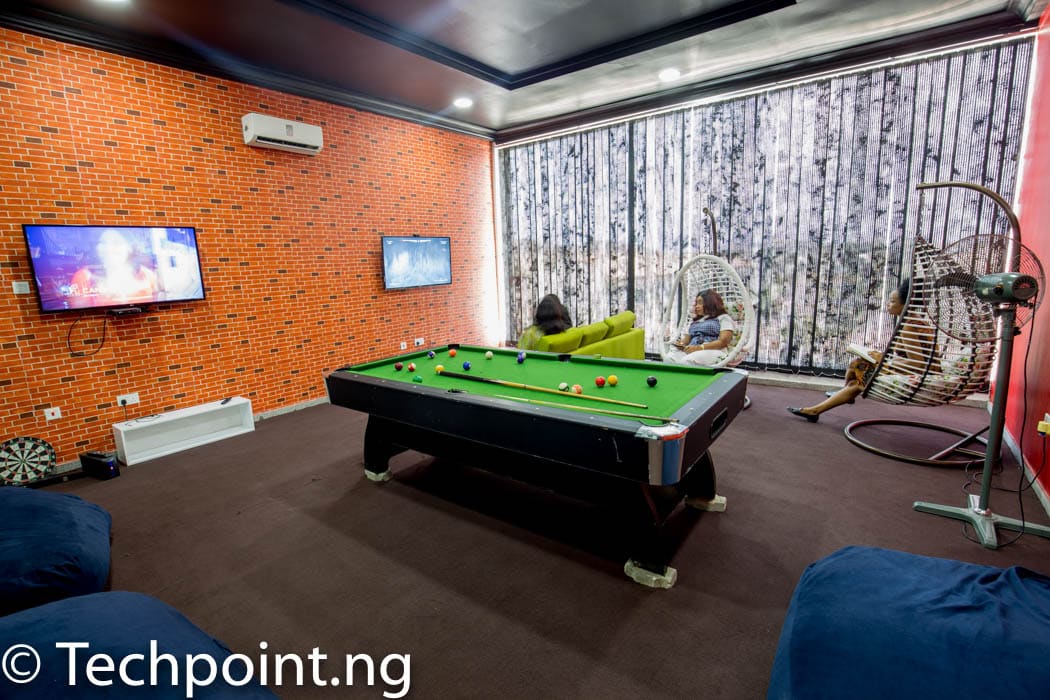 Employees are encouraged to 'play hard and also work hard'. The space is a large room with bean bags, a couch, snooker table, console games and everything fun. It's a relaxation centre or, rather, a cool off zone.
Conference Room
Balcony/Outdoor Events Space
Outdoor company events happen here. Employees who need some fresh air while working with limited level of disturbance can also use this space.
Our tour through Farmcrowdy's office shows a company culture that embraces openness and a lot of employee interaction. The interior design of the office space is based on input from various members of the team. Big thumbs up to Farmcrowdy.
---
Do you think your office is cooler? Invite us to take a tour through our lens.
Adewale Yusuf
Co-founder & Publisher of Techpoint.africa. Interested in: Technology | Media | Startup | Education | Africa.
Twitter: @AdewaleYusuf_
On January 22, 2022, be part of the largest gathering of innovators, startup founders, thinkers, programmers, policymakers, and investors in West Africa. Register free.