In William Shakespeare's Hamlet, Claudius said, "When sorrows come, they come not in spies, but in battalions." This quote from the 1601 play epitomises the case of Nigeria when the price of oil began dwindling around July 2014 .
The collapse of oil prices created serious economic crises which led to inflation. Two years after the fall of crude, the Nigerian government placed a ban on food importation -- a deliberate move to encourage more production from, and patronage of local farmers in the country. While this was a great move, it wasn't without an ugly side -- a hike in the price of foodstuffs in the local markets. Of course, a lot of Nigerians struggled to survive during this period while looking out for other alternatives.
Agriculture became a Plan B and both the public and private sector rose to invest in this industry to support and increase food production in the country.
However, as many people have gone into agriculture, lots of local farmers still struggle to sell their produce. They either sell in a local market or transport their goods to another town by road, which usually takes several days. This consequently leads to spoilage (especially of perishable goods) and results in a reduction in the amount of goods that eventually arrive at the market.
One such farmer is Stephen Oloh, who started his farm in 2014 to assist the government with providing food, but wasn't making much profit due to spoilage in transit; having a limited number of people to sell his produce to also had a negative effect. That frustration is the mother of innovation is common knowledge.
Stephen's frustration prompted him to do something about the situation. After much consideration,  following the ban on food importation, he decided to start ALOSFARM in December, 2017.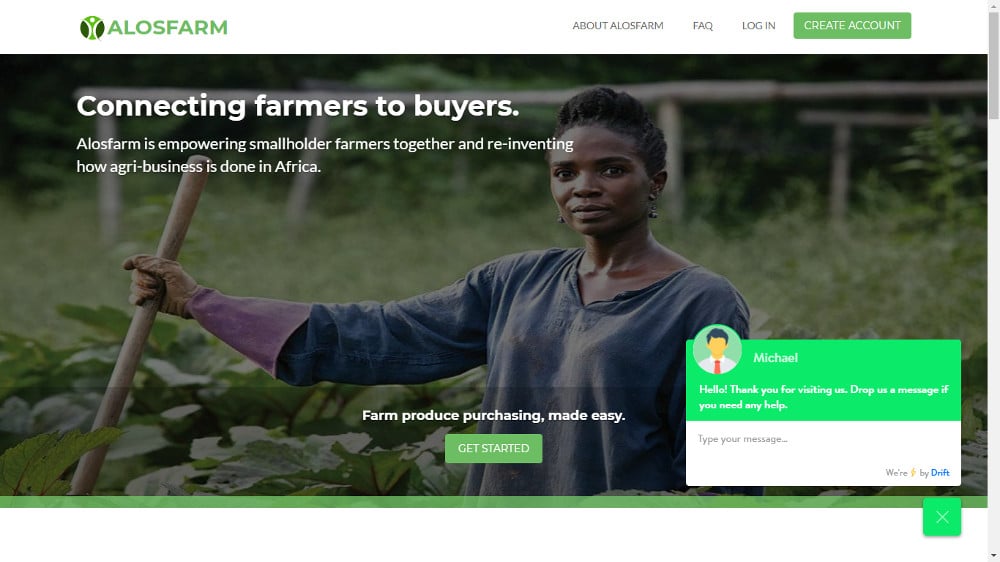 ALOSFARM is an online platform where farmers are connected with buyers. It helps farmers distribute their produce and trains them in the use of modern methods to increase food production. It also guides in the general  farm process.
According to Stephen:
At Alosfarm, we are passionate about empowering smallholder farmers together by eliminating exploitative buying from the value chain and ensuring smallholder farmers sell and earn more with us; while also optimising the huge wastage of food in the chain from farm to the table through our smart mechanisms to ensure sustainable food security."
ALOSFARM runs a commission-based system, as it charges a certain percentage which varies from one product to the other.
It is not just concerned with helping farmers but also consumers of the products, offering fresher goods. According to Stephen (founder), some technology is being used to preserve perishable goods, thereby increasing the lifespan of produce in transit, which will reduce the spoilage, thus helping to tackle the challenge of a staggering 40% of Nigerians that still go hungry regularly.
How ALOSFARM works
Users register as either farmers or consumers. All a user needs to do is sign up  by using a Facebook/Google account, or manually filling a request form.
Though a startup in its early stage, ALOSFARM comes across as promising; its claim to already have an array of partnerships with local farmers and consumers, coupled with the use of a scientific process for product preservation inspires confidence that the challenge of spoilage and unhealthy foods delivered to markets will soon be a thing of the past.
ALOSFARM currently serves the Nigerian market, but the objective is to scale to other African countries soon.