Today Google announced a new job search experience to help job seekers in Nigeria, South Africa, and Kenya easily find employment opportunities suited to them directly from their phones and computers on Google search.
Job seekers can now search on Google for a job and see a streamlined experience letting them explore, research and find relevant, local job postings.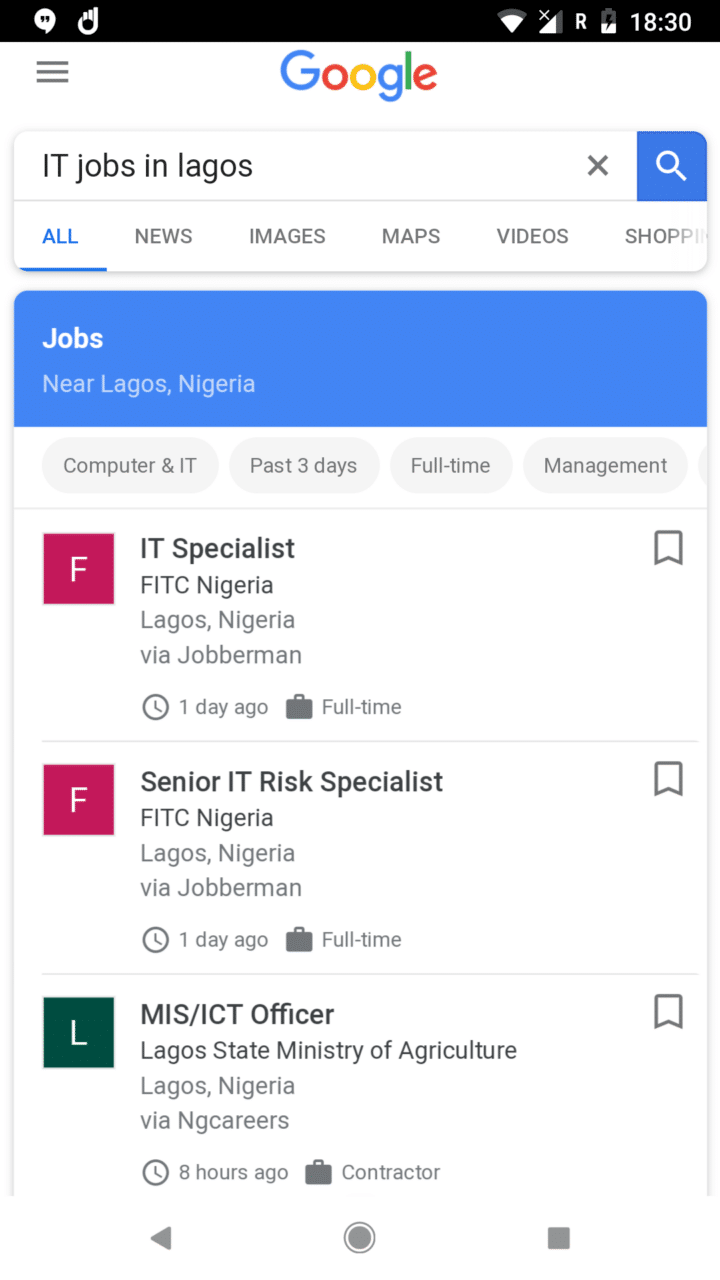 Users will able to view at-a- glance details about the posting, such as job title, location, whether it's full- time, part-time or an internship, as well as detailed information should a job be of interest.
Using Google Maps integration, job seekers can also search for jobs any place on the map, and if they're signed in, they can even see how long it would take to commute to the job from home.
With the new feature, job seekers can save job searches, set alerts and future notifications via email.
On whether Google is planning to compete with existing job portals, Head Policy & Government Relations West and Francophone Africa, Titilayo Akinsanmi says "no":
Google does not intend to overtake job portals, but rather, we are sticking to our mission of being organisers of information. We don't own the content this job searches produce, all we are doing is curating what already exists online.
This was apparently substantiated by representatives of Jobberman, NGCareers, MyJobMag and some other job resource portals in Nigeria present at the launch as partners.
Google's Head of Communications and Public Relations in West Africa, Taiwo Kola-Ogunlade also confirmed there will be training for small business owners to be able to upload their jobs directly.
Commenting on the launch, Ehimuan Chiazor said:
The launch of this new jobs Search experience is part of our broader commitment to improve economic opportunities for job seekers and employers through Google technologies in partnership with the broader employment industry. Google is committed to providing useful, accurate and relevant information based on your search queries and helping you connect to your next job. In this way we hope to make a contribution towards matching job seekers with jobs and taking steps to tackle the skills gap.
Senior Special Assistant to the President on Job Creation Youth Employment, Afolabi Imoukhuede who was present at the launch commended Google on the launch. He endorsed the feature because according to him, it is in line with the president's efforts on job creation in Nigeria.