UPDATE: Based on Bayo Adeniyi's valuable observation, the original headline has been updated to reflect a more representative combined percentage of -93%. 
---
Swedish investment company, Kinnevik and South African media group, Naspers have been longtime public investors in Konga, which was recently acquired by the Zinox Group. If the rumours flying around are true, the value of the acquisition was a meagre $10m. For a company that was once valued at over $300m (circa 2014/2015), this is quite shocking.
When founder and ex-CEO, Sim Shagaya launched Konga in 2012, he came armed with $3.5m in seed investment. Popular consensus was that Kinnevik provided the funding. However, the company's 2012 annual report says otherwise.
Konga did not appear in Kinnevik's official records until the end of 2013, when it reported investing 114 Swedish krona (SEK) -- about $17.5m, going by market rates then -- in Konga for 46% equity.
That same year, Naspers jointly acquired 25.5% of Konga (not 50% as commonly reported) for an apparent $9.7m (extrapolating from Kinnevik's investment).
This means that Konga raised at least $27m in 2013 and was valued at no less than $38m. Not bad for a one year-old company.
In 2014, Kinnevik invested an additional 95 SEK ($12m to $14m) in Konga, bringing its total investment up to about $30m. Naspers followed suit with a further US$27m investment ($36.7 in total).
But while Naspers' stake in Konga increased from 25.5% to 40.2%, Kinnevik's dropped from 46% to 41%, despite having put in additional money.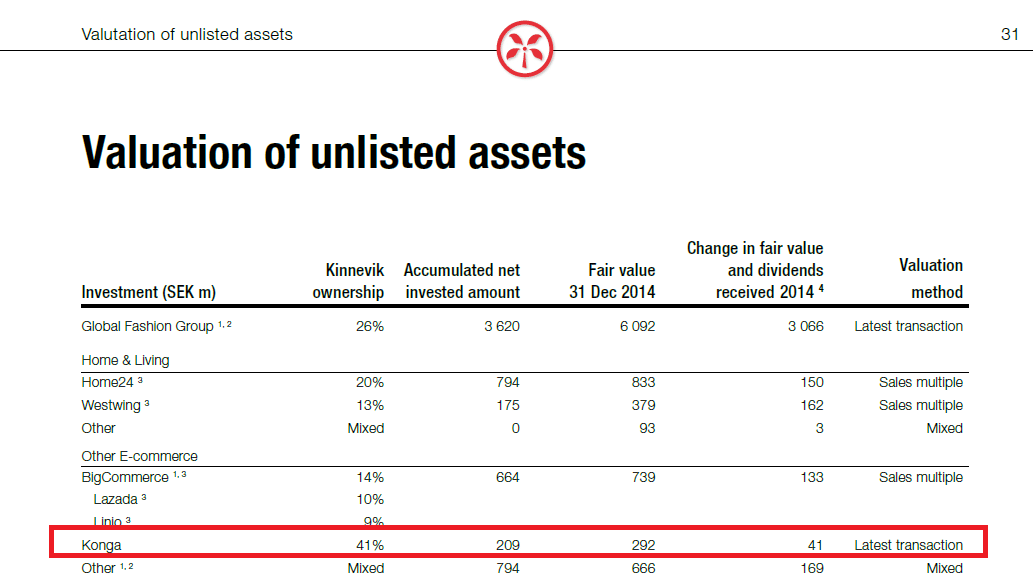 It appears that the entry of new silent investors, an exhaustion of employee stock options and Naspers' new capital injection necessitated an equity dilution. This must have forced Kinnevik to pay to regain some of the shares it lost in the process. Konga was now valued at about $183m within barely two years of operation.
The following year 2015, Konga was terribly hit by the prevalent Naira crisis and, for the first time, Kinnevik appeared to be losing confidence. It did not put in any additional money and let its equity drop to 34%. It also promptly adjusted the "fair value" of its share of Konga to 292 SEK ($35m). This essentially put Konga's valuation at $102.9m.
Naspers however had other ideas. In April 2015, the group invested $41m in Konga. Its equity also increased to 50.9%, possibly from buying off some existing shareholders including Kinnevik. As far as Naspers was concerned, Konga was now valued at $383m, not $102.9m.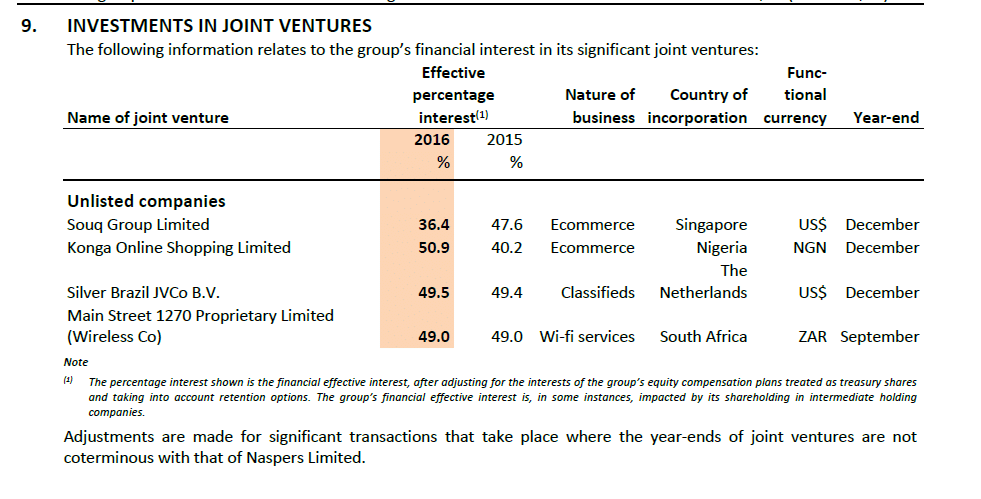 Naspers would go on to eat its words in 2016 when it admitted "recognised impairment losses of $53m relating to Konga". That was the same year we found out Konga had only 184,000 active customers.
On the flip side, Kinnevik had regained some lost confidence. It ramped up the total amount invested in Konga to 257 SEK. Its equity however remained at 34%. Around this time, many high profile employees were leaving Konga. Could this have been a pure shares buyback play by Kinnevik? Something like a severance package for employees who had stock options?
Finally, in 2017, Konga CEO Shola Adekoya hinted at yet another funding round. Both Kinnevik and Naspers participated.
Thanks to @Naspers, Kinnevik, @simshagaya and our esteemed customers for their support

— Shola Adekoya (@Sholaextra) February 10, 2017
According to Kinnevik's Q1 report, total investment increased to 266 SEK (292 by Q3) but equity still remained at 34%. Similarly, Naspers invested another $13.5m, it seems, in a bid to keep its 50.9%, indicating that either other investors were involved or more key employee stock options were given out. All of this happened before the end of Q1 2017.
By September, Kinnevik decided to write down the value of its investment in Konga to around $16m. A gross devaluation, considering that, by this time, it had invested an accumulated $36.1m over a 5-year period. Compare that to Naspers' $91.2m over the same period.
Which brings us back to the acquisition of Konga at the supposed value of $10m. Should this figure turn out to be accurate, it means Kinnevik and Naspers got only $3.4m and $5.09 respectively out of the deal. If you do the math, that amounts to a combined 93% negative return on investment.
The question now is, why would they accept such a low amount for Konga and all its subsidiaries -- KOS Express and KongaPay -- when just barely a year ago, they were still investing multiples of that amount?
What could have drastically changed their perception of Konga's value in such a short space of time? The recent  decision to layoff plenty staff and kill off PoD? According to a Medium post Shola Adekoya published on the same day the acquisition was announced, the decision is paying off so, probably not.
When Techpoint reached out to sources close to the matter, they confirmed the acquisition but refused to confirm its value. From all indications however, $10m does not seem like a reasonable amount for the sale of Konga, at least not for Naspers.
This is a developing story.