Once upon a time, attending a university and graduating with a good degree was all you needed to secure a good job in Nigeria. Today, things have changed, good jobs are scarce and a university degree no longer guarantees one. Unfortunately, universities in Nigeria are still not keeping up with this change.
Even though the need to create more businesses is evident, many institutions of higher learning still focus on raising employable graduates rather than entrepreneurial ones. So students typically get into and out of schools with the sole aim of becoming great employees -- only to have their dreams shattered, more often than not.
Without the necessary support systems in schools, students who become entrepreneurs have a slim chance of building truly successful businesses.
Despite these challenges, Christian Jombo, a final year student of Computer Science of the University of Uyo and founder of Heptapixels, a software company based in Uyo, secured his first million-naira deal after building an online banking solution from the scratch for a foreign bank with his all-student team.
The successful white label banking project, which would mean a significant turnaround for their business, finally gave the students the opportunity to show their skills and find their feet in the world of IT after getting loads of recommendations.
As with many successful ventures, the road hasn't been easy for Christian. Even with his experience as a freelance web designer before getting into the university, putting together a team of inexperienced students and operating a business for 3 years as a student hasn't been easy at all, especially in the Nigerian school environment. I asked him why he didn't wait to set up his business after school:
When I got to school, I realised that it wasn't everything I dreamed of and that there were no jobs. I couldn't imagine spending five years in school only to come out to start an endless search for jobs.

Many companies that fail do not survive past the third year so I decided to experiment with my time in school. If my business died within my remaining 3 years in school, I'd move on to something else after graduation. If not, I'd just continue from where I left off after school
It's time for Nigerian Universities to wake up
"Spinning a lot of plates can be stressful and that's why great teams are crucial. Universities are full of incredible people. I had support from all different directions, Southampton paired me with an array of mentors, friends became founders and advisers and we had financial awards from a number of faculties. Every new person supporting you connects you to somebody else who can help you, so that you have an ever increasing support network." -- Xavier Parkhouse-Parker, Co-founder and director at PLATO Intelligence 
You'd likely not hear anything close to this from student entrepreneurs in Nigeria. Apart from the business connections that can grow amongst students -- the only real benefit Christian attributes to his tertiary education -- many Nigerian universities remain unsupportive of the plight of the entrepreneurs that they house.
While schools all over the world are developing strong systems to support student entrepreneurs, the typical Nigerian school is still designed for everyone to be full-time students -- student entrepreneurs are frequently perceived as unserious, especially by their lecturers. And not many students can beat the odds like Christian and bring their dreams to life in these conditions even if they can dream.
Yet with all the collaborative opportunities that life in a university presents and with advancements in technology, universities can play an active role in raising more successful businesses. Clearly, the push for more entrepreneurial youth goes beyond taking a mandatory entrepreneurship course, that is often boring and taught by inexperienced lecturers. Many students need room to experiment and gain practical experience in the area.
Revamping campuses with the entrepreneurial spirit
Christian also recounts how some of the people he started his entrepreneurial journey with gave up along the line to face their academics squarely and find a job afterward. "It was too stressful, one minute you are at work and the other minute you are in school," he said.
The Heptapixels team worked from Enterprise Hub outside the campus, thanks to a very enduring Mr. Joe, the coordinator of the hub at the time, who tolerated late payments of rent just to support the students. Today Chris has a "massive office" as he describes it, outside the school with his own staff.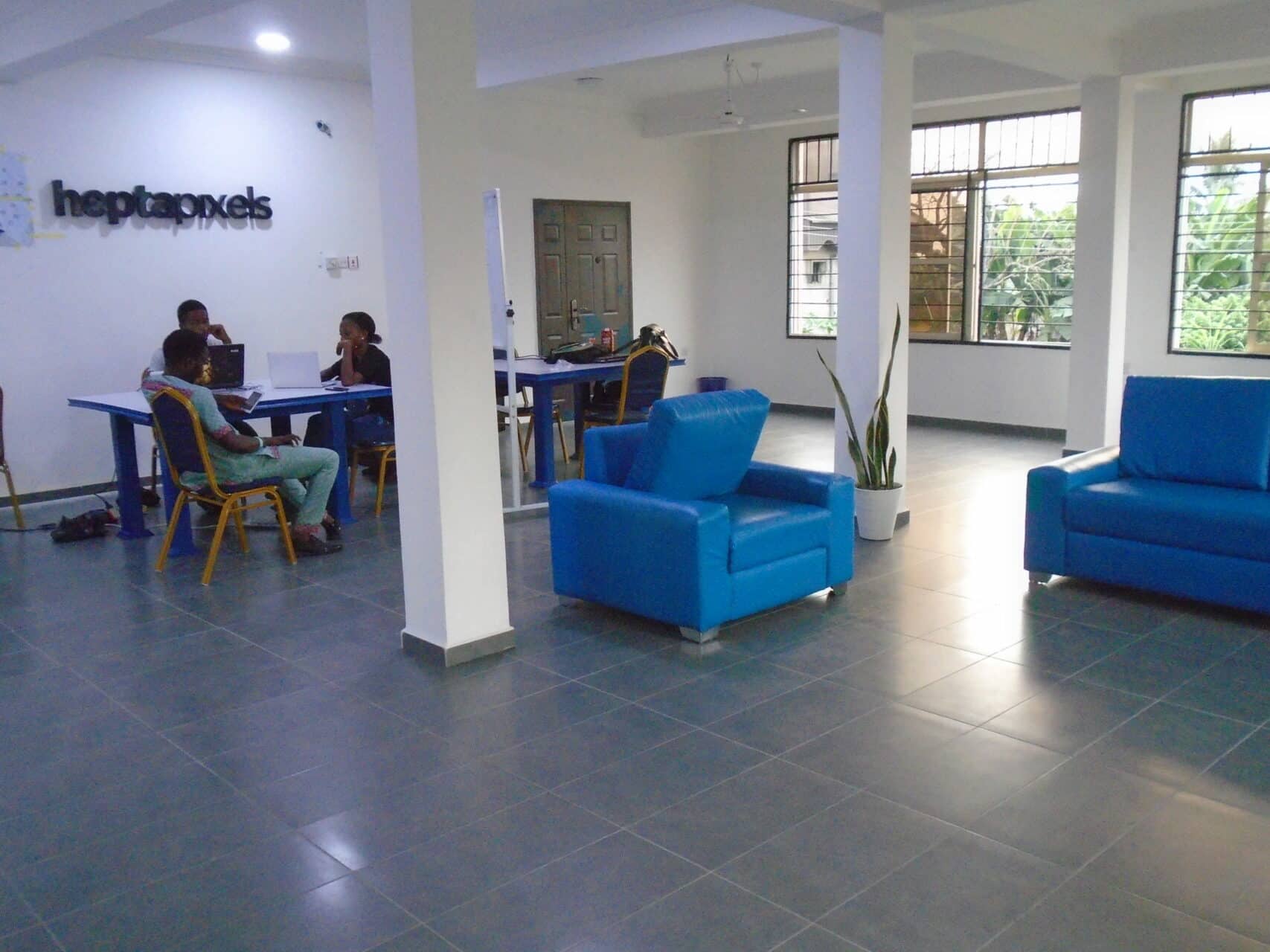 While juggling entrepreneurship and schooling is no easy task, it can be easier and it should be made easier for the innovative minds in schools. Only a few schools in Nigeria have adopted business hubs on campuses, however, business incubators have become a necessity to foster entrepreneurship amongst students.
Kola Aina shares more insight on how students and universities alike can benefit from business incubators in this piece.
Hopefully, indigenous students at the University of Uyo with innovative ideas will be saved from all these hassles. During our recent tour of southern Nigeria, we discovered Alert Nigeria, a non-governmental organisation liaising with the University of Uyo to create hubs and provide seed funds for innovative ideas through an essay competition for secondary and university students. It will be great to see more solutions like this replicated in other universities.
From his experience, Chris also shares a few tips about how universities can encourage student entrepreneurs.  "Education is about possibilities, students should be encouraged to do stuff -- rather than being pressured with unnecessary assignments that do nothing to help them. As I am talking to you I have 13 assignment in different courses and I have not gone to the office in a week."
He also thinks it is necessary for schools to engage students to a certain extent in their projects, especially Computer Science students. And also give room for student bodies to facilitate extracurricular programs that can encourage entrepreneurship. "We should be done with the mentality of going to school just to read and read to get a job"
Considering the fact that Christian has been able to maintain an impressive CGPA while running a successful company, Chris must indeed be wise -- we should listen to him.