We seldom hear of companies grooming and outsourcing software talent outside of Lagos, so when I heard of one operating in Aba of all places, my initial reaction was to doubt its credibility.
But I soon realised the amount of work Chibueze Ukaegbu has put into building his company, LearnFactory, when Techpoint visited Aba during our tour of the South-South and South-East.
While he is not a native of Aba, Chibueze does indeed possess the Aba blood which has given impetus to the "made in Aba" ingenuity. LearnFactory is what you could describe as an archetype of Andela but with a local spin to it because Aba -- the city where LearnFactory is located -- is not the place people would normally align with software development.
More importantly, its work in the area of developing in-house products for clients in Abia state and beyond has plunged LearnFactory in a place where it is building software competence in Aba. Today, that capacity development seems well monetised.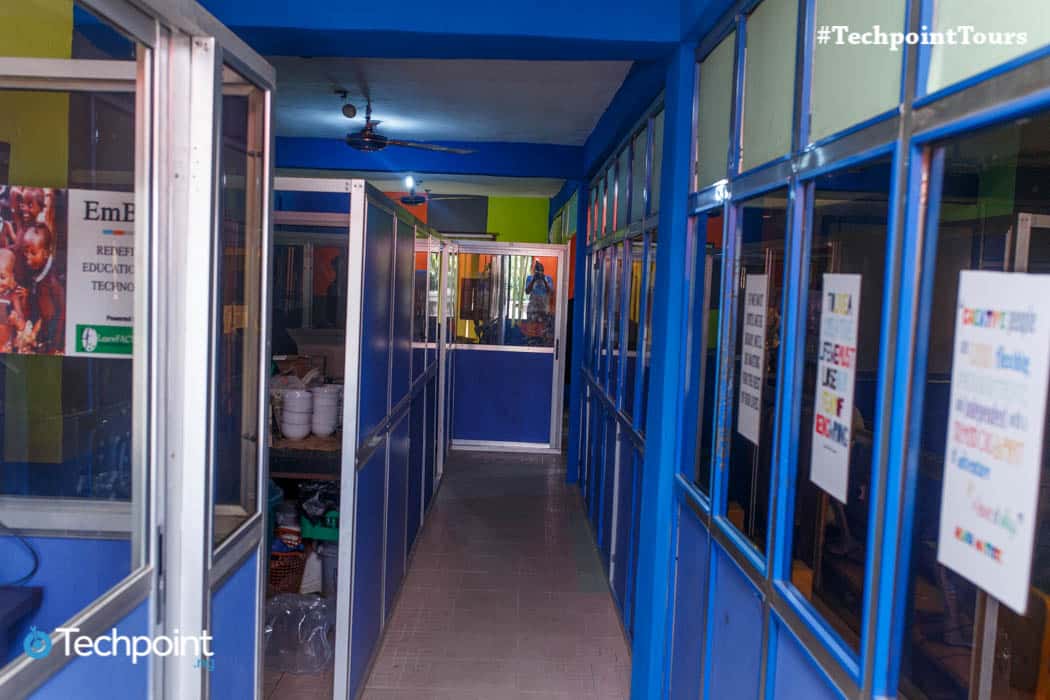 "We have a couple of projects running for clients in the UK and other places like Malaysia," Chibueze points out, "It might also interest you to know that we are building a Uber-like kind of service for a client in Rwanda." he adds.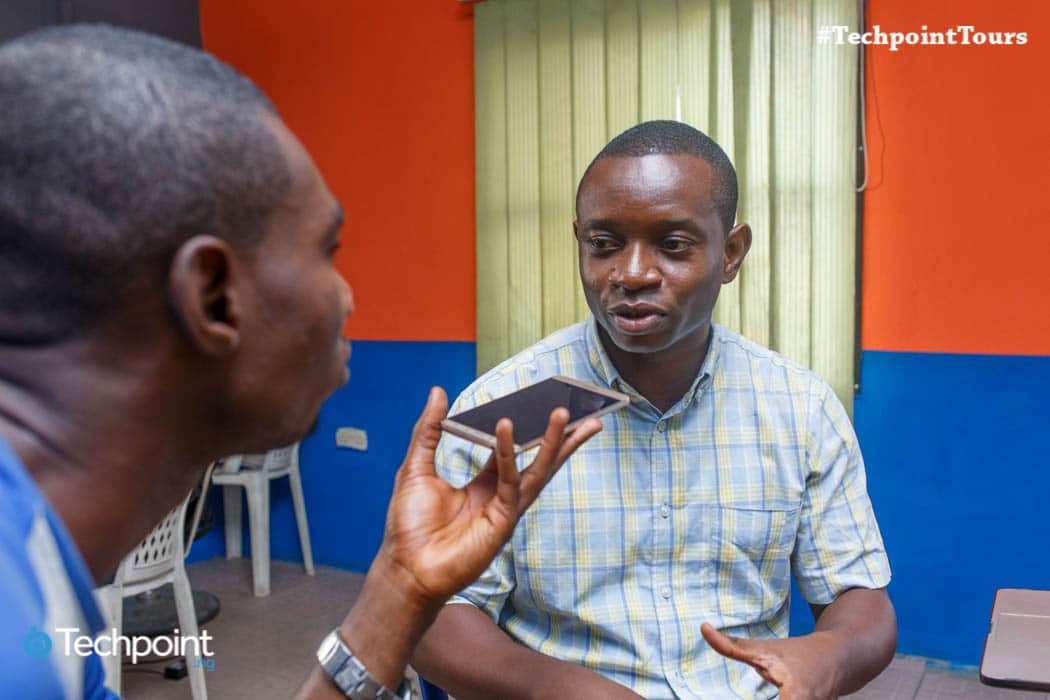 LearnFactory has also got a couple of works to show for locally; a website development project for the Abia state house of assembly, an e-registration platform currently in use by a chartered institute in Lagos, to mention but a few.
Perhaps the most interesting part of what LearnFactory is doing is the deployment of homegrown, young developers to these tasks. "We've been able to show that even though we are in Aba, our employees are still world class," Chibueze explains.
Developers at LearnFactory begin their journey by undergoing a free (not free initially) 3-month intensive bootcamp.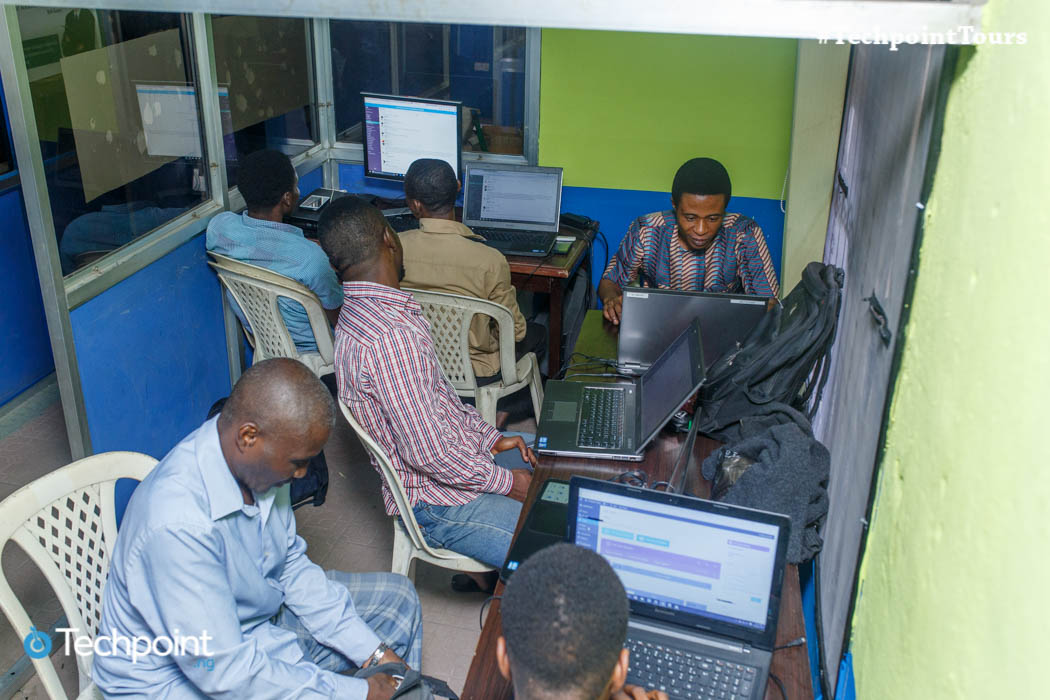 On ground when we visited the LearnFactory office were about 10 developers. One of them, Onoja Matthew explained to me how he practically started with zero skills in programming but has since transitioned into a professional, without having to leave Aba.
"I tell people that progression in software development is more of an individual thing, that requires some self motivation, and not necessarily a thing of location," he explains, "It doesn't faze me anymore when people now think of me as a superstar."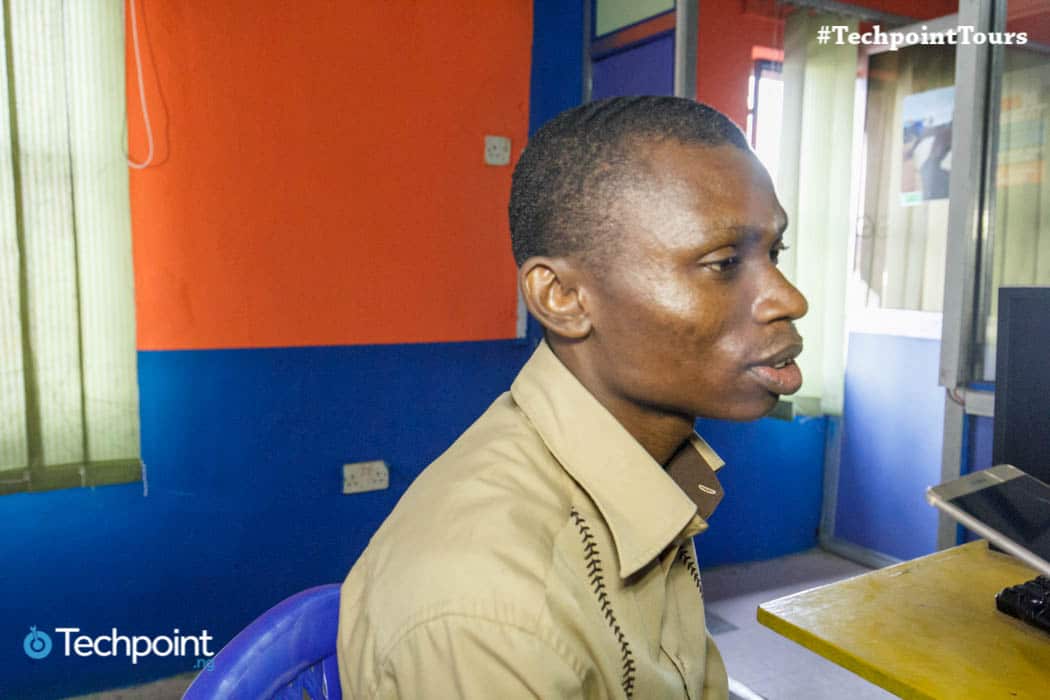 Onoja is in his second year working as a full time programmer with LearnFactory. His strength lies in JavaScript. Like himself, other developers have one programming language or the other they are good at. But as Chibueze explains, LearnFactory developers are challenged to learn something new everyday, hence the culture of adaptation.
"Some of them haven't used Amazon Web Service (AWS) before, meaning we had to catch up on many technology involving AWS. If they also have to do machine learning, they need some function of Artificial Intelligent (AI)," Chibueze narrates, "the daily schedule here is a bit unconventional, as we expose developers to skills and a lot of things that help to build up their mindset."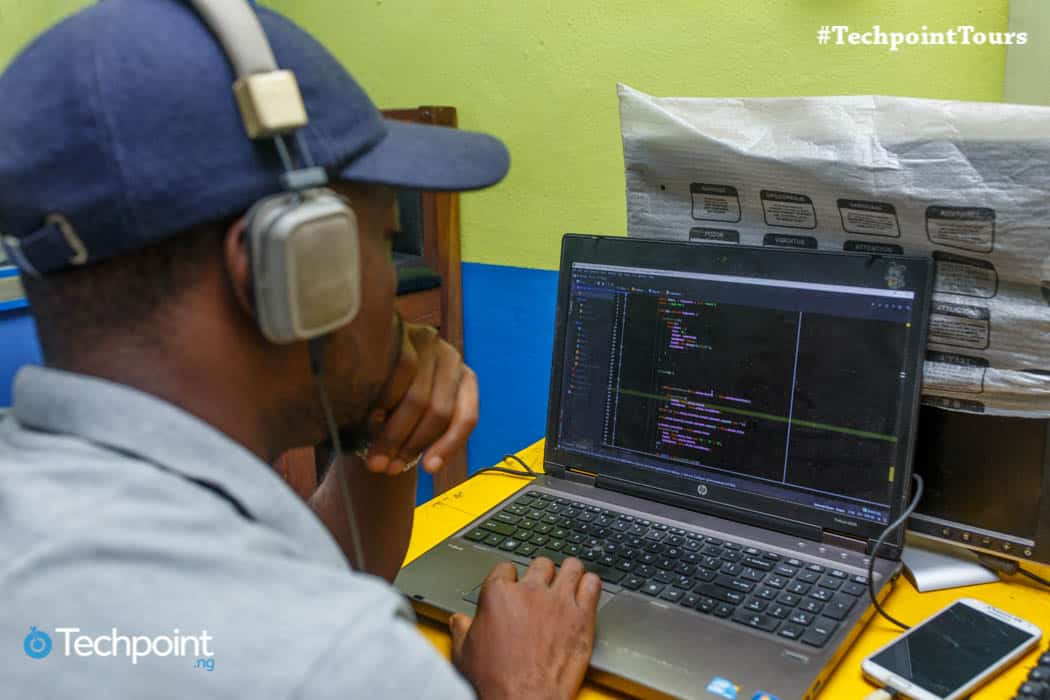 To be able to lead this team of programmers, Chibueze is himself an expert at programming. Having worked in Lagos for seven years, Ghana for three years and a year in the UK, as a senior IT personnel in reputable tech companies, including Zinox Technologies, Chibueze took with him to Aba, eleven years of experience and wealth.
It is safe to summarise what goes on in LearnFactory is a continuous cycle of both learning -- to grow world class developers -- and building a viable business through software development.
But for a software development and outsourcing company that launched in 2015, more so located in Aba, one can't help but wonder whether it generates enough revenue to fund its operation.
"Well, it's not been easy as it has taken us two years to pay our dues," Chibueze admits. "In the whole of 2015 we had just 1 client. Up till today, I have written out approximately 483 letters."
During this period LearnFactory had to rely on self-funding and a YouWin grant of ₦8 million later that same year. However, due to increase in awareness, things have begun to pick up in 2017. Part of that stems from realising the need to shift focus to solving local problems, especially for the manufacturers at the famed Ariaria market in Aba.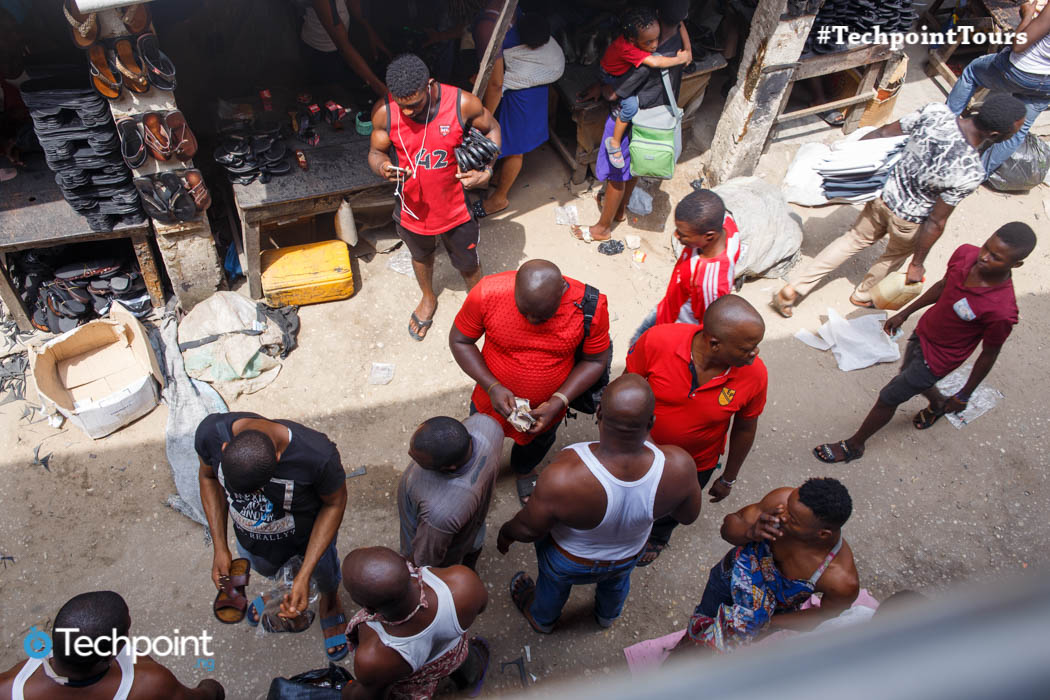 This has further helped with issues of remuneration, as developers are usually tied to projects. "For us that makes it easy to factor their remuneration into the amount we charge clients," Chibueze remarks, "The good thing is that some projects run for as long as a year."
While LearnFactory may not have the finesse and financial war chest that has seen its counterparts in Lagos thrive, it has nonetheless survived under extreme, uncooperative business climate.
Power, which seems to be a major challenge in Aba has impacted the business. When they are not running on power generators, there is the cost of maintaining a 7.5KVA inverter which comes with 10 rechargeable batteries. Also, the absence of fibre cable internet has caused the business to rely on the expensive wireless services from virtually all local telcos. But again, if you've ever been to Aba, you'd know too well not to doubt the spirit of entrepreneurship in this busy commercial node. Little wonder why Chibueze nurtures a long-term ambition to establish a tech university in Abia State.
If this plan ever materialises, Chibueze will have succeeded in marrying both his passion for education and technology.