Exactly this period last year, when I first visited Port Harcourt, en route to Umuahia, one of the scenes that held me spellbound was that of the alarming queues at several ATM points within this oil-rich city.
Watching city residents wait through the long queues was indeed an unsavoury scene. My journey still ahead of me, I had to make a withdrawal at Aba, a city about another 35 minutes drive from Port Harcourt, where it seemed more convenient.
Fast forward one year after, when Techpoint visited Port Harcourt, during the tour of the South-South and South-East, this problem persists.
Having been working in the pipeline to nip the problem in the bud, Boma Peters and his team came up with a solution.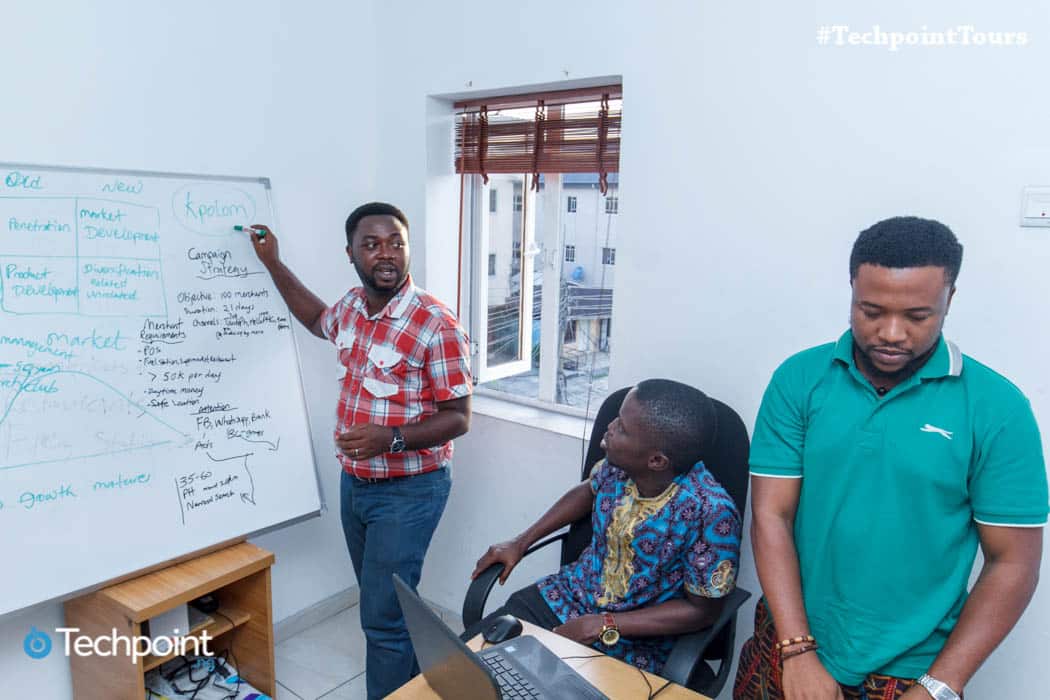 It would interest you to know what approach they are adopting to tackle this problem.
Because businesses based in Port Harcourt keep a large volume of physical cash in their premises, they usually are victims of armed robbery attacks.
"On both sides, we saw that there was a need to solve a serious problem, we took a rather simple approach to it, and today we have Kpolom to show for it," Boma remarks.
Officially launching today, 1st of December 2017, Kpolom is solving the problem of connecting Port Harcourt residents in dire need of cash with businesses that have sufficient cash to perform cashback services.
Since the plan is to eradicate queues at ATM points and create a cashless environment of sorts for businesses, Kpolom will station what you could call "human ATMs" no more than within 10KM radius of users. These are verified business centres -- often restaurants, filling stations and supermarkets -- that can now serve as Kpolom cashback points.
Users who want to find the nearest cashback points can simply check on the platform for a Kpolom merchant within close proximity, transfer the equivalent of the amount they intend to withdraw into merchant account (via USSD services or through internet banking) and get paid the amount in cash. Merchants will charge a paltry commission for their services. Kpolom on the other hand will take no cut. The idea is to encourage mass adoption for the first two years, after which Kpolom will be looking to lay claim to a small percentage of this commission.
Commencing operations with a good number of businesses in Port Harcourt already activated as Kpolom merchants, it would seem Kpolom is ready for business. But one question that remains is why launch in December?
"We know that the festive period usually comes with a certain difficulty for those that would be using the ATMs at several points here in Port Harcourt," Boma explains, "so our decision to launch Kpolom at this time is strategic to pushing adoption."
While Kpolom is immediately targeted at the people of Port Harcourt, the solution could come handy in several other cities in Nigeria. For instance, there are about 12, 621 ATMs across Nigeria. For a population within the region of 180 to 196 million, that's roughly 8 ATMs per 100,000 users by World Bank estimates. Asides indicating a clear shortage of ATM cash points across the country, there is also the problem of uneven distribution.
"I don't know whether it costs more to deploy ATMs here in Port Harcourt and even the South-South generally but I know the number is abysmally low compared to Lagos," Boma Peters tells me.
This also makes it easy to see where Kpolom's future market lies, as Boma himself recalls Uyo having similar problems with Port Harcourt.
From here onward, it's quite a very ambitious plan for Kpolom as the roadmap is to have a strong presence in the entire South-South and South-East region of Nigeria. While this is not impossible, the immediate plan of running a free service for the next two years leaves room for doubt.
One thing that is however certain is that Port Harcourt residents would be taking advantage of this solution during this festive period. The Kpolom app is available for download on the website.