In 2016, Punch reported that online freelancing may be the future of work in Nigeria. The reason for this speculation is not far-fetched. Over time there has been increase in freelancing activities and Nigerian freelancers have had the opportunity to access projects across the African border. As freelancers keep sprouting, local players in the freelancing marketplace are also emerging. Among the numerous players is Oyerr.
Based in Akwa Ibom state, Oyerr is an online micro job and freelance marketplace for digital products and services delivered worldwide. Launched on September 13, 2017, the platform was co-founded by Nengolong Samuel (MD), Japhet Johnson and Seth Reuben. The trio heads a seven-man team.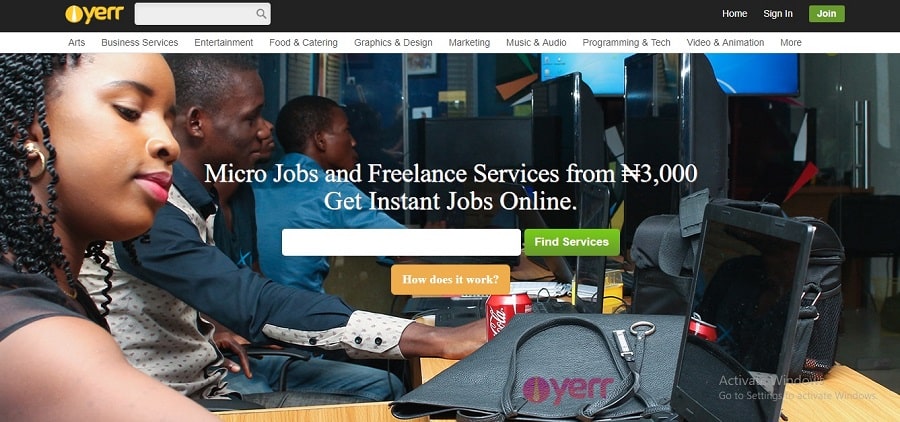 Services outsourced on Oyerr cut across various areas of expertise: programming, graphics and design, web development, article writing, video editing, animation, proofreading, SEO, tutorials and lots more. These services are called gigs on the website. According to Samuel, Oyerr offers members a ton of different ways to interact with one another; from selling and buying to hiring.
It is easier to get a quick micro job online than it is to find work anywhere else in the world right now. This is a trend we will continue to see. Some of these jobs only take a few minutes to complete and if you are dedicated enough it can even become a consistent way to make money.

The good thing about Oyerr is that members are able to sell anything from ₦500 - ₦999,000.
In addition, the security of all transactions on the platform is guaranteed. Thus,  users can focus more on productivity. Samuel affirms this when he said "Activities such as conversations, payments, gig requests, gig orders and withdrawals are kept under close supervision to ensure that a conducive platform is available for users".
When projects are completed, members are either paid directly to their bank accounts or PayPal accounts. Freelancers are allowed to post their  services (gigs), set their preferred prices, give a compelling description of their skills, and share on forums/social media platforms.
There are more interesting  features Oyerr has for its users. It runs a referrals program that gives ₦200 reward for referrals, offers location-based services ( thanks to Google places API) and reaches out to corporate organisations willing to outsource services on contract basis to freelancers.
According to Samuel, Oyerr will begin accepting cryptocurrency payments in the first half of 2018, thereby increasing its niche across other emerging markets in Africa.
Indeed, freelancing is becoming the first priority of the younger generation and Oyerr isn't taking a back seat. The startup's long-term goal is to become the largest and most efficient micro job portal in Africa that hosts millions of members globally.
Oyerr is currently based in Uyo but has working plans of launching new branches in Abuja, Lagos and Minna.
If you wish to access freelancers or apply as one, visit the online platform immediately.
---
Discover new startups every weekday by noon (WAT) | Pitch your startup here.