There are uncountable service providers offering a wide range of services across Nigeria. From real estate, event planning, plumbing, to shoemaking, tailoring and other services, you will find them all over the place. However, there is a shortcoming.
Clients are usually unsure of their expertise and reliability. The worse of it is quite a large number of them lack customer relationship skills. OgaAgent was founded to rid clients of this challenge.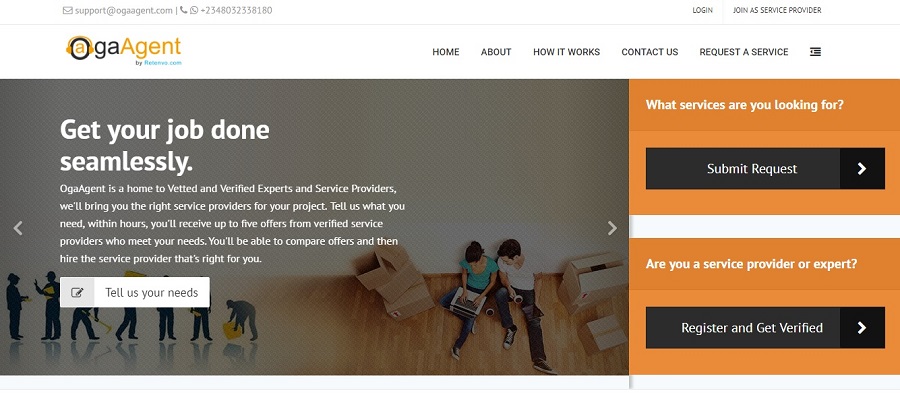 Instead of searching and thinking of where, how or who to hire users only need to inform OgaAgent of the service(s) they desire, and in few minutes, they are certain to get the most suitable and nearest verified hand to serve the needed request.
Asides being a hyperlocal on-demand service advisory and virtual assistant platform, the startup also offers real estates services; property sales and management. And unlike many similar platforms, OgaAgent claims to be very reliable, thorough and swift in its process.
You may result to an online search to get the services you want. The fact is the content of some of these listing websites are unverifiable. Hence it takes time (possibly days) before they respond to the service requested or demanded. In certain cases, you may not have such time up your sleeves. To, however, limit the stress of searching for service providers, OgaAgent is here to help.
Launched on April 1, 2017, OgaAgent's services are currently available in Edo State, Lagos, Abuja and Port Harcourt. It will expand to other parts of Nigeria very soon. Victory Osayi Airuoyuwa (Founder/CEO) champions this course with the COO, Sylvester Ighodaro. OgaAgent is a product of Retenvo Limited, an IT company based in Benin City.
If you wish to use this service, head to the website.
---
Discover new startups every weekday by noon (WAT) | Pitch your startup here.