One year ago, Seun attended a pitch competition as a contestant for the last time. Over the years, he had grown weary of being overlooked by judges in several pitch competitions despite believing he had made the best case possible. His startup builds internet-enabled smart metres that offer users a simple way to quantify power consumption from multiple power sources.
For someone who is in the difficult hardware industry, and still gets overlooked in favour of startups demoing soft skills, you could imagine his outrage.
Pitch competitions still hold a lot of significance and promise for startups. Nonetheless, it is gradually becoming common knowledge that they do not necessarily determine the best startups.
The following are pointers to why the best startups may not always win pitch competitions.
Set criteria
Every pitch competition comes with a unique set of yardsticks that are used in judging the participating startups. So under a different stage, and with a new set of criteria in place, the outcome could vary.
This is why a startup can come in first place in one competition and then end up in an obscure position on an entirely different stage.
For example, Team Humane won both the regional and national finals of the Microsoft Imagine Cup in 2016. But they were nowhere among the top winners at the global stage. Not that they weren't competitive enough, but because the criteria for selecting the winners were different.
Obasegun, a member of the Team Humane, explains that judges at both the regional and national finals were more concerned about the functionality of the product demoed by participating startups. Because of that, the Humane solution won. However, judges at the global stage were looking for something else -- a strong business model.
Vested interest of stakeholders
There are a number of things about pitch competitions nobody would tell you, especially organisers. But what startups must know is that every competition has an underlying agenda.
From shortlist of candidates to the competition proper, each activity is checked to make sure it matches the overall agenda of stakeholders or organisers.
Under this condition, the people who make it to the finals sometimes are not the best there is as the 'best' may not fit into the objective of the organisers at the time.
Speaking on the agenda of this year's Startup South, Uche Aniche, convener of the annual event explains that, "our focus is on identifying startups building tech that can be applied to solve some of the challenges the manufacturers and traders in Aba face."
Mosope Olaosebikan, one of the organisers of the Aso Villa Demo Day recalls an instance.
"We organised one competition and a non-tech company pitched. All the criteria we had set favoured only tech companies and so I expected the judges to turn the startup down immediately," Mosope explains, "They all had strong sentiment to the offerings of the startup and generally felt it was a great idea anyway. Interestingly, that startup won."
We can see clearly from the above that, once there's already an organiser's agenda or even a vested interest in any competition, the winning startups are those with a profile that meet/ties with such agenda -- and not necessarily the 'best' startup.
Storytelling as an art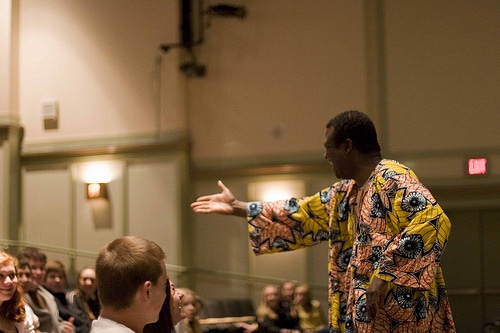 Storytelling is usually the most obvious criteria used in selecting winners at pitch competitions and can make startups win.
Even with a great product, participants still have to learn the art of storytelling if they are to be remotely considered among winners. Sometimes, participants who are bold and also have a good knowledge of their numbers and market likely emerge winner, to the detriment of a good product that isn't pitched properly. As Joel Amawhe, founder of MyPadi would put it, "A fantastic product without a great pitch or story usually won't cut it."
This explains why participating startups are usually given a thorough preparation by a coach or trainer on "the art of storytelling". But, while the manner in which the story is told is a crucial factor in swaying the decision of the judges, it doesn't outright determine the best startup of the day.
Pitch competitions can be heart-wrenching when a 'good' product or idea is overlooked. However, founders need to have it at the back of their mind that this is not a death sentence.
As Uche rightly remarks, "one thing you have to realise is that competitions present different opportunities, including exposure. But startups should also come with their own objectives."
Even without featuring at competitions, startups can still do well for themselves. But first, they need to know that the real competition is not necessarily on a stage or the demo days. True competition lies in the market.