This article was published in 2017.
---
"Won't you go to work today?"
If you have to answer this question or a different version of it frequently, especially with the suspicious glare that it typically comes with, then you probably belong to the league of remote workers. Well, in this part of the world, that could also make you some sort of alien --  a lot of people still do not understand that you can get the work done without leaving your home.
Even though telecommuting is not exactly the norm in Nigeria, more companies/startups in its commercial capital (Lagos) are beginning to embrace the remote working culture, especially in the IT industry. Yet, despite the benefits associated with telecommuting, big global companies like Yahoo, Reddit and IBM have reverted to the regular 9 to 5 work schedule. Even Google, with all its great perks, still isn't open to the idea of working remotely.
This begs the question, is the remote working culture really good for business?
You can't eat your cake and have it
Teamwork has always been emphasised in the workplace and for good reasons too. Speaking on the reason why she banned 12,000 employees from working remotely in 2013, Marissa Mayer, Yahoo ex-CEO said, "People are more productive when they're alone, but they're more collaborative and innovative when they're together
Google's former CEO, Eric Schmidt also affirms the need for physical communication in the workplace, "If you want a great company, people need to show up at work because of the water cooler effect and they need to be quite passionate," he believes.
Clearly, the benefits of collaboration, communication, and innovation in the workplace cannot be undermined. But should companies that are beginning to embrace the remote working culture, especially here in Nigeria sacrifice these?
How Nigerian employers are coping with remote work
"Weird days". This is how (former) Hotels.ng Chief Technology Officer, Neo Ighodaro, describes the emptiness of the office on days when everyone decides to work remotely. It's most likely the same way any traditional employer would feel at first when you give people the license to lie on their beds rather than show up at work. But maybe 'weird' is not so bad.
Even though Hotels.ng does not allow remote working for all roles, developers can telecommute without restraints -- the company has core developers working outside Lagos. For Neo, giving developers flexibility and creative freedom by giving them the option of working remotely improves efficiency.
"As a developer, it is essential that you have this freedom. Sometimes, you wake up and do not just want to deal with the chaos in an office building. In my opinion, developers give their best when they know they can choose where to work from," he says.
Adewale Yusuf, founder of Techpoint is another person who agrees that creatives may not give their best in a typical office setting. Techpoint's recently adopted work style mandates members of the editorial team to report to the office -- for meetings and pitch sessions -- only twice a week, while they can choose to work from home the rest of the week.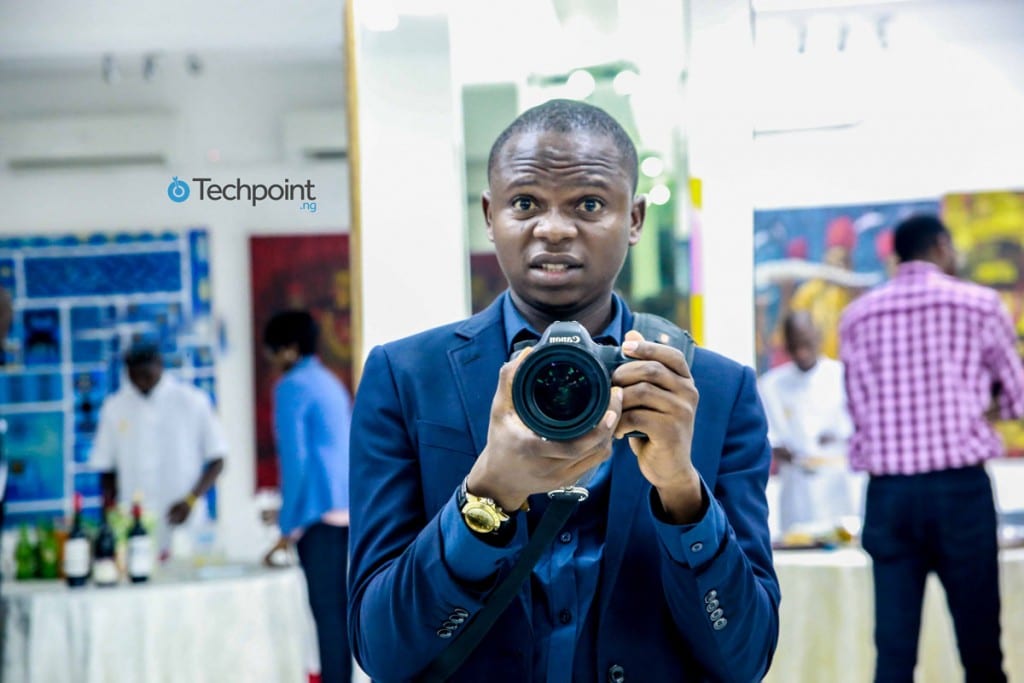 So far, remote work has worked well for the Techpoint team. "We don't employ people that can't work or think for themselves so we trust our team to be able to work from wherever they are. It has improved productivity, everyone meets up with their deadlines and there are consequences for people who fail to," says Adewale.
Having a physical structure in place, while giving employees the option of working remotely clearly leaves room for physical collaboration -- perhaps it is just the perfect blend. But how has Chidiadi Madumere, founder of Black Purist Media, a creative and marketing agency in Lagos, fared without a physical structure since she shut down her Lekki office after a year of operation?
Chidiadi has seen monthly expenses drop from about ₦2 million to ₦400,000. This is what she had to say about the company's experience with remote work so far;
What we have seen so far is a considerable decrease in our monthly expenditure and budget, an overall increase in productivity, a daily obsession with timelines, to-do lists, crushing deliverables and meeting targets. Most importantly, there is a new sense of self-awareness that comes with controlling one's time. Everyone now thinks like an entrepreneur. Time is money.
Even though Black Purist media employees work from home, they gather occasionally at restaurants for meetups with pretty interesting titles like; the "Sun Tzu strategy sessions" for the strategy team, the "Pitch Prep day" where the entire team rub minds together after strategy sessions, "Pitch day" for pitches, "Client Chill Days" where they work from the client offices and finally, "The feel you in day", where the team gather for drinks to welcome a new employee.
Sounds like a redefinition of the traditional office right? Chidiadi is glad to be done with office politics and has expanded services to Abuja, where she only has to worry about salary for staff and an out-of-pocket allowance. More importantly, she has also managed to keep the team close-knit, "We really cannot wait to see each other whenever we have the opportunity to meet," she says.
Thanks to online tools that allow for virtual communication and collaboration, these employers can keep track of the progress of the employee so that work is never out of sight or out of mind. Hotels.ng has an in-house tool that tracks working hours, "we also use tools like Pivotal and Trello where we can organise sprints and assign people to tasks and features that have to be done," Neo adds.
For the Black Purist team, Asana is the office hub, they sign in every morning to monitor each other's tasks and hold occasional Skype meetings too. For Adewale, a combination of Slack, Asana and email does the trick.
So far these employers seem to be having a smooth experience with remote work but how have employees adjusted to the new culture of telecommuting?
It's not all sunshine and roses
We talked to a few remote workers, including some in the aforementioned companies, about their experience working remotely. It turns out that working remotely isn't all sunshine and roses.
For Grace, a Startup Correspondent at Techpoint.ng, despite her preference for remote work, it isn't always suitable."Remote work works best when I have the electricity and Internet, otherwise, it could be as frustrating going to work daily," she says.
Work-life balance is also a challenge for some including Wale, a software developer who works for a foreign company for at least 18 hours daily, "Taking work everywhere is a challenge," he says
These are some of the common challenges some of the remote workers we talked to mentioned.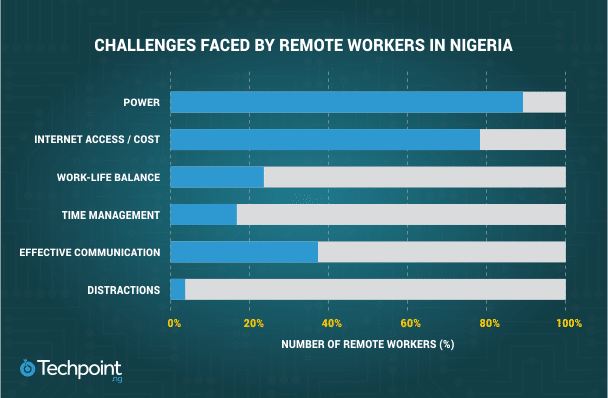 Despite these issues, most of these employees still prefer remote work to the traditional mode of working. We asked these employees to rate their preference for remote work on a scale of 1- 5.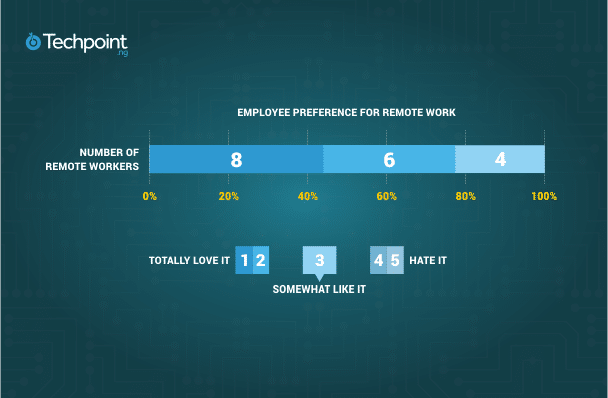 For these employees, it is most likely a case of the advantages of remote work outweighing the disadvantages, considering the challenges of working remotely in the Nigerian environment. Many have to cope with extra cost of providing internet and power for themselves. However, the freedom to choose their own workspace and the elimination of the cost and stress of commuting are common benefits these workers specified.
Remote work can work, but…
There are people who think that remote workers are lazier and less dedicated than regular workers and telecommuting should be discouraged.
However, more employers are beginning to realise that the typical office setting isn't always suitable for all job roles or all persons. Chidiadi shares this about her creative team
We had issues with our creative team delivering on copies and designs during work hours, it's like they are on snooze, we were not getting the best from them. But this is not happening anymore -- they are sending designs and copies overnight, we are working and chatting even at 2 am".
It is clear that remote work may not work for all -- yet a lot will depend on the specific role, the individual, the company culture, and how it is implemented. Largely, the success of remote work will depend on creating a fine blend of all these.
Employers need to be able to trust that their employees can get the work done with minimal supervision for remote work to thrive. Some employees may be great at their job but may not necessarily be great remote workers. Like Adewale says, "it's about individual discipline, you need to get people who understand that it is their responsibility to deliver the task on time."
It is also pertinent that employers factor in common challenges that employees may face before making this move, especially in the Nigerian climate.
Collaboration and communication remain essential in the workplace. Giving room for physical interaction despite online collaborative tools is most likely a smarter approach to remote work. So employees can still gather around the water cooler for talks and do their work remotely as well.
Remote work can be beneficial to both employees and employers. The story of these Nigerian companies/startups that are successfully implementing some form of remote work proves this. Perhaps, every organisation just has to find its own unique recipe.
The benefits of remote work can even go beyond businesses.This tweeter user wants more employers in Lagos to make remote work an option available to employees in order to reduce traffic experienced by road users on workdays.
More Lagos companies NEED to offer their employees remote options. Should cut traffic significantly on work days.

— Solomon Osàdòló (@Soloxpress) October 10, 2017
Keep in mind that, remote work doesn't necessarily mean working at home, it just means that the workplace can be anywhere -- employees can work in co-working spaces, cafes, restaurants, lobbies, in their cars or even in open spaces. The beauty of it all is in giving employees the freedom to choose -- where and when works best.