Editor's Note: This article was published in 2017, based on a real survey carried out in the same year. The following is not representative of how much developers in Nigeria earn now.
Ever asked yourself this same question? We attempted to answer it by putting together an anonymous survey. Based on the random responses we have gotten to our inquiries so far, we have deduced some useful insights about the work-life of software developers in Nigeria.
Software developers dominate the Nigerian tech space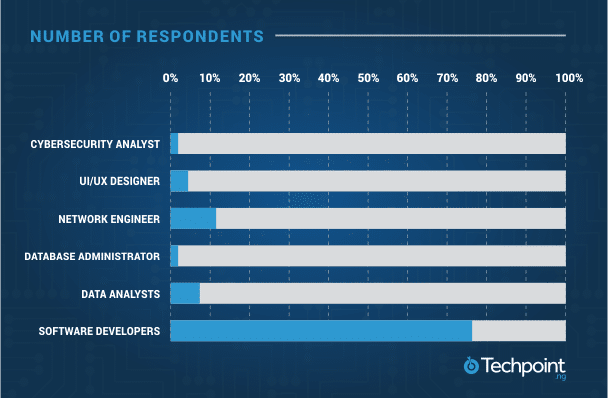 Our survey suggests that software development is the most in-demand skill in the Nigerian tech industry. More than half of our representative sample, from the survey responses we got, are developers. While we had people working in other tech roles in our pool of respondents, the graph above shows the proportion of developers to other roles in the industry.
How much do software developers in Nigeria earn?
Do you think software developers are high earners? Only 39% of our survey participants earn below ₦150,000 monthly. The majority (about 52%) earn between ₦150,000 - ₦500,000 per month.
However, only 9% of our respondents have a monthly earning of above ₦500, 000 and these were mostly senior developers. Our findings are represented in the chart below.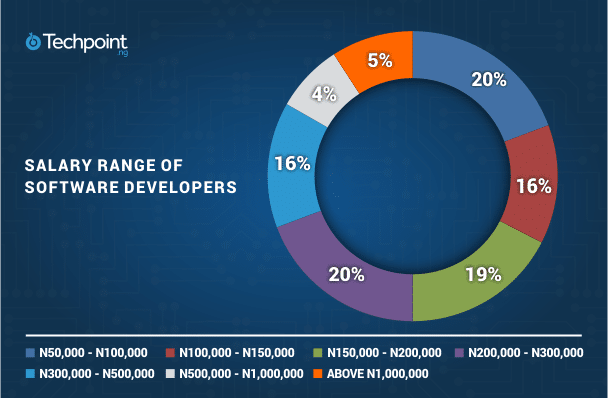 Nigerian developers are still underpaid in 2017
In 2015, Oluwasegun Famisa, gave plausible reasons to prove that software developers in Nigeria are underpaid. Have things changed in 2017?
Based on our survey responses;
Average salary for developers = ₦275,980
Median salary for developers = ₦175, 000
The median salary is a more accurate representation of the earnings of developers because of the extreme values in our data set. To estimate if developers currently earn enough, let's weigh the median salary for developers against the cost of living. It should be noted that there is a dearth of reliable locally sourced data for the cost of living in Nigeria.
According to Numbeo, as at August 2017, the monthly cost of living for a single person, without rent, in Lagos is ₦179,543.45. Numbeo is a crowd-sourced global database which uses heuristic technology to extract various economic indicators after filtering data provided by users. Numbeo is also said to gather data manually from authoritative sources including government, supermarkets, surveys etc.
Based on this data, for residents of Lagos to maintain a basic standard of living including, food, shelter, and healthcare, employees must earn about ₦180,000 with the current economic situation. From our survey, this is more than the salary of at least 50% of Nigerian developers, with rent still unaccounted for.
Depending on the area of Lagos, the rent for a modest one-bedroom apartment at the time of writing ranges from about ₦150,000 to ₦1 million per annum in Lagos. While renting a 3-bedroom apartment can cost between ₦700, 000 to over ₦3 million, depending on the location. This amounts to significant expenses on an already deficient income.
It can be deduced from the data presented above that the average developer in Nigeria is still underpaid.
Software development is unattractive in Nigeria
Software developers in Silicon Valley are some of the top earners in the United States. The table below compares the remuneration of developers in Silicon Valley to those in Nigeria based on data from Numbeo and Glassdoor.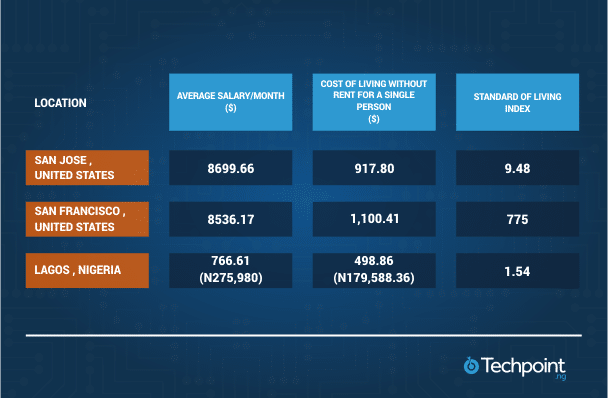 Standard of living index = Average salary/ Cost of living
From the table above, it can be deduced that the standard of living for developers in the US is significantly higher than that for developers working in Nigeria. This holds true despite the fact that cost of living is significantly higher in the US than in Nigeria.
Please note:
The salaries stated above are not foolproof and are subject to change.
Majority of respondents specified companies operating in Lagos, employees working remotely or outside Lagos were not given special consideration.
Analysis is based solely on data from specified sources.