YouTube Go, the offline-first, emerging market targeted YouTube alternative that was announced during the Google for Nigeria event in July is now available for public download in Nigeria.
Why a second YouTube app?
This is the first question I asked myself when the app was first announced. YouTube Go is the result of  thousands of hours gathering information, conducting interviews, testing, refining and, as it turns out, the feedback gotten demanded that a separate app be created. 
Speaking on the announcement, Johanna Wright, VP Product Management at YouTube, said: "YouTube Go has been designed to take into account the challenges faced by YouTube users in countries like Nigeria, such as data cost and connectivity. With YouTube Go, we are making it possible for everyone in Nigeria to be able to discover videos that they love, regardless of their network status or data consumption preferences."
To address these data and connectivity challenges Johanna mentions, YouTube Go gives you the option to download videos for offline viewing. In addition, you can choose between two video quality options -- basic (3GP) or standard (360p) -- and see exactly how much data (and space) your choice will cost you.
Before downloading, you can also preview and view information without having to load the video first. This is intended to ensure that you do not waste any precious data loading or downloading the wrong video.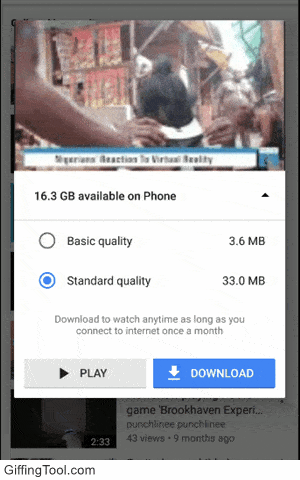 Finally, offline videos can be watched as many times as you like, on the condition that you connect to the internet at least once a month. All of these add up to a much more data-transparent experience than is obtainable on the main YouTube app.
But there are some trade-offs
Asides data and connectivity, YouTube Go also attempts to address performance issues on low-end phones by stripping off a number of features which are not-so-core for the target audience.
With features like the ability to read and share comments, view specific channels, and subscribe/unsubscribe functionality missing, power YouTube users might need to consider if YouTube Go is worth the trade-off. They also need to remember that they are not the primary target audience for YouTube go.
As a compensation however, the default homepage is personalised to include videos from channels you are already subscribed to. This is in addition to serving you trending videos within your community.
Content creator concerns
YouTube Go might be see some resistance from content creators who are constantly in a race to increase views and build their subscriber base. Asides removing the subscribe functionality, YouTube Go also allows users send and receive videos without connecting to the internet (Flash Share style). This poses the challenge of content creators losing a lot of views.
However, YouTube has put a couple of measures in place to address this. For example, the receiver is always required to briefly connect to the internet before they can view the received video. Also, it appears that the condition for users to connect to the internet at least once a month is to ensure that views can be tracked periodically.
This means content creators hopefully won't be losing any precious views. But there is still the challenge of ad revenue for creators who choose to monetise their videos. Again, I've been told that ads will play/download with offline videos but that remains to be seen.
YouTube Go is available for initial download on the Google Play Store. YouTube plans to continue to learn from users to improve the app over time.