This week, a tech event banner was posted on Facebook.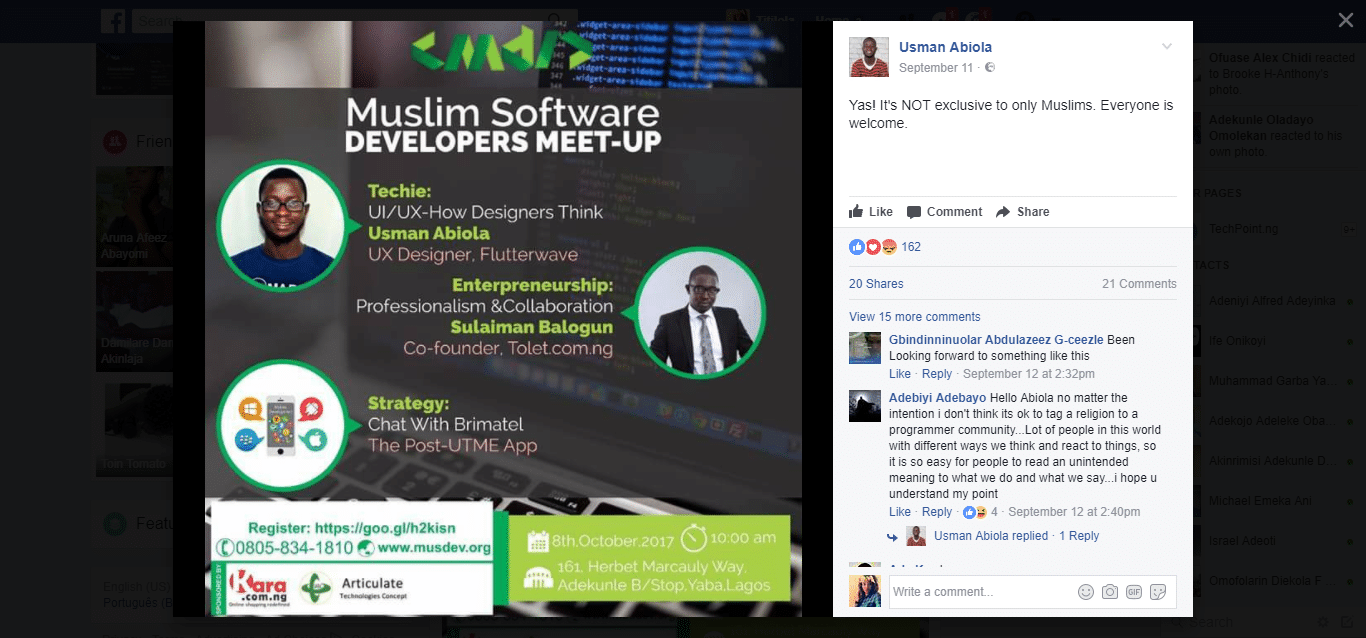 Even though the event is "not exclusive to only muslims and everybody is welcome," many people did not like the idea of mixing tech with religion. And they voiced their opinions.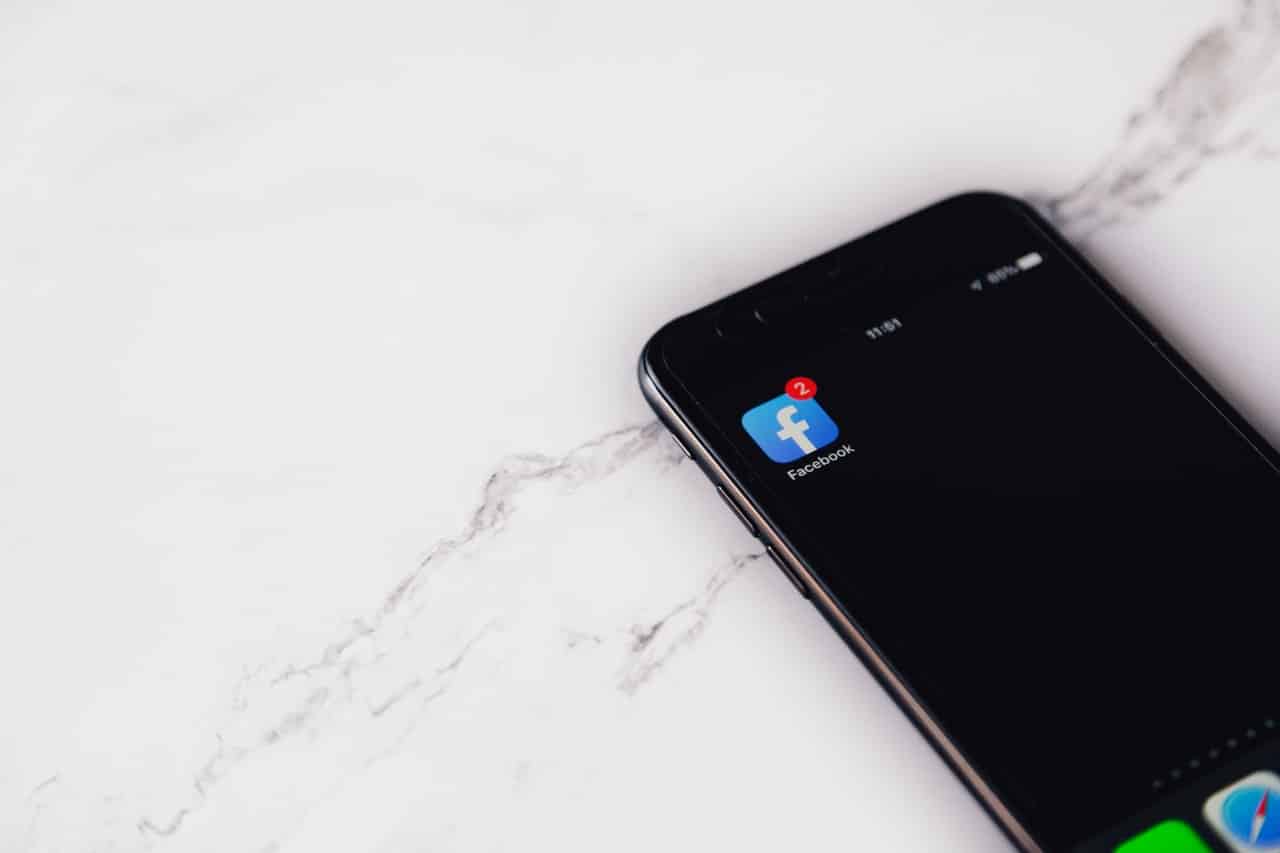 But some people don't think it's a big deal
Others just simply joked about it
Meanwhile, here are other interesting things that happened on social media in the past week.
Where's your loyalty?
Last week, Aisha Alhassan, Minister of Women Affairs and Social Development, was caught on camera declaring her allegiance to former Vice President, Atiku Abubakar ahead of the 2019 elections.
https://twitter.com/d_problemsolver/status/905338385732177921
This caused quite a conversation on social media with arguments for and against her decision.
Some thought it was a bold step
Aisha Alhassan is a courageous woman.

— Shalom Miriam Shehu (@MiriamShehu) September 6, 2017
This woman Aisha Alhassan is a real lion! Can you imagine she went to the Villa today and told reporters right there that she is for @Atiku!

— Reno Omokri (@renoomokri) September 8, 2017
While others thought it was unethical
But You Don't Need A Cabal To Remove #AishaAlhassan, She's Violated The #SOP , She Should Quit On Her Own!

— Daniel Dalyop (@alutadarf) September 7, 2017
Add some conspiracy theories into the mix
I dn't knw when Nigerians will undrstand dat dis is all politics, playing with our heads. Do u think PMB is not aware of what atiku is doing

— xeesha's Vine Palace (@xeeshasVpalace) September 6, 2017
Now that Aisha Alhassan has crossed the #NationalRedLine by openly endorsing Atiku for 2019, watch as they'll discover $100b in her toilet. pic.twitter.com/P0P1wmONP1

— Dot In A Circle - Onye Spare Parts (@The_Jonathanian) September 8, 2017
And these too
https://twitter.com/_Tweeteractive/status/905412099546992640
Aisha Alhassan has publicly confirmed what everyone knows but few willing to admit, @MBuhari is a lame duck with two broken wings.

— Mr. Aye Dee (@MrAyeDee) September 6, 2017
Hajia Aisha eventually apologised to the All Progressives Congress (APC) over her comments but we already know where her loyalty lies. In lieu of the 2019 elections, Atiku's track record is already being examined on social media. Check this.
The iPhone X-pensive
This week, at the first ever iPhone event, Apple unveiled several new products including the iPhone X which stole the show with its amazing features and price--$999/₦360,000.
Nigerians welcomed the phone the only way they can; with humour.
Me: wow the new iPhone X looks amazing, how much?

Apple: £999

— Kofi (@KofiAgyem) September 12, 2017
https://twitter.com/ayogwhy/status/907790084027699200
I'm glad Apple is giving us > a month to sell our body organs. Who wants my kidney?

— osarumen 👾👾 (@skweird) September 12, 2017
https://twitter.com/ODMendel/status/908955250362642432
Would you buy the iPhone X?
Life is not eazi
Last week in an interview, Mr Eazi was apparently disrespectful to Nigerians. Watch the video below.
https://twitter.com/fxntney/status/905518851965804552
Nigerians reacted on social media
Mr Eazi is the type of person to sit with Ghanaians seriously trashtalking Nigerians and they'll say "you're not like them" then he'll blush

— COC (@TweetMOPOL) September 10, 2017
I have officially banned all Mr eazi's songs on my show,if you will be that disrespectful to all Nigerians you can seek the airplay in Ghana

— Kshow Da Maestro (@Thekshowkshow) September 12, 2017
https://twitter.com/thepamilerin/status/907408006761123840
In another interview this week, the popular musician claimed that he left a $6,000 (about ₦2 million) job in oil and gas because he was not fulfilled. I don't know if it's the mention of US Dollars or the amount itself but the statement fueled Nigerians' anger.
https://twitter.com/Maxyfire/status/907615638532886528
Then we saw this
https://twitter.com/Bhadoosky/status/908285271602601984
Life is not Eazi.