Recently, there was a comparison of Nigeria to a zoo. It all began in July when Senator Shehu Sani posted an analogy, describing Nigeria's present political situation with animals on Facebook. Four days later, the First Lady, Aisha Buhari, responded to Senator Shehu Sani's Facebook post in the same line.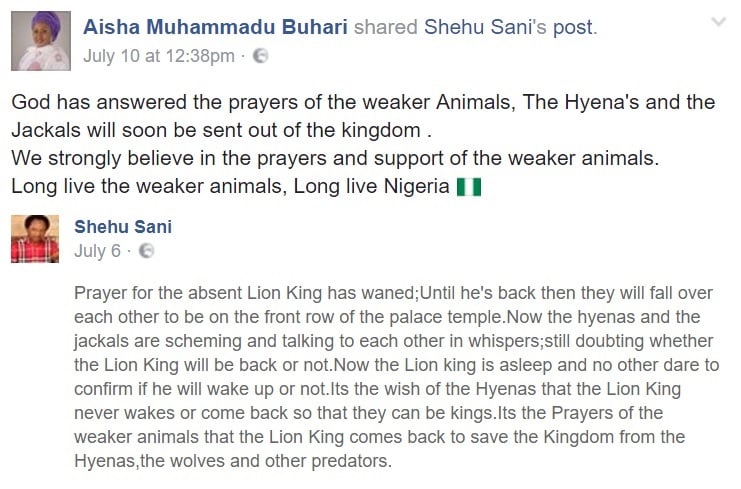 Unsurprisingly, these depictions of Nigeria as an animal kingdom generated a fuss on social media from many Nigerians.
However, it became worse when Naij.com reported that the police have uncovered the Badoo cultists -- the alleged perpetrators of the massacres -- shrine in Ikorodu. In response to this report, a young white woman, Lisa Harley, commented: "That is Zoo country for you."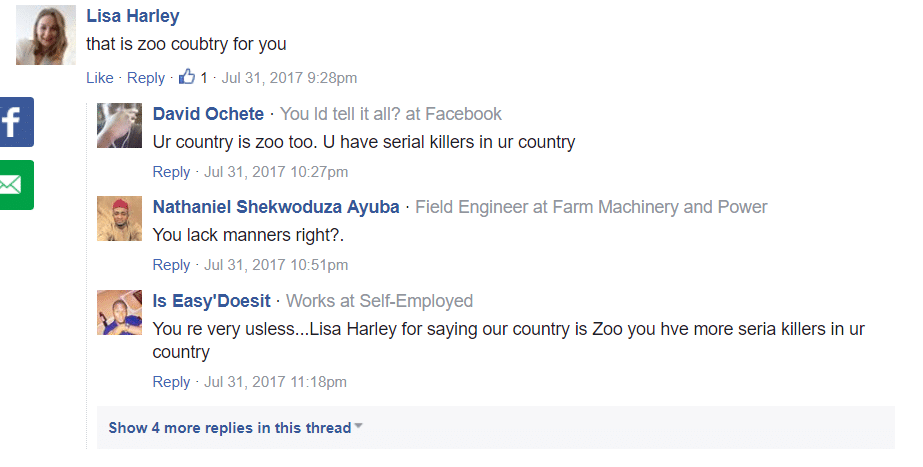 Of course, her comment was not lightly taken by Nigerians, who took their turns to hurl abuses at her. On one hand, she should have expected the comebacks she got for making a sneering remark on a highly sensitive report. But on the other hand, a more rational view of the situation somehow justifies Lisa Harley.  She did not originate Nigeria's comparison to a zoo, there was an "already existing foundation" to build upon. And considering that those who actually laid that foundation are stakeholders in the nation, Lisa's blame could be minimal.
The ones to blame are the those who took to the social media to express, and respond to thoughts about Nigeria in a grossly unsuitable way.  Over time we have seen a lot of things that occur through the social media, controversies that are birthed and posts that go viral, and how that has affected situations in reality.
Probably, this is why the government itself has pushed severally to regulate the social media. But then, are they not also victims of posting frivolous comments on the nation, using the social media?
Nigeria has been called a zoo by those advocating for a secession, a Senator presented the Nigerian situation, using animals, the First Lady validated it. How then can we take offence if the West puts a stamp of approval and asks to see our tails?