With the era of social media came online activism where citizens could speak out on injustice and social issues and call out their governments. In Nigeria, social media has played a huge role in calling for transparency in government and holding public servants accountable. From the #OccupyNigeria twitter trend to #BringBackOurGirls and now #NotTooYoungToRun, it is no wonder lawmakers moved to regulate social media activities.
The #NotTooYoungToRun campaign is a global trend that calls for youth inclusion and participation in elective offices. As the dominant demography, the Nigerian youths call for the reduction of the age required to contest for political office, using social media.
Please let #NoTooYoungToRun trend beyond twitter, in 2019 vote wisely. #HappyYouthDay

— Adetutu Balogun, MBA (@Tutsy22) August 12, 2016
For decades, Nigeria has recycled its leaders and with strict age restrictions, the youths had no hope of ruling. Until the "age reduction for candidacy" bill.
With alleged removal of the bill in the final report to be considered for adoption by lawmakers last week, the #NotTooYoungToRun campaign became fiercer. Alongside the online protest, Nigerian youths staged an offline rally on Tuesday at the National assembly, calling for the adoption of the bill. On Wednesday, 25th of July, the Senate finally gave in and passed the bill.
#ConstitutionReview
Bill 27: Reduction of Age for Election

Yes: 86
No: 10
Abstain: 1#PromiseKept 😎✌💪🤝🤞#NotTooYoungToRun passed

— The Nigerian Senate (@NGRSenate) July 26, 2017
As a result, the age qualification for presidential aspirants was reduced to 35, governorship and senate aspirants 30, while 25-year-olds can run for seats in the House of Representatives and State House of Assembly. However, for the bill to be signed into law, it requires majority votes from the House of Representative and the House of Assembly.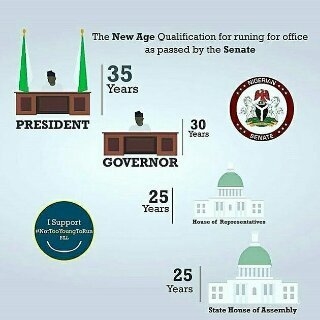 The victory of the #NotTooYoungToRun campaign gathered a lot of reactions on social media, especially on Twitter. It was indeed a victory that will make it to Nigeria's history books.
From the celebratory posts.
#Notooyoungtorun
Nigeria Senate passed the bill today. Victory for democracy. Efficiency of Nigeria lies with the youths. @channelstv pic.twitter.com/dKavoSIaY9

— Dotun George (@dotungeorge) July 26, 2017
#NoTooYoungToRun
Congratulations to all young,vibrant and progressive youths.Wit independent candidacy, it is a double victory 4 democracy

— Atunluto Oluwasegun A Idowu (@oluobamzy) July 27, 2017
Oh, and the conspiracy theories
https://twitter.com/GabEsu/status/890495470157651968
Do u ever imagne why d Nigeria Senate were quick to pass d #NotTooYoungToRun bill?Some selfish senators hs hidden motives. Let's wait n see

— AbdulRahman Tosho (@toshman3k) July 27, 2017
To the people who believe political office would still be family business for the elites
With daddy/mummy's money and now age on their side, the elite children can comfortably take over from the parents. #NotTooYoungToRun 😂😂😂

— Àṣàkẹ́ (@Omodayo2) July 26, 2017
Saraki approved #NotTooYoungToRun because of his son and you are here celebrating, who will buy you form and sponsor your campaign? pic.twitter.com/URVVXoLfM3

— £ng. Adamu Hayatu® (@AHayatu) July 26, 2017
And threats for the aspiring looters
https://twitter.com/UNCLE_AJALA/status/890267809690812427
This person is just fed up with Nigeria
#NotTooYoungToRun away from Nigeria. Oti Sumi! 😪

— Password (@MceePassword) July 26, 2017
There were jokes too, because what's a serious issue without a funny angle?
Very soon Nigerian parents will start saying "look at you, your mates are senators" 😂😂😂#Notooyoungtorun

— Jesse N. Dan-Yusuf (@jessedanyusuf) July 27, 2017
https://twitter.com/bolu_oj/status/890553501608275969
The impact of the #NotTooYoungToRun trend shows that Nigerian youths have found a voice on social media. And hopefully, come 2019, competent and qualified millennials will take over the reins of leadership from the present generation of leaders.