UPDATE:  WhatsApp has not totally stopped support, extension till December 31st. The headline and part of the original article below has been edited to reflect that. 
---
On the 19th of July 2017, after faithfully sticking with BlackBerry for 4 years, Titilola realises that WhatsApp messages are not delivering on her BlackBerry  Z10 smartphone. Just like Titilola, other users are discovering WhatsApp has may have finally delisted the smartphone maker as one of its supported platforms.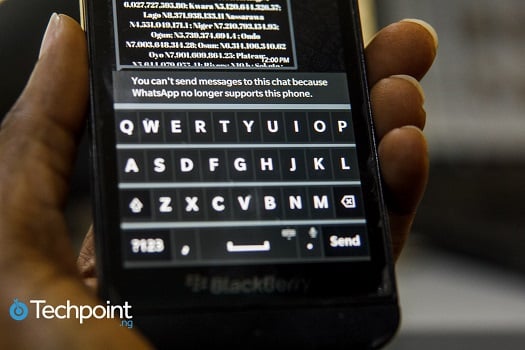 In February last year, WhatsApp made an official announcement via its blog that it was ending support for BlackBerry and other listed mobile platforms by the end of June 2017. In January, there was a brief scare period when user could not access WhatsApp 6 months earlier than the original date, this later appeared to be a technical glitch.
Yesterday, WhatsApp finally stopped working on many smartphones running the BlackBerry smartphones after a 19-day grace period from the original timeline. Users got error messages when attempting to send messages on the instant messaging platform.
With over 1 billion monthly users on WhatsApp, this action may be the final nail in the coffin for smartphones running on the BlackBerry operating system. However, the new range of BlackBerry smartphones -- DTEK50 ,DTEK6O, Priv, KEYone and Aurora -- running on the Android operating system will still be supported.
However, according to an update on the original blog post, support on smartphones running the BlackBerry OS has been extended till the 31st of December 2017. If your WhatsApp is displaying error messages, take the following steps;
Delete WhatsApp (if already installed).
Open BlackBerry World.
Swipe down from the top of the screen, then go to Settings > General > Refresh BlackBerry World.
Turn off your smartphone for 30 seconds. Then turn it back on.
Check your smartphone's connection.
If you own a BlackBerry smartphone please confirm in the comment section if WhatsApp still works on it. If not, did this update fix it?