Salisu Titus saw a neighbour's wife battered by her husband over a 1 year period and could not intervene for personal reasons beyond his control. The neighbor eventually killed her in one of the episodes and nothing happened to him. The incidence distressed the software engineer so much that he decided to do something in his own little way; Men Are Scum as a Service (MASS) was born.
Men Are Scum is a website that lets women anonymously post accounts of cheating, sexual and physical abuse by men. Or as Salisu describes it, "a central database of scum men in the world".
Like its name implies, the website literally showcases the evil that men do even though there are more stories of cheating and 'manly oddities' than abuse.
Other users and visitors to the website can nominate a scumbag already profiled according to his 'scumminess' multiple times and at the end of the month, an award is given to the scumbag of the month. With 3,085 nominations, Tochukwu is scum of the month (SOTM).
Men Are Scum launched on Tuesday last week, and at press time, has acquired over 450 users and garnered 75,000+ page views.
Are men scum?
For a lack of empirical evidence, it is impossible to say, as nobody has met every man. Even though the term is self-explanatory, its impact and vehemence may be lost if you are not social media savvy and do not prowl Twitterdom.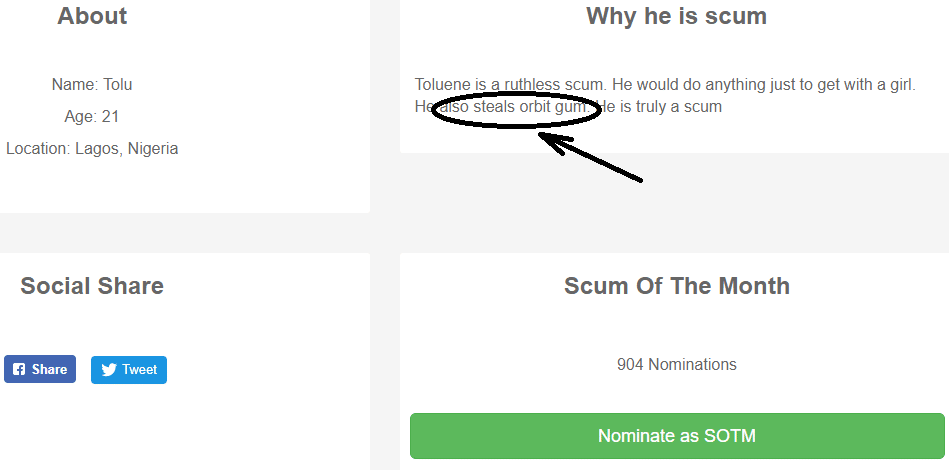 Regardless of personal stance on the issue, incredulous stories on Men Are Scum are enough to create doubt in the hearts of the most ardent believer in the 'non-scumminness' of men.
Tech for good
Daily, the media reports an increased number of physical and sexual abuse cases against women. These cases also become more brazen and shocking by the day. Victims of these crimes often suppress their hurt and drag the emotional baggage through life.
This is especially true in Nigeria where stigma and fear surround speaking about sexual and domestic abuse. A problem shared is half solved and Men Are Scum is lending a passive (users) and proactive (administrators) listening ear to abused women.
Salisu says the platform reaches out to women whose cases are extreme or life threatening. They have already contacted two and are helping them offline. Since users give information anonymously on the website, Salisu says there are no parameters to decide who they reach out to.
"We only reach out when it's a matter of life and death."
He notes that username and emails are the only information requested of new users. So even in a planned intervention, the woman has the choice of revealing her personal details or not.
From a business perspective, Salisu Titus admits that affiliate marketing is still the only revenue stream. Salisu built Men Are Scum alone and he runs it with 3 volunteers; a lawyer and 2 website moderators. On why the website needs a lawyer, Salisu says;
It is better to be safe than sorry. The website does not contain any information that could permit a defamation lawsuit, but we cannot rule out the possibility.
He also adds that when consulting NGOs and law enforcement agencies, the lawyer will be a legal representative.
Beyond its naming origin from social media rants, Men Are Scum may turn out to be a Nigerian tech tool for checking women abuse in the hands of men.