Big Brother is the all-seeing villain/antagonist in 1984, a dystopian novel by George Orwell. Published in the year 1949 -- 35 years before its titled date -- the novel prophesied global surveillance and control.
"Big brother is watching" is a phrase that was popularized by the novel and is used to describe any government that invades the privacy of its citizens. Thanks to Edward Snowden, we now know that the United States may be big brother of the world. By extended supposition, every country has its big brother and the US of A is the Big Brother to everyone's big brother.
As a technology-savvy citizen of society, you probably already know Big Brother has his all-seeing eyeballs trained on you on a 24-hour basis. Or how do you explain small things like that internet cookie hopping with you from an ecommerce webpage to your Facebook trailing ads everywhere?
Over the years, we have come to discount Nigeria's big brother as a weak blind buffoon that cannot watch his own house, but that may be a costly assumption.
Sahara Reporters published a phone conversation reportedly between Senator Dino Melaye, a Nigerian senator representing Kogi West Local government in Kogi State and Muhammed Audu, son of Abubakar Audu, late Kogi State governor. In the tape, the Senator Dino's voice brazenly made some unlawful admissions.
This tape is coming one month after Sahara Reporters released another call between the senator and a lawmaker where bribes were reportedly being negotiated in US dollars.
Dino Melaye has been associated with plenty theatrics that have been deemed unworthy of a public officer. As much as I do not want to concern myself with the intricacies and political undertones here, the question bugging me is how these tapes were obtained in the first place. But there are even more of them.
Still on the Nigeria's political terrain, Ogun State's Governor Ibikunle Amosun and his Borno counterpart Kashim Shettima were allegedly taped in a conversation scheming on how the Hausa and Yoruba ethnic groups can do the Igbos in. Another politically charged scandal.
Of course, Governor Amosun publicly denied the leaked audio on the ground that it was forged. In his words, the perpetrators did not even bother to get actors with similar voice textures.
I have not heard Amosun or Shettima's voice enough to ascertain the veracity of the claim or resulting denial. My major worry here is how the heck did anybody get these supposedly private conversations?
There are two possibilities; their phones were tapped or a recording of the call was gotten from Nigerian telcos. A phone tap is the most plausible answer, but with the level of [justified] paranoia of serving public officers in Nigeria, how would an effective bug be placed on their mobile phones?
The second option of recorded calls being obtained from the telcos is both scary and disturbing. I talked to some staff of major Nigerian telcos and they all echoed the same sentiment; "We do not have technology to tap and are unaware of any existing ones". Of course I was not expecting any form of admittance if there was anything to admit to.
But maybe through all these, we can conclude that Nigeria's big brother is hard at work and more technologically advanced than we anticipated. If these ears and eyes are trained on these Nigerian 'big men' with clout and '30 billion in the account', how safe are your calls?
The aforementioned cases are just two distinct and recent cases of surveillance with a political undertone, Nigeria has always technologically kept an eye on people.
In February 2013, Farouk Lawan, a Nigerian lawmaker was caught on video collecting bribe from businessman Femi Otedola. Even though it was a sting operation, but who knew these things were possible or even existent?
All this technology is great as it has been used to bring people to book and check corruption. But I am still wondering why it has been used selectively especially in politically charged situations.
As far back as July 2015, the Bayelsa State Government was complicit in obtaining massive software to literally "hack Nigerians". Along with the USA, Germany and 35 other countries, the Bayelsa State government was named when the hackers they employed were hacked. Very poetic.
---
Suggested Read: Some evidence suggests Bayelsa State government hacks its citizens
---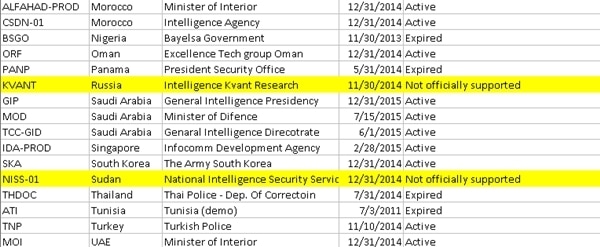 Yet, there is still a 'normal' wave of crime and criminality in Bayelsa and surrounding states.
If all these technological capabilities are available, why are they being used selectively? Why did it take so long to catch one of Nigeria's biggest kidnap kingpins ever? Why is Boko Haram still bombing areas with CCTV, using open telephone lines and nobody is catching anybody?
Nigeria is obsessing over WannaCry ransomware, but as much as it is a problem, I believe the immediate threat to our data and privacy is still within; Nigeria's Big Brother is watching you.
Sitting in one big office wearing an immaculately white agbada defying all the images of George Orwell's Big Brother in your head, he is watching you. With his intel untidily scattered across a table made out of iroko, Nigeria's big brother may be disorganized and untidy, but he is very real and is still watching you.
---
Techpoint is conducting a survey of tech worker salary satisfaction in Nigeria. Please take just three minutes to fill this anonymous form. Thank you.