Launched on the 2nd of May 2016, Gadgetclinic is an on-demand repair service for computers, smartphones, tablets as well a provider of IT support to businesses.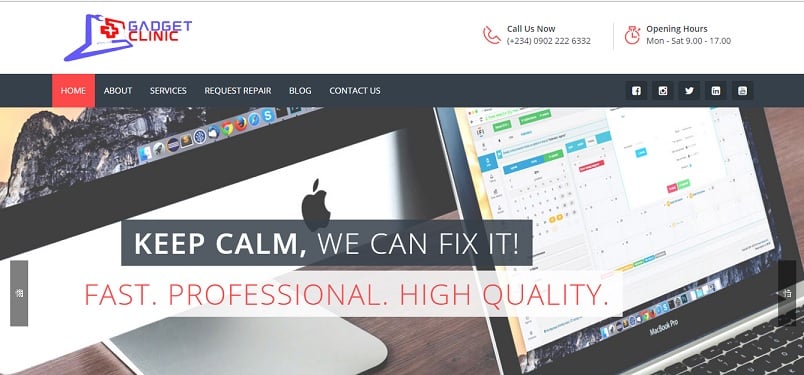 The platform is a brainchild of Kayode Adedayo and Ahuoiza Ajayi, who function in the role of CEO and COO respectively. Their brand engages in fixing all kind of smartphones and tablets ranging from all kind of issues.
How it works
Gadgetclinic aims to save consumer time and money by sending a courier to customer's location to pick up their damaged repairs. Expert in-house engineers commence work on the gadget to put back in good condition and then deliver back to customer's location.
Impressions
Aware of other competitors such as FixMyPc and the likes, Gadgetclinic is banking on its same-day pickup and delivery and affordable pricing to give it a competitive edge.
It's not common to find businesses like this combine phone repair services to everyday customers and still keep businesses at arm's reach. Perhaps this is where its IT support services to businesses is attempting to set the pace. "We help them save costs on IT by providing IT support as an affordable outsourced service," Kayode affirms.
Gadgetclinic's Pay-As-You-Go IT Support to businesses allows 2 or more companies to buy a subscription plan and share costs.
Kayode Adedayo himself happens to be one of 25 Microsoft WINsiders4Good Fellows in Nigeria. Perhaps his experience may steer something interesting in this startup.
If you think Gadgetclinic is good enough for you, you can visit their website.
---
Discover new startups every weekday by 12 noon (WAT) | Pitch your startup here.
---
Techpoint is conducting a survey of tech worker salary satisfaction in Nigeria. Please take just three minutes to fill this anonymous form. Thank you.