If you've been experiencing poor internet service of late, you are not alone. Many users have been sharing their unpleasant experiences on social media since Sunday, June 18th and the situation doesn't seem to be improving much.
@SwiftNG what's going on ?for like 4hrs now there's been no service !!!y'all are raining on my blogpost parade!!!!😡

— Toyosi Gregory-Jonah (@TgJonah) June 18, 2017
So This weekend, GT was down, Swiftng down, MtnNG down. Well done o.

— Rolayo THE FOOD AND SMALL CHOPS PLUG (@superflycook) June 18, 2017
It's like all the network providers are being shitty today

— Mr A (@eamonami) June 18, 2017
From all indications, the origin of this problem is neither the frequent rains nor the intermittent power supply. But it can mostly be traced back outside Africa and to one company -- MainOne.
For those who may not know, MainOne is a Nigeria-based internet and telecoms solution provider. Founded in 2009 by Funke Opeke, the company achieved the "impossible" in 2010 when it successfully ran a 14,000km submarine cable all the way from Portugal to South Africa. With landings in 8 West African countries, MainOne has easily the widest reach of any network provider in the region.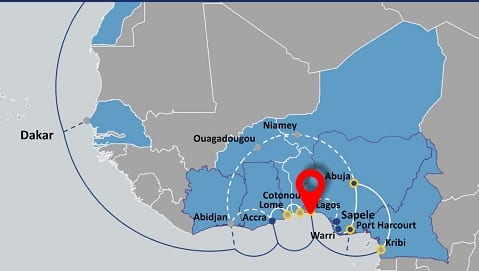 So it comes as no surprise that the company provides wholesale internet for many of your favourite local internet service providers (ISPs) in Benin, Togo, Ghana and Nigeria. However, over the weekend, an unexpected outage occured that didn't become pronounced until the start of the working week. This was confirmed in an email to Techpoint:
MainOne hereby advises its customers that early in the morning of Sunday June 18th, 2017, we experienced a fault on our submarine cable system, 3000km offshore Portugal. The outage, the first of its kind in 7 years since our cable system came into operations, has caused disruptions in service to our international connectivity customers in West Africa.
If you follow global news closely, you may have observed that the timeline coincides with the genesis of the forest fire incident in the Pedrogao Grande municipality of Portugal that has now claimed over 62 lives.
We are yet to confirm that these two seemingly separate incidents are connected. Considering that the submarine cable originates from Seixal -- a 2-hour drive from Pedrogao Grande -- it is not likely so, especially as the official statement pins the fault to a location "3000km from Portugal".
But it's not just the internet providers that are affected. Beyond being an internet service wholesaler, MainOne also offers co-location services for big enterprises including like banks in Nigeria. So if you've also been experiencing fluctuations in internet banking service, chances are your bank shares some server space in MainOne's data centre.
Techpoint has yet to confirm this either. So far, we can only confirm a possible timeline of resolution. According to the email we received:
Action is being taken to mobilise the repair vessel that is closest to the point of failure. The expected time for full restoration is estimated at +/- 5 days; but we will provide more precise timing as soon as we know and the vessel is at the repair location.

In parallel, we are lining up some immediate restoration capacity to provide a measure of relief to our Internet customers, but there simply is not enough to meet the need, nor to redirect all the dedicated circuits in the time we have to restore.
In other words, you will have to wait a bit longer before everything is back to normal. Meanwhile, if you've started experiencing passable internet service of late, it's because many of these same providers that are dependent on MainOne have alternatives. Glo for example has its Glo-1 submarine cable and MTN is part owner of the West Africa Cable System. However, these systems are so limited in a country like Nigeria for example, that telcos still have to rely on MainOne for a wider broadband reach.
This is a developing story. We will serve you additional official statements from MainOne as they come in.
---
UPDATE 1: We received an updated statement from MainOne that pins the fault to somewhere in the Atlantic Ocean and gives estimated repair time of 14 days:
Supported by our cable maintenance arrangement with the Atlantic Cable Maintenance & Repair Agreement (ACMA), we immediately mobilized a repair vessel from France early Monday morning to pick up the necessary spares and personnel to recover the affected sections of the submarine cable in the Atlantic Ocean and effect repairs. The current estimated time for the repairs may be up to 14 days.
Whilst this is an event of Force Majeure, being beyond our control in the ordinary and normal course of business, we have in the interim, made available existing restoration capacity and have secured additional capacity to offer temporary relief to our customers, where feasible. We will continue to provide updates on the progress of the repair works as we assure our customers that all hands are on deck to fully restore all services and the MainOne quality that they have come to rely on. We thank you for your understanding and apologize for the inconveniences caused.