A recent agriculture innovation report, released by the Global Innovation Index, ranked Nigeria 119th on the 2017 Global Agricultural Innovation Index. This is a decline from the 114th position the nation ranked last year.
This year's ranking not only saw Nigeria falling southwards, it also revealed how counterparts such as Rwanda, Tanzania, Uganda and Kenya have a higher placement than the 'giant nation' itself.
Asides highlighting the poor innovative prowess of Nigeria (especially in the agricultural sector), the report also raises concerns about how low the attempt in savaging her food industry is.
In the past five years, Nigeria has witnessed a shift from the traditional way of businesses to the era of startups. But unfortunately, as portrayed by this recent report, it appears that very few startups have looked to, or played in the agricultural space.
There is more to this than just the ranking. A 2014 Hunger Index reveals that Nigerians are 'seriously' hungry, and as if to buttress this fact, this year, the Speaker of the House of Representatives, Yakubu Dogara admitted that hunger and poverty prevail in the country. Considering that agriculture accounts for 24% of Nigeria's GDP and that prior to the advent of petroleum, agriculture was the prime mover of the economy, wouldn't it be quite unfortunate to throw away the sector that could probably cause a revolution or revamp the nation's economy?
Where startups can come in
A notable credit could go to the founder of Farmcrowdy who is already filling a void in the agricultural space by devising a system that allows individuals to own farms without necessarily being farmers. However, it takes more than just one man to kickstart a revolution.
Rural-Urban agro-commerce/online marketplace
Let's face it, farm produce in most Nigerian cities is very expensive. Should a moderate alternative be provided, many will definitely opt for it. Startups looking to innovate can seize this opportunity to create an online marketplace to probably source cheap farm produce, directly from the farmers. People looking to buy in bulk can also purchase through the online platform.
This way, less overhead costs are incurred in selling farm produce, and really fresh products can be obtained. It is also a way of connecting rural farmers to customers in the suburbs and cities. A possible revenue model is taking percentage commissions per sale via the platform. Sokonect is a Kenyan startup that has proven relevant with this option. It allows farmers sell their farm produce right from their mobile, thus eliminating the need for middlemen.
Tech products to ease farm works
Farming is laborious and not many farmers can afford to rent pieces of machinery such as tractors to facilitate farm operations. It would be very beneficial to build mini-alternatives to expensive machinery that could ease farm works.  Farmers can lease these machinery and pay affordable instalments. This would go a long way to aid productivity and efficiency. Another major concern for farmers is the preservation of perishable products. How about inventing what could probably serve as a mini-cooler (or refrigerator) to preserve fresh perishable harvests like tomatoes, chilli pepper, beyond their original short life span?
Late Mohammed Bah Abbah , an innovator from Northern Nigeria prove the possibility of extending the lifespan of perishable goods. In communities where there was no electricity, he simply devised an earthenware "pot-in-pot" technology, which he retailed at an inexpensive rate to local farmers. This way, he successfully extended the lifespan of farm produce like tomatoes from the regular 3 days to 21 days.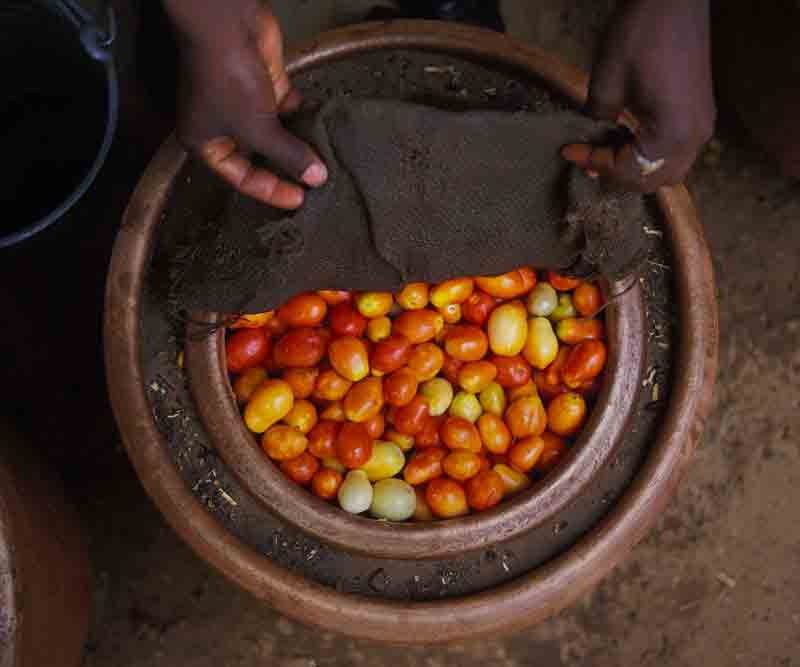 Photo Credit: Rolex Awards
Another innovation in this space is a tool designed to keep track of farming activities, help in bookkeeping and taking record of account transactions. FarmDrive is a Kenyan startup that is doing something similar already. The startup simplifies bookkeeping by allowing farmers keep track of their farm activities using their mobile phones. The resultant effect is that, with a comprehensive credit profile, financial institutions will be more encouraged to lend to these farmers.
Tech tools to get farmers informed
There is no telling the extent to which information can aid or rescue a business. Agriculture is not left out. Farmers need to be informed on investment opportunities, incentives, and techniques that could make their efforts yield. Another Kenyan startup that has positioned itself as farmer's information source is WeFarm. One credible thing about WeFarm is it gives vital information to farmers, even without an internet connection. Nigerian startups seeking opportunities in the agricultural space can learn from this.
In other to increase the rate of national and economic growth, and change the hunger narrative in Nigeria, startups need to start exploring the agricultural space. These are drastic times and drastic situations call for drastic measures.
---
Techpoint is conducting a survey of tech worker salary satisfaction in Nigeria. Please take just three minutes to fill this anonymous form. Thank you.