Governor Akinwunmi Ambode on Tuesday presented cheques totalling ₦924.7 million to 1,438 beneficiaries of the Employment Trust Fund (ETF) scheme. It was announced via the official Twitter account of the Lagos State government that about 4,000 businesses have benefited a total of ₦3.5 Billion from the ETF scheme thus far.
ETF: Ambode presents N924.7M cheques to 1,438 beneficiaries

…Targets 20,000 recipients by December

Lagos State... https://t.co/fZfxz3xtIt

— The Lagos State Govt (@followlasg) June 13, 2017
While the effort is commendable, the Lagos state government shouldn't be applauded just yet. Like the ETF scheme, many other initiatives have been pioneered by the government in the past to provide entrepreneurs, artisans, and many others with capital to boost their businesses. However, most of those project went down the drain without so much as an inquest.
For instance, at the time YouWiN was launched in Abuja under the administration of former President, Goodluck Jonathan, it heralded so much promise for entrepreneurs and thousands of job seekers alike. But the program has been fraught with corruption. Allegations from one whistleblower pointed towards some irregularities in the disbursement of the funds, prompting the minister of finance, Kemi Adeosun, to issue a directive for an internal investigation be conducted to verify the allegation.
The SURE-P was another project that got hundreds of thousands of applicants registering and submitting concept notes and finished business plans. It even provided temporary employment to many who had long been pronged by unemployment. The huge sum of money gulped by the SURE-P program however didn't stop it from becoming one of the first projects that was discontinued by the President Muhammadu Buhari-led administration.
Probity, transparency and accountability soon appeared to have taken flight very early into the project, leaving unsuspecting citizens with no choice than bidding the SURE-P programme an unceremonious farewell. It would be unrealistic to attempt guessing how many millions of naira was wasted on the SURE-P project, but it is safe to say that elements of waste, deliberate sabotage and sheer opportunity to proliferate corrupt practices have contributed towards its unceremonious ending.
Where the problem lies
Never has it been known of any government to promote an initiative that they are aware is doomed to fail right from the outset. Clearly, a large percentage of empowerment schemes by the government have this element of success underneath. But often times than not, they are diluted with agendas that aren't part of the primary reason for setting up such initiative, leading to the eventual death of such initiative.
While a lot of government initiatives in Nigeria seem well intended, they are mostly plagued by an absence of clear cut structures which deny such initiative their long-term relevance.
With billions of money thrown into these projects, expectation of getting desired result is always high. Instead, these vices give way for embezzling those funds. Those who perpetrate this offence then go on to put the biggest charade by singing praises of their (failed) exploit -- even long after the initiatives have taken a nosedive -- as some form of achievement.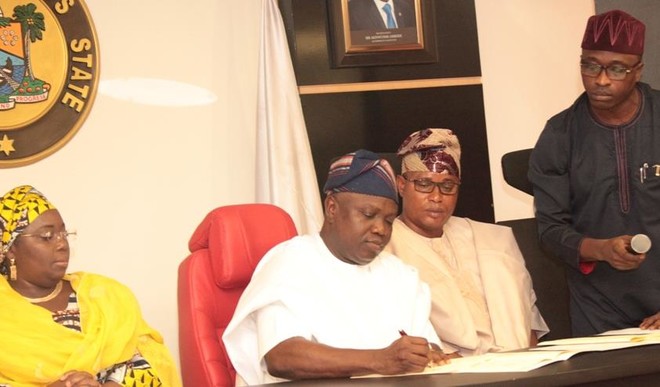 Now, that the Lagos State government is accelerating plans to strengthen one of such many empowerment schemes, they might want to do things differently. More importantly, the gatekeepers of the ETF scheme should be put on the spot. If not held accountable for possible management of the funds, they should be responsible for an eventuality in gross management of resources.
Back when the scheme was announced, issues concerning increased interest rate (from 1% to 5%) and access to public information were raised. Many even feared the fund may not actually be accessible for all. Surely, it appears the Lagos State government has moved on from that and maybe, the end might justify the means.
Regardless, the ETF scheme is as good an opportunity for aspiring entrepreneurs and already existing business owners to expand their scope of getting finance. After all, the plan is to fund as many as 20,000 businesses before the end of December 2017.
---
Techpoint is conducting a survey of tech worker salary satisfaction in Nigeria. Please take just three minutes to fill this anonymous form. Thank you.