Just like Airbnb does for longer-term stays in a home, Spacebook does for short-term event spaces. Spacebook is a platform that allows users book event venues online, across several cities in Nigeria.
The company was founded in Lagos state by Documentary Photographer Temitayo Aina and Software Engineers Oshomo Oforomeh, Tobi Sanya & Segun Oduwole, and launched in the December of 2016.
Over time the team has managed to grow the listings from Zero to above 1000 verified event spaces covering over 25 states in Nigeria.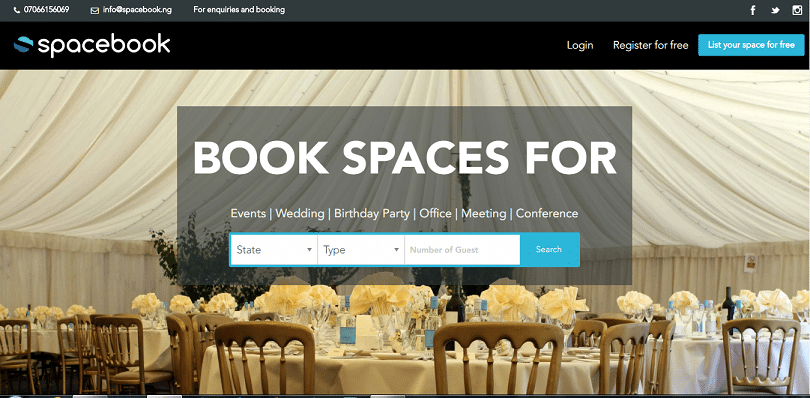 Venues are just the "tip of the spear" for Spacebook, as the team recently launched a Vendors Platform which offers Events services such as DJ's, Florists, Photographers and Videographers, MC's/Comedians, Event Planners, Make-Up Artists, Caterers, Drink Suppliers in May of 2017 which has seen sporadic growth in just under a month.
From art galleries, lofts and warehouses to banquet halls, rooftop bars and conference centres, Spacebook assures of all kind of spaces on its platform.
Aware that they are not alone in the venue booking industry, with established players like OgaVenue and Venue-Compass already commanding a strong influence in the market, Spacebook is confident that their culture of putting space owners first -- in everything -- will be decisive in swaying engagement to their platform.
To this end, their services are directed towards winning clients over through improved monetary returns as incentives for listing venues on their platform.
There's also the advantage of having worked with international companies like Booking.com, Seedspace and local ones like Landmark event center (among other) to offer and sell creative spaces for corporate events. The startup is indeed riddled with a lot of surprises.
Full information of each listing can be found on their website.
---
Discover new startups every weekday by 12 noon (WAT) | Pitch your startup here.
---
Techpoint is conducting a survey of tech worker salary satisfaction in Nigeria. Please take just three minutes to fill this anonymous form. Thank you.